How to Put Duke's Values in Action
A new online resource connects Duke's values of respect, trust, inclusion, discovery, and excellence with everyday actions
After Memorial Day in 2020, Maureen Cullins met virtually with Duke's Chapter of the Student National Medical Association, which supports Black medical students.
The deaths of George Floyd, Ahmaud Arbery, and Breonna Taylor weighed on everyone, and Cullins – director of the Duke University School of Medicine's Multicultural Resource Center – reminded students they were valued and deserved to feel safe and respected.
Moved, the students opened up about their experiences, which included difficult interactions with patients to course materials that rarely took into consideration the social determinants of health, or show how rashes present on darker skin. They decided to write the dean and share their concerns.
Cullins, a Duke graduate and 2022 Presidential Award winner, has long embraced Duke's values of respect, trust, inclusion, discovery, and excellence. The conversation and subsequent letter was a major impetus for the Moments to Movement campaign for a more inclusive and equitable medical school.
"I'm very proud of our students," Cullins said. "Moments to Movement has the potential to have the university live up to its ideals of respect and inclusion."
As a leader in higher education, research and health care, Duke is a big and complicated place, where each day a vast community of scholars, educators and caregivers innovate and pursue excellence. In recent years, leaders have defined a set of core values – respect, trust, inclusion, discovery and excellence – which all of us, no matter the role, can use as guideposts for our work and drive our culture.
The Values in Action website was created to be a place where staff, faculty and students could learn how Duke's core values can be applied to their daily experience and help them strengthen the community by being good citizens to each other, the people they serve, the Durham community, and individuals and groups they interact with on behalf of Duke. 
As a first step in an upcoming Duke Values in Action awareness campaign, the website is a statement of responsibilities meant to help Duke community members perform to the best of their abilities, act with integrity, and comply with applicable laws, rules, regulations, accreditation standards and Duke policies and procedures.
It can also serve as a conversation starter, helping individuals, teams and units define how Duke's values translate to what they do, and how to ensure that Duke lives up to them.
"Talking about values and behaviors is hard,"  said Duke Chief Audit, Risk and Compliance Officer Leigh Goller, one of the organizers of the Values in Action campaign. "With Values in Action, we've tried to take these ephemeral concepts and make them real, make them personal, make them approachable. We want people to be able to talk about them, because when we talk about them we can become better."
We sat down with Goller to learn more about the Values in Action resource.
Why was the Values in Action website created?
Before the website was created in late 2021, the codes of conduct, institutional policies, and statements of values for the many parts of Duke were scattered among several different websites. There was no central resource for finding this information or learning how these standards, expectations and principles related to Duke's overarching values.
The Values in Action site allows users to learn about these guiding principles and, with the information broken down into 22 specific areas – such as Donor Engagement and Fundraising, Professionalism and Duty of Care, and Environmental Stewardship –  community members can easily learn how Duke's shared ideals can be applied to any specific situation they may find themselves facing.
"Prior to launching this, someone looking for this information may have found it on their first try with a search bar on a Duke website, but probably not," Goller said. "And if they did find resources, there may be more than one version of the information posted on multiple websites. Values in Action is a way to have one definitive source for Duke's policies and principles, and a curation of resources to help find out more."
How can we use this resource?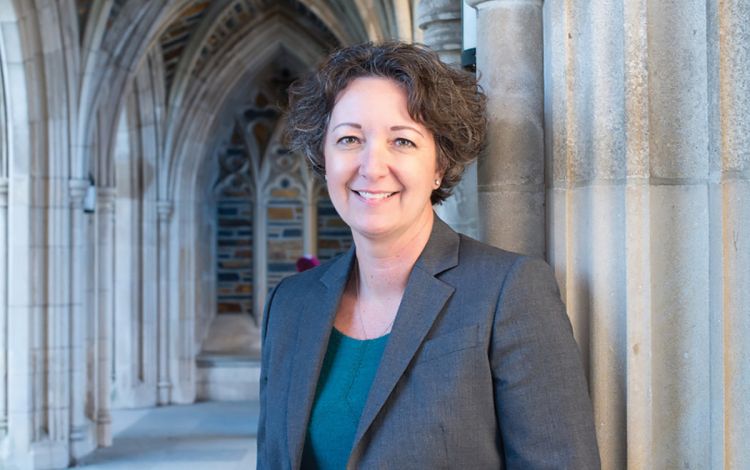 While we navigating our roles at Duke we may run into situations where we need guidance on how to handle a difficult or challenging situation while staying true to Duke's guiding principles around beliefs and behaviors, and the institution's reputation for quality and integrity. The Values in Action resource is easy place to look to find those answers.
With information about key policies and links to specific guiding documents and examples, as well as ways to confidentially ask questions or report concerns, the site is where anyone in the Duke community can find clarity on how to ensure they, and the people around them, are working according to Duke's values.
For example, if a caregiver needs to know what to do when encountering a difficult patient, or if a team member is unsure if a research project is doing something improper, or if a staff or faculty member wants to know the rules taking time away to get involved to help with something at their child's school, the information is easily available on the Values in Action site.
"We hope that being more transparent with this information, and making it more accessible, will empower our faculty, staff and students to have the confidence to ask questions to get more information, or to raise concerns when something's not right," Goller said.
Who is this for?
With three sections on the Values in Action site covering the academic, healthcare and workplace environment; issues related to interacting and doing business with others; and protecting information and assets; students, faculty and staff across Duke's academic, research and healthcare enterprises can find information and resources related to what they do.
The resource is made for anyone in the community who has a question about policies, guiding principles or how they can help advance's Duke's missions. But, as Goller, points out, it can be especially useful for people who are new to Duke, or who may not be part of Duke yet but would like to learn about what we strive for.
"Values in Action is a great orientation resource," Goller said. "It serves more than one purpose: a good checkpoint for when something doesn't feel right; a great tool for supervisors to help with employee development; and a useful tool for our students, patients and prospective employees. Values in Action is a great way to describe what it means to be a part of Duke, and what our expectations of one another are. We can say this is a great place to be because of the Values and expectations that are  most important to us."
If you'd like to learn more about Duke Values in Action, or have Leigh Goller and her staff facilitate discussions for your team, write oarc@duke.edu.