Get an Inside Look at Safety in the Duke Citizens' Police Academy
Registration for various classes of the 15th Duke University Police Department Citizens' Police Academy is underway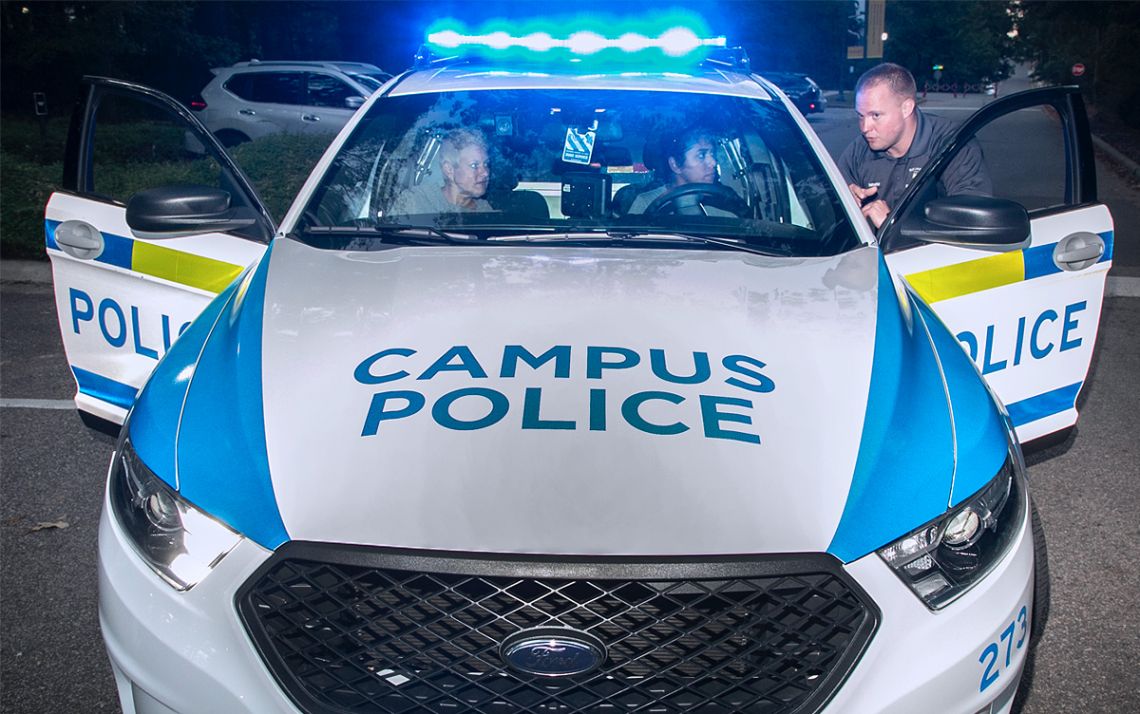 After a two-year pause brought on by the COVID-19 pandemic, the Duke University Police Department's Citizens' Police Academy will return later this month, reviving a community outreach program that's become a favorite among staff and faculty, as well as members of the department.
"We're super excited," said Crime Prevention Specialist Daryl Mount. "We've been waiting to bring this back for a long time."
The multi-week program offers hands-on learning opportunities and chances to hear from experienced officers on a range of safety and crime prevention topics. The in-person sessions will be held in accordance with Duke's COVID-19 distancing and masking policies and be limited to no more than 12 participants.
Registration closes Feb. 18 for three versions of the academy:
A six-session main version for staff and faculty held on Wednesday evenings starting on March 2.
A three-session version for students on Saturdays beginning on February 26.
A five-session alumni edition held on Tuesdays starting on March 8 for people who've already completed the program but are looking to learn more
Duke Divinity School Assistant Registrar Tracie Foust completed the staff and faculty version of the academy in 2019 and will take part in the alumni program this spring. She said the academy gave her an opportunity to meet colleagues from other parts of Duke and gain new insights into the job facing members of law enforcement.
"The Citizen's Police Academy was a great way to learn what a police officer experiences from their perspective," Foust said. "It was really nice to be able to talk with them and understand how they go into situations. They have to be quick on their feet to understand what's going on and assess everything. You don't realize how stressful that can be until you're in it."
Among the topics covered through role playing simulations and discussions with officers are de-escalation tactics, firearms safety, what to do in active shooter situations, how to spot domestic violence, and the unique challenges of safety in healthcare environments.
Mount said his favorite session is the one where participants get to conduct simulated traffic stops.
"That's one of my favorites because it's something that probably happens to everyone at some point in their life," Mount said. "So knowing what to do, what not to do, and why everything happens is really helpful."
For members of the department, the return of the program represents a chance to bring a human touch back to what they do.
During the pandemic, the work of the Duke University Police Department changed as the majority of non-emergency outreach with campus community members had to be done by phone or Zoom. The in-person crime prevention programs and campus safety presentations, which are important touchpoints between police and the students, staff and faculty they serve, were replaced in many cases with online videos.
So the chance to once again spend time alongside Duke community members is one that the members of the force aren't taking for granted.
"This is our bread-and-butter," Mount said. "We've missed it. Even if it's a little smaller, we're excited to get back into it."
Send story ideas, shout-outs and photographs through our story idea form or write working@duke.edu.