Blue Devil of the Week: Handling the Business of Student Journalism
Duke Chronicle General Manager Chrissy Beck cherishes the opportunity to work with students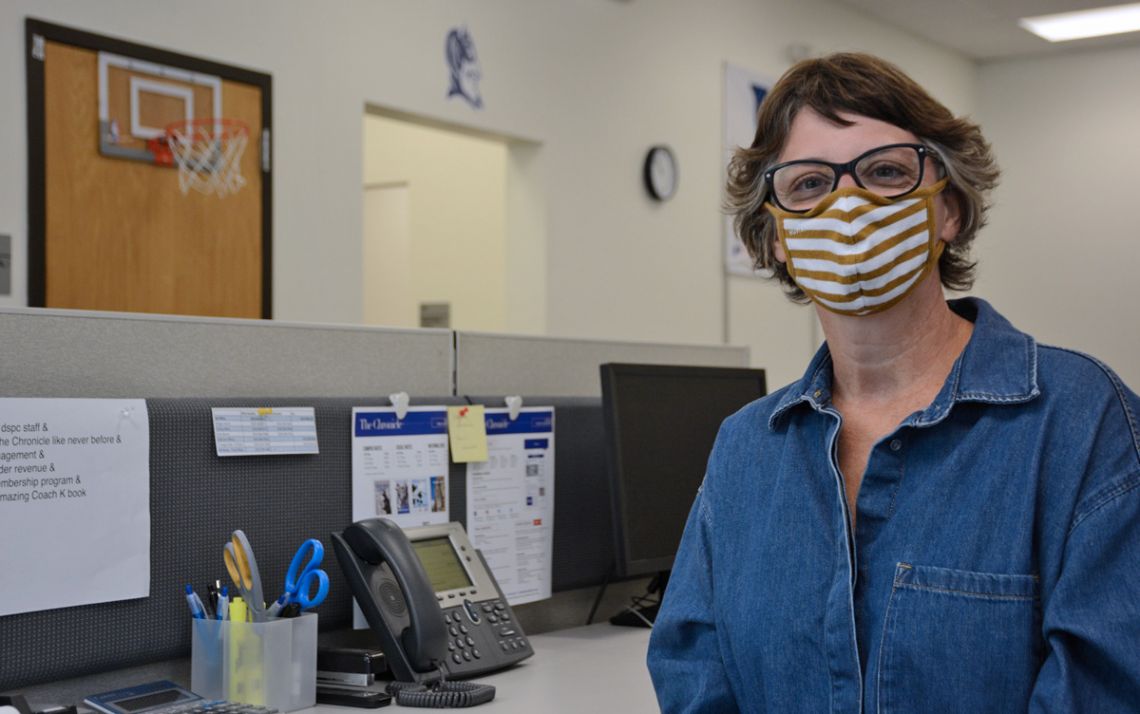 Name: Chrissy Beck
Position: General Manager, The Duke Chronicle
Years at Duke: 13
What she does at Duke: While the Duke Student Publishing Company, the non-profit behind The Duke Chronicle student news organization, is independent of Duke University, it is an officially recognized student organization.
But two Duke staff members help handle administrative and business operations, and since 2008, Chrissy Beck has been one of those employees, serving as general manager and overseeing the work of the nearly 30 student workers on The Duke Chronicle's business side, which includes advertising, circulation and marketing.
One of Beck's new duties is helping manage the Pitch Story Lab, a multimedia creative team that produces digital videos and content for around 75 clients, including the Duke University Law School, Duke Health and the Office of Undergraduate Admissions.
"Being a general manager in a small organization, you need to fill in wherever you're needed," said Beck, who does not have a role in The Duke Chronicle's editorial side. "Some days I might be running a meeting, or doing a presentation to a big client, and then some days I might be moving boxes from one location to another. And you're working with students, so I'll offer them some help or guidance when needed because they might be new to these roles."
How she has seen student journalism evolve: Beck said she's seen The Chronicle's staff evolve with the changing landscape of news organizations, shifting their prime focus from the print product to the digital platform and learning how to reach readers where they are by developing robust social media channels. The team has adjusted so well, it won its third-consecutive Online Pacemaker Award, one of student journalism's highest honors, in October. She said they've also embraced the idea of bringing more diverse voices into the publication and finding ways to bring in revenue in order to keep the publication stable.
"I am really proud of the bravery and creativity of our student leaders," Beck said. "We are in a much better place than I could have imagined."
What she loves about Duke: Beck cherishes the opportunity to work with college students. With the student workforce turning over every few years, The Duke Chronicle staff always brings fresh thinking and positive outlook to any challenge.
"The students are just so passionate and brilliant," Beck said. "They're just motivated and come to work with great attitudes. They keep you young."
First ever job: As a teenager in Charlotte, Beck worked a Holly Farms Fried Chicken restaurant, part of what was then a regional chain. The memories that stick with her include the polyester brown uniforms, the important lessons about customer service and the seasoned potato wedges, called "Taters," which were one of the menu's most popular items.
"I didn't really love fried chicken back then, but I did love those 'Taters,'" Beck said. "They were great."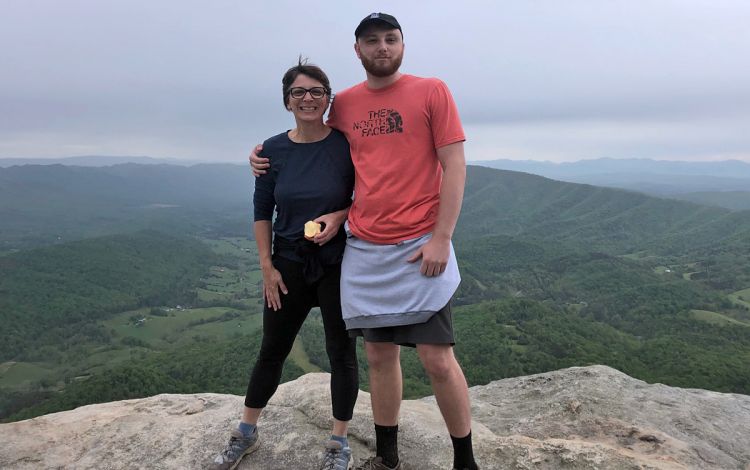 When she's not working, she likes to: Not someone who likes to sit still, Beck said one of her favorite pastimes is hiking. And her favorite way to hike is on trips to the mountains with her 22-year old son, Jackson. The pair recently completed a long hike in the Virginia mountains.
"I love hiking in the mountains," Beck said. "I'm definitely a mountain person instead of a beach person."
Lesson learned during the pandemic: Beck draws energy from going to an office filled with college students each day. While she worked on-site through most of the pandemic, many of her student workers contributed remotely, or only came into the office in very small numbers and with plenty of social distancing.
Beck said she learned the value of patience while enduring quiet and uncertain times.
"We were able to make it work, but I really missed the community aspect," Beck said. "It was just a matter of being patient and knowing that we will get through this."
Something most people don't know about her: Beck has a twin brother, Mark, who lives in Charlotte.
"I have two other brothers and I love them, too, but it was really special growing up with a twin," Beck said. "It was always like having a built-in best friend. And it was great that we were male and female because there was never any competition for anything, except maybe for grades, but not for clothes or friends or anything else."
Is there a colleague at Duke who has an intriguing job or goes above and beyond to make a difference? Nominate that person for Blue Devil of the Week.