Duke In Pics: Scenes From the 2021 Duke Employee Kickoff Celebration
Duke faculty and staff enjoyed the fun while cheering on the Blue Devils
For Janet Arnold, the fun of the Duke Football Employee Kickoff Celebration on Saturday was well worth the wait.
After being selected as this year's honorary captain for the annual celebration of Duke's staff and faculty back in August, Arnold finally had an opportunity to fulfill her duties before a crowd of 20,693 at Brooks Field at Wallace Wade Stadium. When Duke took on the University of Pittsburgh, the laboratory supervisor at Duke Raleigh Hospital, who has worked at Duke for 40 years, helped escort the Duke captains onto the field for the coin toss.
While standing between Duke Executive Vice President Daniel Ennis and the Blue Devil mascot on the field, Arnold was also honored for her contributions to Duke over the last four decades as her family looked on from the stands.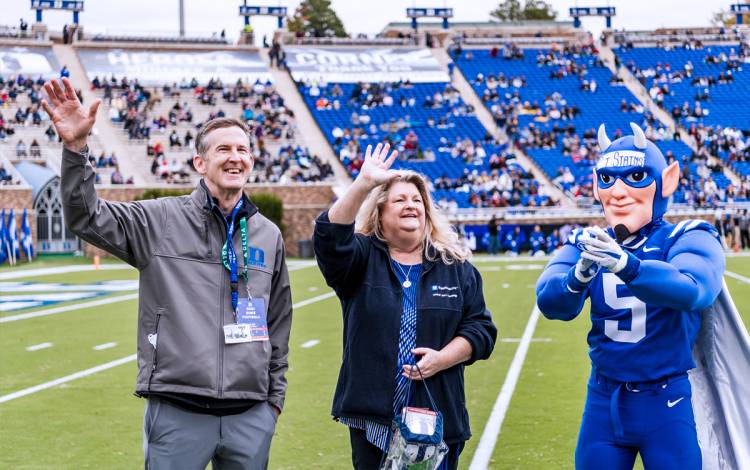 "My family was just so proud, and I was too" Arnold said. "It was quite a thrilling experience. I thought it was great. It was kind of a culmination of 40 years of service to Duke. It made me feel very appreciated and very honored."
To show appreciation for their contributions to Duke, benefits-eligible employees could receive up to four free tickets to the game, which included meal vouchers.
"It means the world to everyone, whether you've been here five years or you've been here 40 years, to take that moment and say, 'Thank you, you're appreciated,' and being part of a great organization like Duke is very special," Arnold said.
While Saturday's game resulted in a 54-29 Blue Devils loss, the Duke employees on hand were able to still make plenty of happy memories.
Check out these scenes from this year's Duke Football Employee Kickoff Celebration: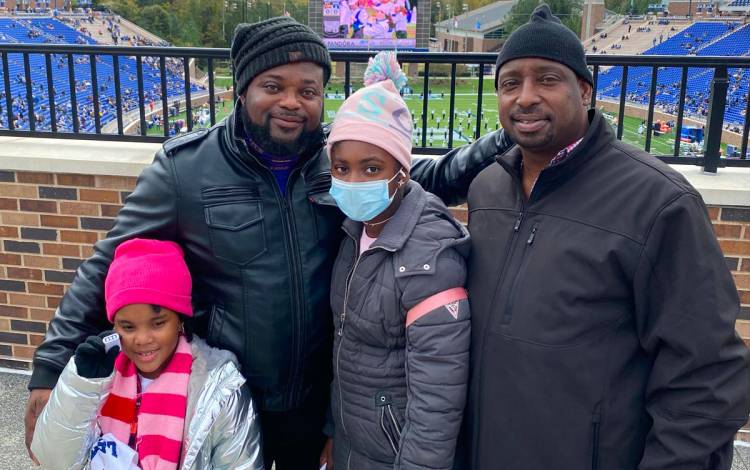 Twan Weaver, a lab research analyst in surgical sciences, stopped for a photo above the field along with family members who came with him: his 9-year-old daughter Kyndall, his brother, Troy, and his 6-year-old niece, Trinity.
The family of Duke fans enjoyed good food and community during the game.
"Even though we lost the game, the game was pretty fun," Weaver said. "The best part was seeing people and talking with different people we passed that I knew from my job."
After the employee kickoff game couldn't be held last year, Weaver appreciated how normal the experience felt.
"It's important just to show appreciation for the hard work that people are putting into make Duke operate," Weaver said. "With COVID and everything else going on it brought a little bit of normalcy back."
Jeremy Poling, who works for Duke Health Technology Solutions, sported his Duke football jersey while taking a picture with his 10-year-old daughter, Elaina and his wife, Lynn.
Gabriel Alcantara, a senior business manager for Hematologic Malignancies & Cell Therapy, declared it "perfect football weather," while he and his family paused for a selfie from their seats.
Seven-year-old Ziva Maruo, had a ball taking part in the Jr. Blue Devil Skills Challenge, an activity before the game that drew many children who wanted to compete like the players on the field.
"The best part was this activity, where children could really feel like they're part of Duke Athletics and connect with some of the folks," said her mother, Laura Rosenberger, a surgical oncologist in the Duke School of Medicine. "That was probably the most exciting part for her that day was getting to engage in those activities."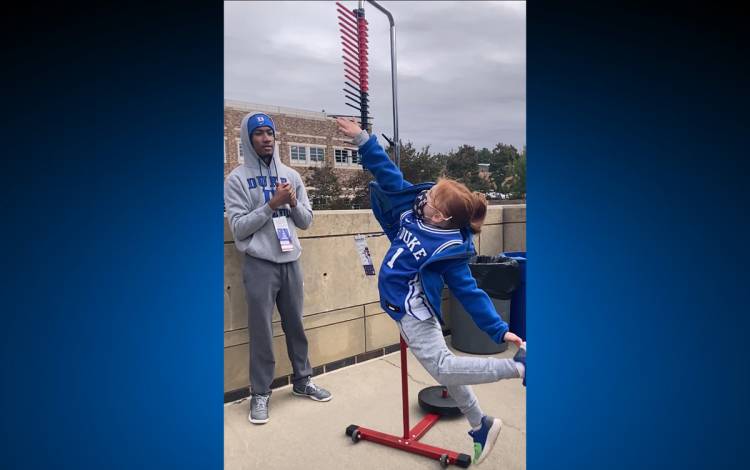 The highlight of the day for Ziva, who enjoys gymnastics and a range of other sports, was participating in the pre-game jumping drills and football toss.
"It was super great," Rosenberger said. "It was a way that she could sort of engage in a game that maybe she's a little bit too young to completely understand."
Send story ideas, shout-outs and photographs through our story idea form or write working@duke.edu.