Five Blue Devils Drafted by Major League Baseball Teams
The Duke baseball team saw a trio of Blue Devils selected during the second through the tenth rounds on day two of the 2021 MLB Draft, hosted at the Bellco Theatre in Denver. Two other Blue Devils were selected on day three
Junior Ethan Murray highlighted Duke's selections as he was taken with the 147th overall pick (fifth round) by the Milwaukee Brewers. Senior Joey Loperfido followed as the Houston Astros picked him No. 208 overall (seventh round). Graduate student Peter Matt closed out the selections on day two as he was taken in the 10th round with the 304th overall pick.
Murray's fifth round selection was Duke's ninth player taken in the top five rounds in the last 10 drafts. In addition, a Blue Devil has been picked in the top five rounds of the draft in eight of the last nine years.
The five draft picks took Duke's total selections to 87 all-time and 32 under head coach Chris Pollard.
Round 5, Pick 147 – Ethan Murray – Milwaukee Brewers
Murray was a staple in the Duke infield, starting in all 128 games he appeared in during his three-year career. The shortstop slashed .292/.392/.432 with 26 doubles, six triples and nine home runs while drawing 76 walks in his Duke tenure. The Crozet, Va., native gathered consensus Freshman All-America accolades and was named to the ACC All-Freshman Team in 2019 after leading the team in on-base percentage (.391) and second in batting average (.305), RBIs (40) and runs scored (48). Murray batted .297 as a junior, also tallying 13 doubles, 34 walks and four triples. His 34 walks and four triples ranked in the top 10 in the ACC. On April 13, 2021 against Campbell, Murray wrote his name in the NCAA history books as he became just the ninth player in NCAA Division I history to hit two triples in a single inning. Murray became the second player to be drafted by the Milwaukee Brewers, joining Jeff Becker as the 596th pick in the 1998 MLB Draft.
"Ethan is a true gym rat on the baseball field." Pollard said. "He loves to play the game and his work ethic is unmatched. His understanding of process combined with his work ethic will make him a great professional baseball player. I have no doubts that Ethan has the skill set to play shortstop in professional baseball."
Round 7, Pick 208 – Joey Loperfido – Houston Astros
Loperfido was described as a Swiss army knife during his time at Duke, playing in the infield his freshman and sophomore seasons before moving to the outfield as a junior and senior. The Haddonfield, N.J., native helped make Duke history on multiple occasions in his four years, being a member of the first team to reach three consecutive NCAA Tournament appearances, two Super Regionals and win an ACC Baseball Championship. Loperfido was named a 2018 Freshman All-American, 2021 Second Team All-ACC outfielder and the 2021 ACC Baseball Championship Tournament MVP. After opting to come back to Duke after he was not drafted in the shortened 2020 MLB Draft, Loperfido led the program and was among the ACC leaders with a .374 batting average, a .473 on-base percentage, 77 hits, 19 doubles and 56 runs scored. Loperfido slashed .317/.419/.488 during his career, appearing and starting in 170 games. He finishes his Duke career ranking in the top-20 in program history in career batting average (.317), on-base percentage (.419), home runs (18), runs scored (142), stolen bases (41) and hit by pitch (31). Loperfido becomes the second Blue Devil drafted by the Houston Astros.
"I am truly grateful for Joey and everything he has done to elevate the Duke baseball program," Pollard commented. "He leaves Durham as one of the winningest players and best leaders in program history. He will be a consummate professional within the Astros organization."
Round 10, Pick 304 – Peter Matt – Chicago Cubs
An explosive player, Matt joined the Duke squad after playing four seasons at Penn. The outfielder boasted both power and speed to become a dangerous addition to the Blue Devils' lineup. Matt finished his career slashing .306/.377/.474 with 38 doubles, 7 triples, 19 home runs, 106 RBIs and 34 stolen bases. In his lone season as a Blue Devil, Matt was quick to make an impact. He ranked third on the team in batting average (.297) and hits (65) while placing second in home runs (15). The Larchmont, N.Y., native was stellar on the base paths, stealing 15 bases to lead the club and sit in the top 10 in the ACC and in Duke history. Matt is the first Blue Devil in program history to hit 15 home runs and steal 15 bases in a single season. In addition, Matt teamed up with RJ Schreck to become the second duo in program history to each hit 15 or more home runs in a season. He recorded 19 multi-hit games and four multi-home run games as a Blue Devil. Matt is just the second player in program history to be drafted by the Chicago Cubs.
"Peter solidified our offense in 2021 with an elite combination of power and speed," Pollard said. "What an incredible fifth year of eligibility. A Duke master's degree from the Fuqua School of Business, an ACC Championship and now an opportunity in professional baseball with the Chicago Cubs. I couldn't be happier for him."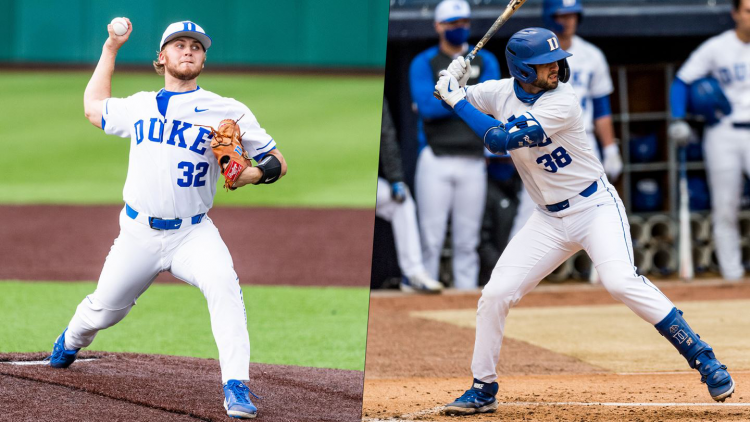 Round 11, Pick 313 – Jack Carey – Pittsburgh Pirates
Carey began his career as a reliever before emerging into a starting role as a sophomore and becoming Duke's Friday night starter as a junior. Heading into the draft, Carey was tabbed the No. 237 prospect by Baseball America. As a Blue Devil, Carey carried a 5.07 ERA and a 9-5 record in 43 appearances with 18 starts. The Summit, N.J., native surrendered 136 hits and 52 walks while striking out 123 in 129.2 innings of work. He held batters to a .272 average. His 2021 season brought the most production, appearing and starting in 15 games with a 4-3 record. He totaled 69 strikeouts and held batters to a .255 batting average while allowing 68 hits and 25 walks in 68.2 innings pitched. Carey shined in the month of May as the Friday starter for the Blue Devils, boasting a 2.33 ERA with a 2-0 record and striking out 29 to just three walks in four appearances. Carey becomes the fourth Blue Devils drafted by the Pittsburgh Pirates.
"I am so proud of Jack and his development on the mound this year in our program," Pollard said. "He emerged as a true Friday night ace for us. As I have said many occasions, we would not have won the ACC Tournament and advanced to the NCAA Tournament without the tremendous job he did down the stretch. He has the combination of stuff and competitiveness to be really successful in professional baseball."
Round 12, Pick 345 – Michael Rothenberg – Detroit Tigers
Rothenberg was a staple behind the plate during his Duke career. A rare switch-hitting catcher with power, Rothenberg appeared in 166 games while starting 157 in his tenure. He slashed .266/.388/.479 and graduates from Duke ranking in the all-time career lists in numerous categories. The Boca Raton, Fla., native blasted 24 home runs to rank 13th in program history while his 128 RBIs ranked 17th, his 36 hit by pitches is fourth in school history and his .479 slugging percentage placed 24th. In the COVID-19 pandemic shortened 2020 season, Rothenberg led the club in batting average (.349), runs scored (13), doubles (tied with five), RBIs (17) and walks (15). Rothenberg was a two-time member of the ACC Baseball Championship All-Tournament Team, hitting a grand slam in each the 2019 and 2021 tournaments. He was equally impressive in the classroom as well, being named to the All-ACC Academic Team and the CoSIDA Academic All-District Team twice and was tabbed a 2020 CoSIDA Academic All-American. He is the fifth player drafted from Duke by the Detroit Tigers.
"Mike has a tremendous baseball IQ," Pollard commented. "He is a student of the game and he has an incredible knack for making pitchers better with his receiving and game management skills. Mike is the definition of a true student-athlete leaving Durham as a CoSIDA Academic All-American."