Duke Researcher from India Enjoys July Fourth Experience
Staff and faculty are invited to share their summer pictures as part of the Duke Time Off campaign until Aug. 9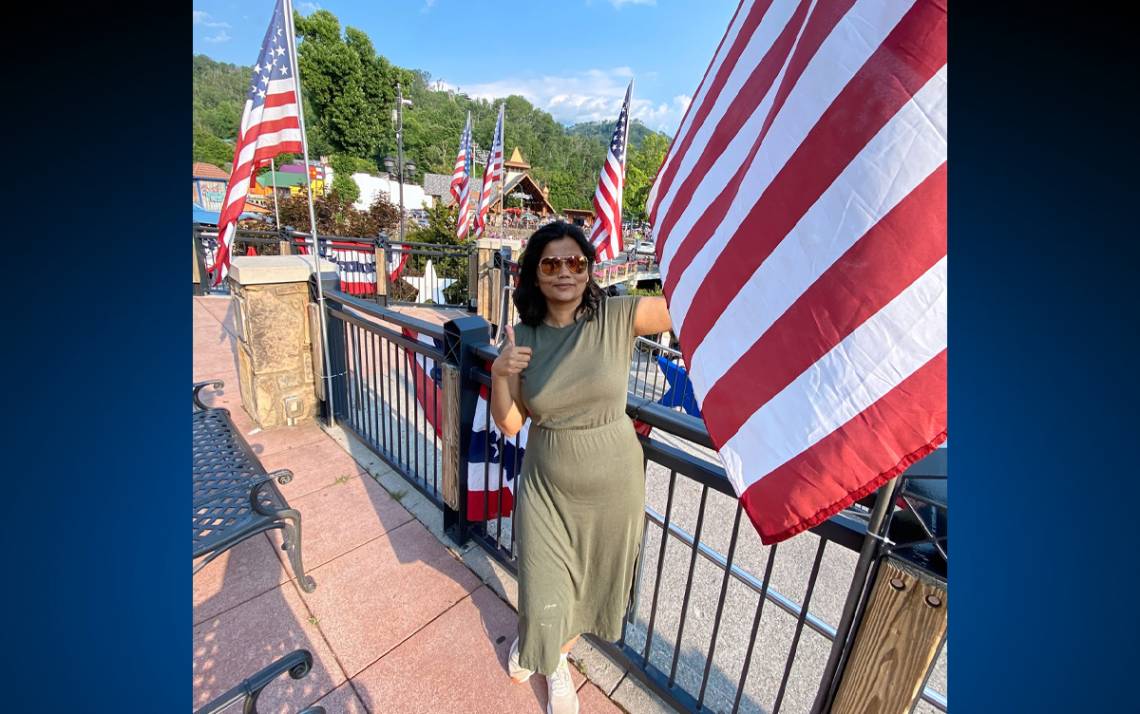 Shelly Goomber, a postdoctoral associate in the Duke University School of Medicine's Department of Pediatrics, came to the United States from India for the first time in 2019 to conduct research in medical genetics.
For much of her time in the U.S., the COVID-19 pandemic kept her from doing much exploring. But with a three-day weekend for Ithe July Fourth holiday, she took advantage of her time off and visited Gatlinburg, Tennessee, with her two children.
It was on that trip, amid the festive atmosphere, when the photo above was taken, showing Goomber on a scenic overlook, framed by U.S. flags.
"I was really curious about Independence Day," Goomber said. "I really wanted experience this. I can understand the national spirit. I'm from India and people there love their country."
Goomber is the third winner in the Duke Time Off photo campaign, which highlights fun times, hobbies, special moments and summer adventures during personal time off work. Goomber will receive a cooler courtesy of the Duke eStore. So far, at least 118 pictures have been shared.
To be eligible for prizes, photos must be taken between May 26, 2021, and Aug. 9, 2021, and shared by current University and Health System staff and faculty during the same time period. Share photos on social media using #DukeTimeOff or upload here.
Check out some other photos Duke colleagues have captured this summer.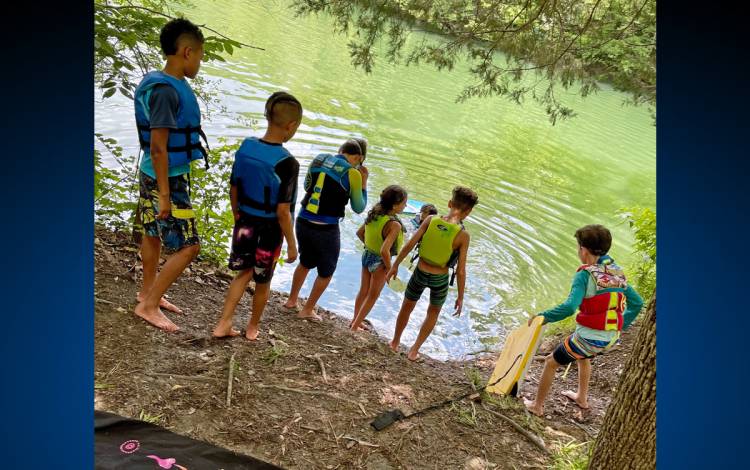 Michael Royster, a supervisor with Duke University Stores, shared this photo from a family trip to the rock quarry at Eno River State Park.
"It's about a 0.7-mile hike to get to the quarry and it was gorgeous and green," said Royster, who enjoyed the spot with his sons Cameron and Aiden. "Swimming was fun, too. We had a great time."

The Patient Revenue Management Organization's Danielle Shipman captured this scene of the surf at Florida's Siesta Key Beach.
"I've never felt more relaxed than when I'm at the beach, listening to the rhythm of the waves," Shipman said. "The feeling of the sand between my toes is grounding and the salty breeze refreshing."
How to share your 2021 summer pictures:
Post your photo on Twitter, Instagram or Facebook with #DukeTimeOff. Tell us what you're doing with your time away from work. Remember: include #DukeTimeOff in your post, so we can find your snapshots on social media;
Post your photo and caption on the Working@Duke Facebook page: facebook.com/workingatduke;
Or upload your photo: hr.duke.edu/DukeTimeOff2021
We know your vacation plans will look different this summer due to COVID-19. And that's okay. We welcome pictures of your special moments and adventures that capture a reprieve from the stress of these challenging times, as long as you follow CDC guidelines to travel safe.
During the campaign, the Working@Duke editorial team will award some Duke-themed merchandise from the Duke eStore. Grand prizes at the end of the campaign include:
Overnight stay with breakfast for two at Washington Duke Inn, courtesy of the Washington Duke Inn
$100 gift certificate to the Durham Performing Arts Center
A virtual painting package for one household with their favorite lemur species. This package includes a custom-edited video of your painting session, and the winner will receive the best paintings of the bunch along with a beautiful photo of the artist(s) for display – all courtesy of the Duke Lemur Center
Got a story idea? Send ideas, shout-outs and photographs through our story idea form or write working@duke.edu.