Durham Community Connections Stay Strong During Pandemic
With COVID-19 forcing everyone to stay distant, Duke maintains close ties
Since 2015, the Duke University Health System Summer Internship Program has given Durham high school students first-hand experiences in the health care field by allowing them to shadow staff members at Duke University Hospital and across Duke University Health System.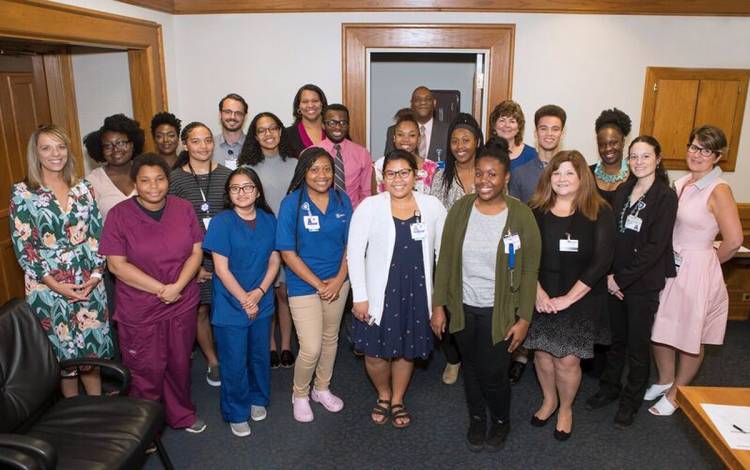 After the pandemic canceled the 2020 program, it returns this summer with a new name and format. In June, the now-fully-virtual internship will provide interactive activities that give an inside look at Duke Health jobs. The internship, renamed MaryAnn Black Summer Internship Program, honors the late Durham County commissioner and Duke University Health System leader who pushed Duke to build stronger bonds with the city it calls home. Black also played a central role in the formation of the internship program.
"The Durham community and young people were so important to her," said Darla Wohlfarth, the program's administrative coordinator. "For her legacy to live on through this program, I'm sure it would please her immensely."
While the pandemic has forced people to keep their distance, initiatives across Duke, such as the MaryAnn Black Summer Internship Program, reflect Duke's commitment to maintain close ties to the Durham community.  
"It is heartening to see that even during the pandemic, Duke faculty, staff and students continue to find ways to support the community through service and learning opportunities," said Duke Vice President for Durham and Community Affairs Stelfanie Williams. "It speaks to the incredible resilience of Duke and Durham, especially when we partner together."
From innovative courses, to help on the front lines of the fight against COVID-19, here are a few of the many ways Duke has kept its community connections strong during the pandemic.
Support for people affected by gun violence

Duke University Chapel has long been a steadfast partner for the Religious Coalition for a Nonviolent Durham, an organization that draws community members from many faiths together to bring hope and justice to lives touched by gun violence.
The group organizes prayer vigils for victims of gun violence, community roundtables on restorative justice and – through the "faith teams" in its Reconciliation and Reentry Ministry – help for recently released prisoners.
"Often, people recently released from prison don't have a community around them," said Duke Chapel Community Minister Rev. Breana van Velzen, who leads a faith team of Duke students and members of the Congregation at Duke Chapel. "The whole point of this program is to become that community for someone."
Prior to the pandemic, the faith teams' work with "partners"—people returning to the community from prison—had been done through in-person meals, talks and activities. Those interactions had to be reimagined.
Now, team members drop off supplies like food and blankets to partners and talk regularly on the phone, via Zoom or, in some cases, through physically distanced, outdoor masked meet-ups.
They try to keep the connection alive with kind gestures, such as giving a partner a CD player and several discs of his favorite jazz music as a Christmas gift. Van Velzen said the team made sure to listen to the music so they could have something to discuss next time they talked to him.
"The community keeps going whether or not organizations and Duke Chapel are participating," Van Velzen said. "But we're doing our best to be present, in the ways that we can, to be part of that good work that is happening."
Volunteer vaccinators to combat COVID-19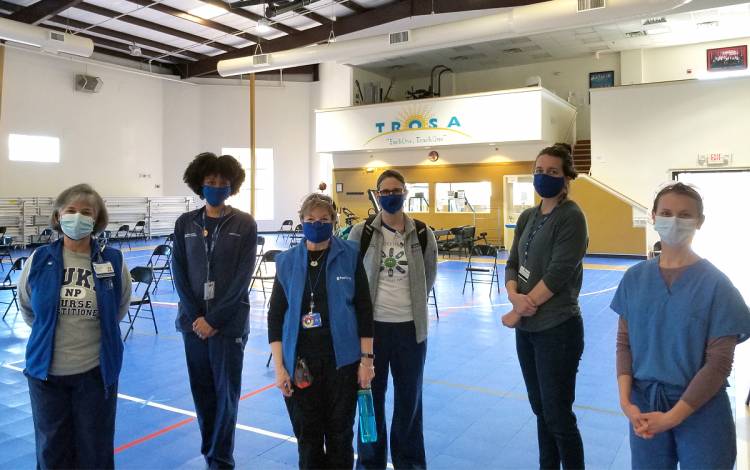 In mid-February, Sarah Cottingham, the nurse practitioner of TROSA, a treatment facility for men and women battling substance use disorders, had a problem.
Roughly 200 of the center's residents had received their first dose of the COVID-19 vaccine at the Durham County Health Department. But as they readied for their second shot, the health department's vaccination resources were stretched, so it asked if TROSA and a local pharmacy could put together their own pop-up clinic.
"I knew we needed additional hands, so I immediately sent an email out to Heather," said Cottingham, a Duke employee whose role is part of a long-standing partnership between TROSA and the university. 
The email's recipient, Heather Mountz, is the program coordinator for the Duke University School of Nursing's Community Health Improvement Partnership Program (D-CHIPP). Since 2017, D-CHIPP has helped the school address the health care needs of the Durham community by giving students, staff and faculty opportunities to serve in clinical and educational roles with community organizations.
"We put a call out to our faculty and staff and we were able to plug the gaps that TROSA was experiencing," Mountz said.
Within days, DUSON had five experienced volunteers ready to step in. And on Saturday, February 20, TROSA quickly and efficiently delivered roughly 200 vaccinations to its residents.
"I'm not sure how we would have pulled it off without their help," Cottingham said.
Reaching Young Minds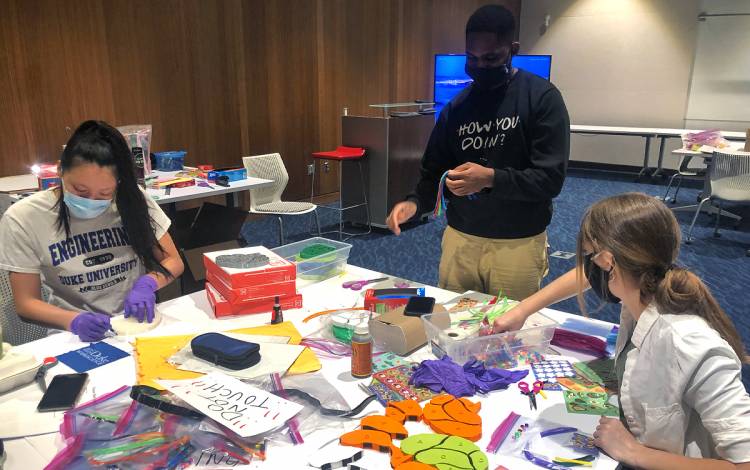 On Tuesdays and Thursdays this spring, tables in the Duke Institute for Brain Science's multipurpose room were filled with colorful construction paper, pipe cleaner creations and Play-Doh.
It was for the Brain Connections course taught by Assistant Professor of the Practice of Psychology and Neuroscience Minna Ng, and the craft supplies would soon be in the hands of Durham children looking for a dose of fun during an especially trying school year.
The central project of Ng's course was for her students to create easy-to-use, brain-themed learning activity kits for scholastic support programs organized by the Durham Children's Initiative and YMCA of Durham, both of which are longtime partners with Duke for community outreach projects.
"We wanted to find a way that our students could be meaningfully contributing and donating content to our partners, but in a safe way," said doctoral student Allie Sinclair, who helped develop and teach with course with Ng.
Ng had the idea for a course that wove neuroscience and community outreach years earlier but never found the right moment to put it together. When the pandemic arrived, Ng realized her idea would allow students to do something for the Durham community that didn't require face-to-face interaction.
"This is the perfect time to be in service, this is the perfect time to learn about our community and what we can offer," Ng said. "The challenges the pandemic has added to running this course have been real – but they are small compared to most of what our families and kids in the community have faced."
Duke Service Learning provided funds for the supplies and the students brought the creativity, designing activity kits ranging from crossword puzzles and word searches, to challenges to create brains out of Play-Doh or neurons out of pipe cleaners and beads.
"I love seeing my kids try something totally new from a completely different perspective," said Kirsten Alfaro, youth director for the YMCA of Durham. "For my students to look at a brain structure and say, 'Oh, what does this do?' and have it be an activity that's simple for us to use again and again, it's a hoot and a half."
Early on in the pandemic, Duke Science & Society held a virtual discussion about how Duke and Durham were working together to respond to the crisis. Watch the video below.
Send story ideas, shout-outs and photographs to Working@Duke through our story idea form or write working@duke.edu.