Amid a Pandemic, New and Renovated Buildings Open
Projects that were started before COVID-19 still moved forward, giving opening of buildings a different feel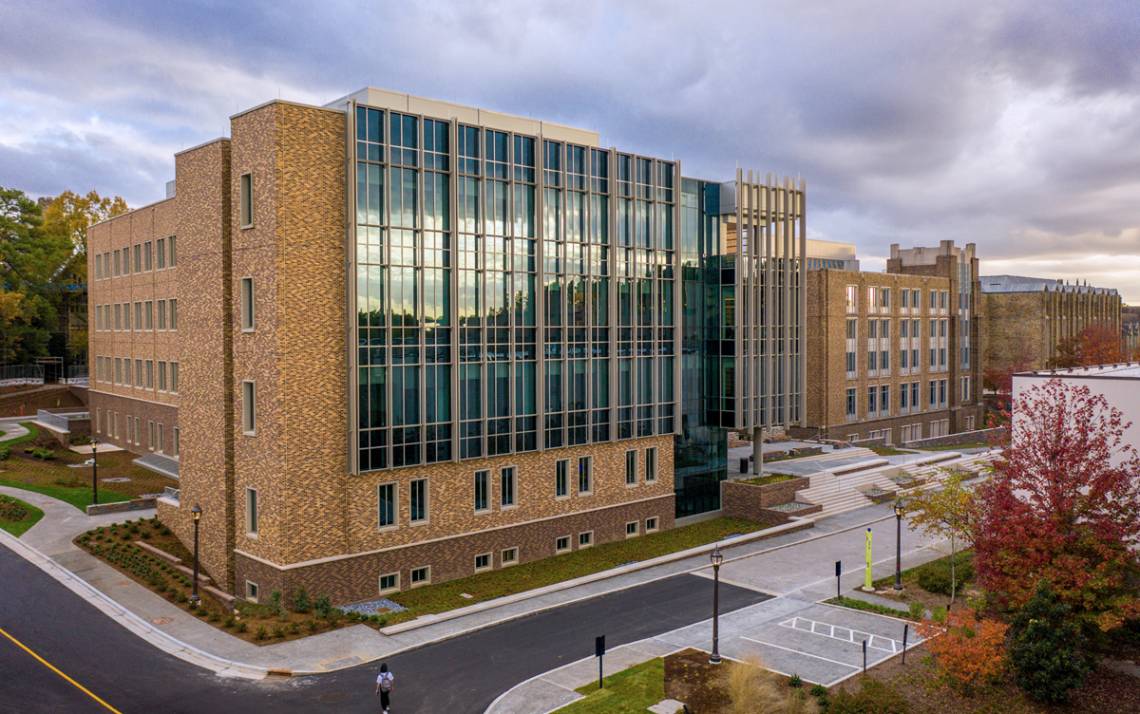 Mitchell Vann, the director of Facilities for the Pratt School of Engineering, knows that the Duke community will find a lot to be proud of in the Wilkinson Building.
Opened for classes in January, the 150,000-square foot Wilkinson Building expands the education and student programming space for the Pratt School of Engineering by 50 percent and has interdisciplinary research "neighborhoods" geared toward the areas of health, computing and the environment.
Visitors will likely fall in love with the art collection – which includes works by Duke graduate Mikael Owunna, Durham artist Saba Taj and former Duke professor Vernon Pratt. But, with the COVID-19 pandemic limiting access to the building to staff and faculty who work there and students who have classes and lab work there, it will be a while before most of the Duke community gets to see it.
"Ultimately, when Duke gets back to 100 percent, the pandemic is minimized and we're all back in person, the building will truly come to life," Vann said.
While many rhythms of Duke campus life were interrupted by the COVID-19 pandemic, construction projects that were already underway kept moving forward. And when the threat of the pandemic lessens and more staff, faculty and students can return to campus, new and renovated buildings will be ready to welcome them.
This New, Old House
Susan Semonite, associate director of Undergraduate Admissions, said that when renovations are complete at 2138 Campus Dr. near the end of this spring semester, there will be plenty to look forward to. The offices will feature conference rooms, a break room and clearer access for pedestrians and visitors.
While the Undergraduate Admissions staff doesn't know exactly when or how they'll return, Semonite said the idea of being back together after working remotely for the past year, is an equally exciting prospect.
"What we will look forward to, more so than the actual space, is our staff finally getting to come back together," Semonite said. "We have been spread out among two different buildings and working remotely during the pandemic."
Like the nearby Graduate School building, Undergraduate Admissions is housed in a 90-year-old stone house designed by the architects who laid out the core of West Campus. Since late 2019, both buildings have been undergoing extensive renovations, including replacing the slate roofs, adding new heating and cooling systems and ductwork, fixing foundations and refreshing the interior spaces with new paint and ceilings. 
Duke Facilities Management Project Manager Sally Curtis said that the COVID-19 pandemic didn't affect the pace of work as contractors easily embraced safety protocols on masking and physical distancing. The only noticeable difference is that, as the work winds down, the inhabitants aren't moving in right away.
"We'll still move furniture in, but the people will trickle back when they feel it's appropriate," said Curtis.
Excited to Go Back
Duke University Graduate School Dean and Vice Provost for Graduate Education Paula McClain said her team's offices in the house at 2127 Campus Dr. helped set the tone for the tight-knit group.
With a full bathtub in one bathroom and an elegant swooping staircase in the foyer, the school's 32 staff members cherish the vintage building's unique character.
Since the fall of 2019, when renovations began and staff members moved to temporary office space in the Old Chemistry Building, the office events, such as student cookouts and staff holiday gatherings, which brought color to the life of the Graduate School have been put on hold.
Once renovations are complete in May and the threat of the virus has passed, McClain said her team looks forward to reviving those traditions and enjoying the school's quirky campus home.
"We love our house," McClain. "We're anxious to get back."
Making Themselves at Home
With a smooth concrete and glass exterior and two 119,000-pound chillers pumping away inside, Chiller Plant No. 3 opened last summer and helped beef up the cooling power for campus.
In addition to the chillers, which will serve Duke University Hospital and the new 490,000-square foot bed tower which will open this summer, the facility provided a home for Duke Facilities Management's High Voltage Team, which has previously been headquartered in a cluster of buildings on West Campus.
The team moved into their new space last summer and has begun to make it feel like home. The plaques for the safety awards have been hung on the wall of the break room. So too has a memorial plaque featuring the names of former team members who had passed away.
But with staggered shifts meaning colleagues don't see one another as much, the amount of fellowship that takes place in the space has yet to reach the pre-pandemic levels found in the team's old space.
High Voltage Team Supervisor Donald Elliott said past traditions such as holiday gatherings for the entire staff, have been put on hold. But he said someday soon, when it's safe to do so, he and his team want to get back to doing that. When that happens, he said the new workspace will truly feel like its theirs.
"We want to do a big meal or something like that, just to get everybody in the same room so we can all catch up," Elliott said.
Do you have a story idea or something you would like for us to cover? Send ideas, shout-outs and photographs through our story idea form or write working@duke.edu.