First-Ever Research Week a Win, Despite Being Virtual
Fall event rescheduled to last week of January and done exclusively online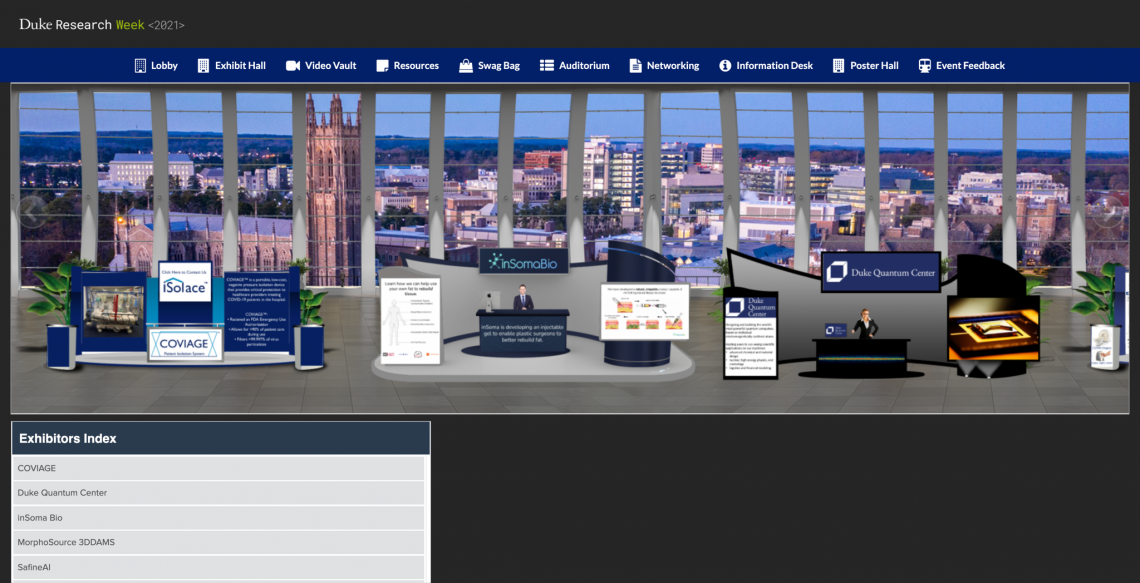 After the COVID pandemic prevented the first-ever Duke Research Week from happening in the Fall of 2020, the five-day session was reconvened in January with a virtual interface and a dozen well-attended sessions. More than 2,500 members of the Duke community attended some part of the events, which were hosted on Zoom and a virtual meeting platform called vFairs.
The first Daubechies Lecture was a keynote on day two and featured Gigliola Staffilani, the Abby Rockefeller Mauze Professor of Mathematics at MIT talking about her work on waves.
The Office of Research unveiled a powerful new platform for research planning and administration called myRESEARCHsuite, which was years in the making.
The Office of Licensing and Ventures (OLV) held its annual "Invented at Duke" celebration in a virtual format, with presentations from a handful of Duke spinout companies.
Daily sessions included updates from Duke's team leading COVID testing and modeling, political science professor Sunshine Hillygus's research on young voters, and an introduction to Duke's new quantum computing center. Professors Charles Gersbach and Greg Crawford presented their latest work on using CRISPR tools to decode and program the human genome, and a distinguished panel of Duke faculty shared their latest work on using artificial intelligence to improve healthcare.
On day three, a half-day session on the fundamentals of the scientific process – questions, study design and data collection -- conferred responsible conduct of research (RCR) credits for attending.
Day 3 also featured an announcement of the winners of the 2021 Impact Challenge: FlyRDU, a contest to see if our regional airport's operations could be improved to make travel safer and more reassuring during the covid pandemic. A team from Duke and NC State won the contest with a proposal to add a plasma textile filter to air handling systems in the terminal.

The virtual gathering also featured poster presentations by undergraduate and graduate students.
The first-place winner of the undergrad poster competition was Megan Zhao of Biology and Russian for "Two Roads Diverged: The role of NUAK2 in regulating the Hippo-YAP and transforming growth factor B pathways in prostate cancer. Druv Dadhania of ECE and statistics took second with "Structured Initialization for Low Rank Matrix Completion." And third place went to James Zheng of BME for "Patient-Oriented Payment Reform: A Novel Approach to Innovating Social Determinants of Health."
Miss any of the sessions? View a list of the week's events and watch the recordings at research.duke.edu/research-week-2021.