Earn an Academic Degree with Duke's Reimbursement Benefit
The Employee Tuition Assistance Program offers up to $5,250 per calendar year for eligible academic pursuits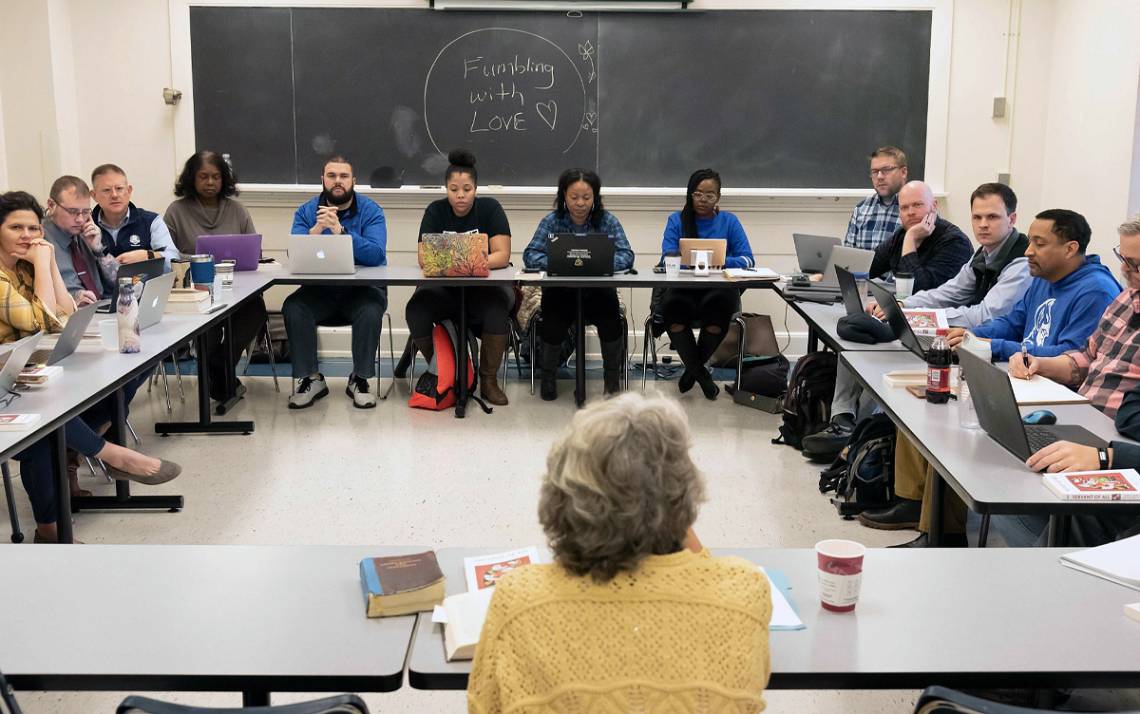 After working at Duke for many years with a 3-year-old son at home, Amy Clayton enrolled in the University of Mount Olive to earn a bachelor's degree in business administration.
It was the start of a lifelong dream for Clayton, who wants to become the first person in her immediate family to earn a college degree.
"Getting a bachelor's degree was something that was always just out of reach financially when I was growing up," said Clayton, senior program coordinator for the Duke Department of Economics. "Now with two boys, I want to set a good example. If their mom can go to college, then they can too."
The Duke Employee Tuition Assistance Program benefit made it possible for Clayton to earn a Bachelor of Science in Business Administration while working full-time at Duke. She plans to receive a bachelor's degree in 2022 to help prepare her for a human resources role at Duke. Clayton also plans to eventually earn a master's degree.
The tuition assistance program provides reimbursement of tuition for eligible classes taken at Duke or any other higher educational institution accredited by the Southern Association of Colleges and Schools with a physical presence in North Carolina. The benefit provides Duke employees who have at least two years of continuous full-time service up to $5,250 per calendar year to cover a maximum of three classes per semester or quarter.
For the 2019-20 fiscal year, Duke provided nearly $3.5 million in reimbursements to 1,043 employees attending 50 different schools.
"Education and knowledge give you the ability to apply for more positions and the confidence and skills to handle your current role better," said Keisha Williams, assistant vice president of Duke Learning & Organization Development. "The reality is education can open the door to more and more opportunities."
Learn how the tuition assistance reimbursement benefit has helped colleagues earn a degree, including at Duke University.
Daniel Corpening
Director of Field Education, Divinity School

Daniel Corpening did not intend on going back to school again when he started work at Duke in 2016 as director of field education for the Divinity School.
But Corpening, who earned a Master of Divinity from Duke in 2012, grew inspired after he started working at Duke during conversations with students about their studies. As director of field education, Corpening assists students in finding learning opportunities at congregations and various non-profit agencies.
The conversations, along with Duke's tuition assistance reimbursement benefit, convinced Corpening to enroll in Divinity's Doctor of Ministry program in 2019.
"I began to feel this sense that returning to school would strengthen my work with students," Corpening said. "I'm able to learn with and from people who have very different experiences in life and ministry."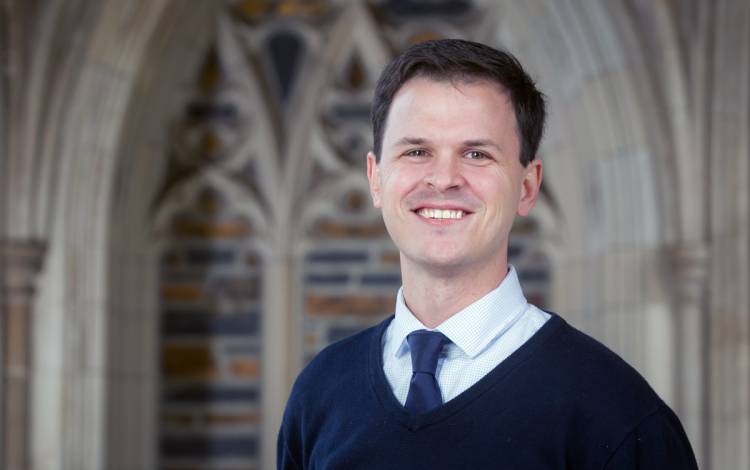 Corpening, now in his second year, uses personal and vacation time to attend virtual week-long residential seminars in the first two years of the program. The rest of the studies are coordinated around work schedules for online meetings with students and faculty and completing assignments.
As part of the doctoral studies, Corpening has taken courses such as "Old Testament & Christian Leadership" and "Theology of Christian Leadership ." He's conducting dissertation research on best habits and practices for sustaining a long-term career in ministry.
Corpening said the studies provide insights into student classroom experiences and hopes the research work will help support lifelong careers in ministry for students. Corpening plans to complete the doctorate degree in the spring of 2022.
"Getting this degree is adding joy to what is already really joyful work for me," Corpening said. "Duke investing in me strengthens how I can invest myself in service through Duke."
Jenn Chambers
Assistant Vice President, Duke Alumni Lifelong Learning
Jenn Chambers felt like she had some unfinished business to complete in academia after graduating from Duke with a bachelor's degree in theater studies in 2001.
While in school, Chambers also worked at least 20 hours a week at jobs in the university's Theater Operations department and at a café on campus through the four undergraduate years to support herself financially and build up her savings. Between classes and work, she had little time for in-depth research, study abroad opportunities or student organizations.
"I didn't always prioritize my academics," Chambers said. "I always wanted to return to school to hit my goal of graduating with a 4.0 and completing research. I wanted that validation and proof that I could thrive in a rigorous academic environment."
Several years ago, Chambers applied to the Graduate Liberal Studies program in The Duke Graduate School to earn a Master of Arts degree. The program provides part-time or full-time study options for students to self-design a master's program grounded in the interdisciplinary liberal arts.
Chambers picked the Graduate Liberal Studies program for its flexible scheduling. She has been able to work full-time, take classes in the evening and devote time to studies and research on weekends. And she, like other students, can take a semester off from graduate work if needed.
"Sometimes my work is complicated, and it can be difficult to manage class on top of the programs I oversee," Chambers said. "GLS gives you flexibility. I don't have to sacrifice work for school or vice versa."
She also appreciates the opportunity to learn from Duke faculty. Now as assistant vice president of Lifelong Learning, Chambers is often involved in planning events for Duke Alumni that involve faculty members.
"My network is growing as I'm exposed to more faculty," Chambers said. "I know more about what's happening in different departments on campus and how I can learn use that in my own work."
Chambers has completed classes about medieval Christianity, Christopher Columbus and the evolution of man. She also took a class that included travel to Italy in 2017 to study 15th century art and architecture.
"Traveling to Italy was an amazing opportunity to get that feeling of studying abroad," Chambers said. "You're taking an interdisciplinary approach to study architecture and how politics and religion control the creation of art. It pushes you to think about deeper contexts."
She is currently working on a master's thesis about "The Decameron," a 14th-century work comprised of 100 novellas by writer and poet Giovanni Boccaccio. She's researching the characteristics and relationships of the 10 narrators, known as "the brigata."
"Lifelong learning is something I've always bought into," Chambers said. "I feel so energized whenever I learn. Being in the classroom is where my heart is."
Tonia Covington
Service Access Manager, Duke Health Center at Roxboro Street
A month after graduating from Hillside High School in 1989, Tonia Covington started at Duke as a file clerk in the Department of Medical Records.
As the years went by, and she worked in different positions at Duke, supervisors kept recommending to Covington that she earn an associate degree to help her move into leadership roles.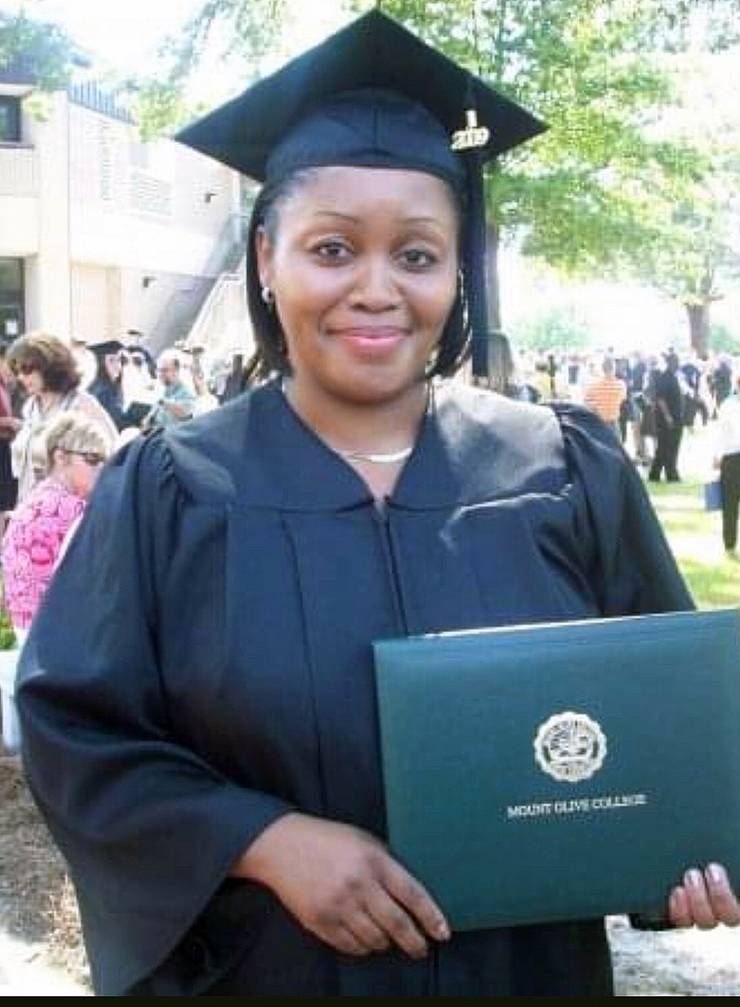 "A supervisor, Cheryl Brewer, came to me one day and said, 'you can do this,'" Covington said. "She sent me a link to the tuition reimbursement program. All the signs pointed to me going to college."
Covington enrolled in the University of Mount Olive's Associate of Science in General Studies program, which helped her improve her writing, technological literacy and critical thinking skills.
After receiving an associate degree in 2007, she continued her studies and completed the University of Mount Olive's Bachelor of Science in Business Administration program. She focused her studies on human resources policies, assessing finances and management.
Covington said the degrees helped her gain the skills and confidence to take on the role of service access manager after completing her degree.
"It's been a long and encouraging journey," Covington said. "I feel like I'm a spokesperson for the tuition program because I'm always telling my staff to use it. I've achieved so much because of the program."
Got a professional development idea or story you would like for us to cover? Send ideas, shout-outs and photographs through our story idea form or write working@duke.edu.