Memorial for Employees to Feature Ringing of Carillon
Virtual staff and faculty memorial service on Wednesday is part of Grief Awareness Week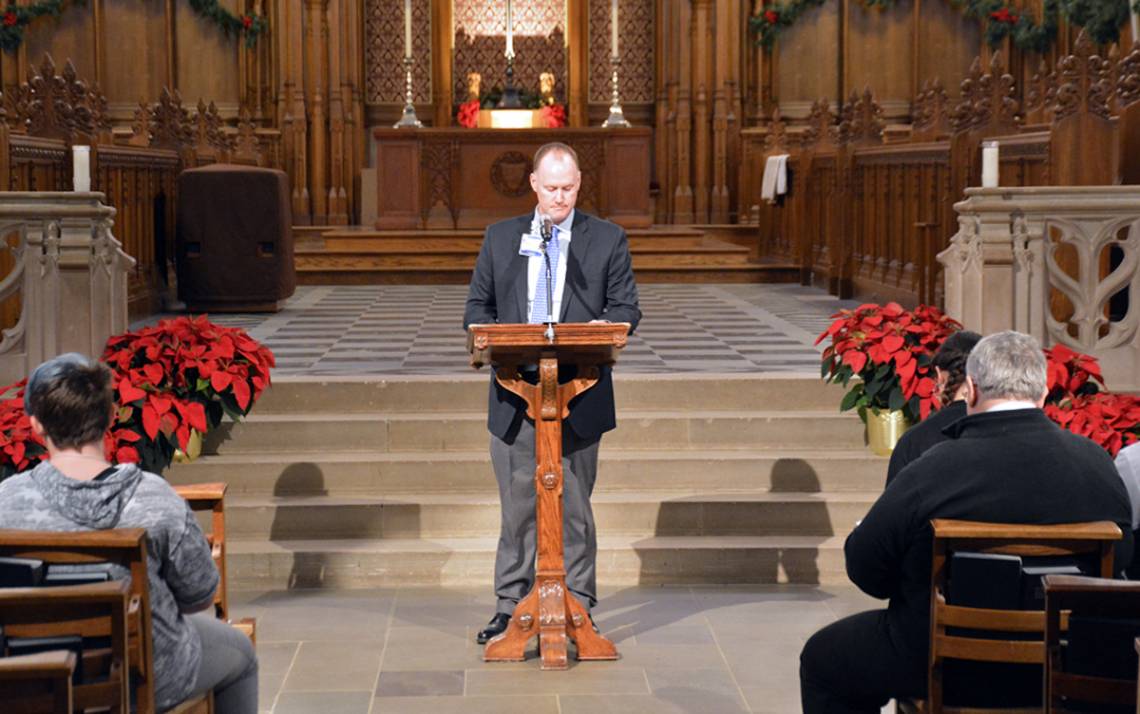 Duke University and Health System employees can remember late colleagues and express their sorrow together during a virtual memorial service on Wednesday.
The pre-recorded service in Duke University Chapel is part of Grief Awareness Week and will include the ringing of the carillon for each staff and faculty member who died in the past year. The events, which run through this week, are meant to increase awareness of grief and loss in the workplace, promote strategies for healthy grieving and encourage self-care.
"This time of year can be difficult for everyone," said the Rev. Artie Hendricks, Duke's clinical chaplain of palliative care and bereavement services. "The pandemic has only amplified those difficult feelings. We want our community to know Duke is here to help you in any way. We can lend an ear, recommend a quiet space or help provide whatever you need."
Duke Health's Department of Chaplain Services and Education and the Duke University Hospital Bereavement Advisory Council organized the activities.
As part of the events, the Department of Chaplain Services and Duke University Chapel will premiere the pre-recorded, virtual memorial service on Wednesday to honor approximately 252 staff and faculty who have passed away since November 2019, as reported to Duke Human Resources.
The memorial service is typically held twice a year at Duke University Chapel, but the March 2020 program was canceled due to the pandemic.
"It's important we take a moment to reflect on the lives of those who passed away because they each have made a unique contribution to our community," said Rev. Bruce Puckett, assistant dean of Duke University Chapel. "They deserve a moment of recognition."
Here are highlights of Grief Awareness Week events:
12 p.m. Wednesday, Nov. 18: The virtual "Staff Memorial Service" will premiere on Duke University Chapel's YouTube page. The program includes a non-denominational service, reading of staff and faculty names, and a singing performance by William Dawson, performing artist in residence for Arts & Health at Duke. The memorial service will be available to watch on-demand. The Chapel's carillon will toll once for each employee being remembered beginning at 12 p.m. on Wednesday.
1-5 p.m. Thursday, Nov. 19: Tune into "Matters of Grief: The Duke Response," a half-day virtual symposium. The event includes a discussion of grief and well-being resources available to the Duke community. Speakers include Men's Basketball Head Coach Mike Krzyzewski; employees from Duke Palliative Care; and Jonathan Bae, associate chief medical officer for patient safety and clinical quality and co-convener of mental and emotional well-being for Healthy Duke. Register here.
Noon Friday, Nov. 20: The Department of Chaplain Services will hold a tree dedication in honor of patients, their families and employees affected by COVID-19. The dedication will occur at the Seese-Thornton Garden of Tranquility, in front of the Duke Cancer Center.
Watch the 2020 "Staff Memorial Service" beginning at noon on Wednesday, Nov. 18:
Got something you would like for us to cover? Send ideas, shout-outs and photographs through our story idea form or write working@duke.edu.