Masking, Distancing and Handwashing: Vital Practices in Pandemic Fight
Keep following recommended safety behaviors to help stop the spread
When on-site at work, IT Analyst Marek Kasprisin always wears a face mask over his nose and mouth, and often adds a clear plastic shield for added protection.
Away from work, Kasprisin remains vigilant, wearing a reusable cloth mask in public, washing his hands often, avoiding large gatherings and shopping for groceries on weeknights to miss crowds.
"Better safe than sorry," Kasprisin said of his precautions. "There's no easy way to avoid exposure, so you try to protect yourself as much as you can."
The continued threat posed by COVID-19 in the wider community means it's equally as important for Duke staff, faculty and students to carry their commitment to safety beyond campus. Some models suggest the nation's COVID-19 death toll could reach around 363,000 by the end of this year.
Between August 2 and October 9, Duke University administered 87,657 tests to its students, staff and faculty, recording 107 positive results. But Duke employees live in communities where the spread of coronavirus is more pervasive through unknown sources of infection and social interactions with friends and family.
"We're doing well in the workplace, but we have significant ongoing risk in our daily life," said Dr. Carol Epling, director of Duke Employee Occupational Health & Wellness (EOHW). "All of these workplace controls are going to continue, but we shouldn't let up in our home lives."
Each day, an average of nearly 1,000 Americans die from the virus. In North Carolina, where there have been nearly 236,400 confirmed cases and 3,856 deaths from the virus, the number of positive tests is ticking upward, according to the North Carolina Department of Health and Human Services.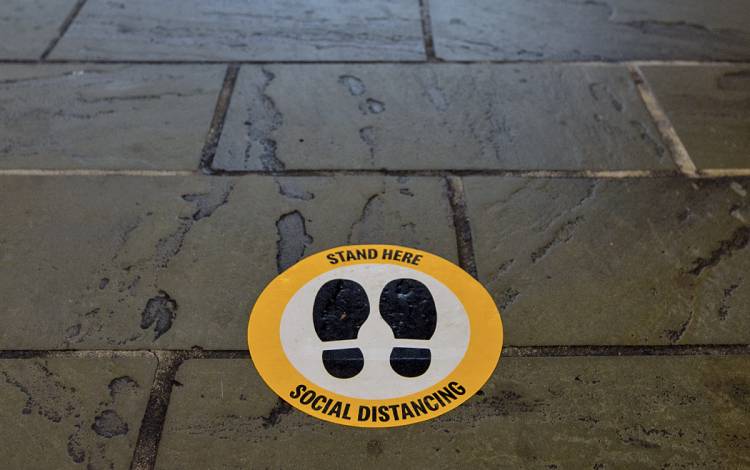 Epling said that with cold weather, winter holiday gatherings and general fatigue from months of restrictions, people may take risks.
"It's just exhausting to constantly keep your guard up, and it's hard on us emotionally and mentally not to be with our family and friends," Epling said. "But as we come into the holiday season, it's really important for everybody to be as careful as we have been and not give in."
She reiterated that community members must follow public health and safety practices to best protect themselves and community members: wear a mask, maintain at least 6-feet distance from others and frequently wash your hands.
Research has shown that COVID-19 spreads easily through airborne droplets released when we breathe, cough, sneeze or speak. Wearing a mask limits release of droplets and hinders the spread of the virus.
Epling said Duke community members who display COVID-19 symptoms, such as a cough, sore throat, runny nose or change in senses of taste and smell, should call the Duke COVID hotline and arrange a test. While symptoms may feel like seasonal allergies or a simple cold, it's still important to be tested. Epling pointed to recent instances of employees who tested positive after they thought the sore throat and runny nose were normal allergies.
"Stay home and let us test you," Epling said. "Let's make sure it's not COVID."
If you think you've been exposed to the virus or are displaying symptoms, wear a mask and stay home, away from others until test results come in. Epling said you should also begin thinking about where you've been and who you've encountered during the previous 14 days because, should you test positive, Duke's contact tracers will want to know whom you might have exposed and who your source of infection might be.
Kasprisin, the IT analyst with the Fuqua School of Business, said that while daily life during the pandemic has caused inconveniences, he will continue safety-minded behaviors.
"The sooner it's over, the better," Kasprisin said. "If everyone takes it seriously, we can get through this."
Help share the proactive and extensive work being done by all Duke community members during the COVID-19 outbreak. Send ideas, shout-outs and photographs through our story idea form or write working@duke.edu.