How to Make Smarter Decisions
Three steps for achieving success when faced with choices
At the Duke Career Center, Monique Turrentine decides what companies and organizations are invited to Duke to meet virtually or in-person with students to discuss job opportunities. 
With thousands of employers and almost no parameters, Turrentine takes her time figuring out what companies to invite for events. She notes necessities – equitable hiring practices, undergraduate degree requirements and right fits for Duke majors – and talks over her thought process with colleagues before final decisions.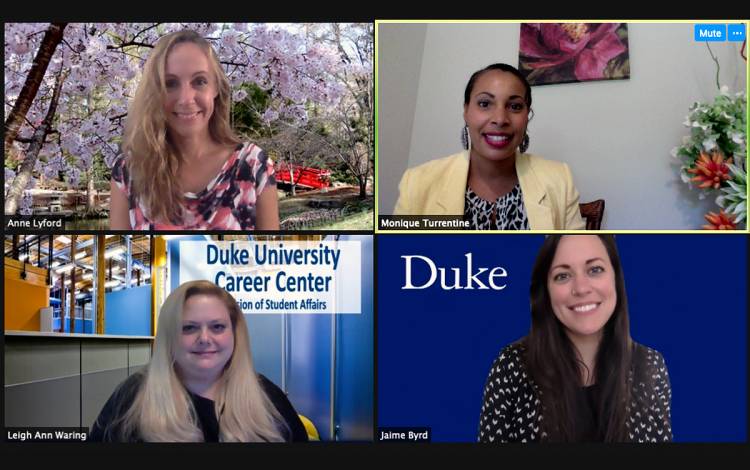 "I'm not doing any favors by rushing through my process," said Turrentine, assistant director of employer relations for the Duke Career Center, where she's worked for four years. "I have my process. I stick to it. I want to make decisions that benefit both the employer and our students. We want them to have a good experience." 
To ensure her decision-making process is sound, Turrentine tuned to a virtual talk by Ralph Keeney, research professor emeritus at the Fuqua School of Business. The August talk, called "Nudge Yourself to Make Smarter Decisions," was part of Fuqua's ongoing series on LinkedIn Live where professors and leaders share expertise in 30-minute sessions. Dr. Keeney's presentation was based on his new book "Give Yourself a Nudge," published by Cambridge University Press in April of this year.
Keeney, who studies how people make decisions, spoke about how to make smarter personal and professional choices by defining a decision clearly, identifying what you want to achieve and creating better alternatives by taking time to consider options. 
"Often we don't spend much time on the front end of decision making," Keeney said. "We try to solve the problem we have with a decision right away. Taking time to think things through is important because decision making is the only way to purposefully influence your life. Everything else is beyond our control."
Check out this three-step process for improving your decision-making process. 
Define Your Decision Clearly
Begin your decision-making by writing a decision statement that identifies the decision that you want to face. 
Keeney recommends starting your decision statement with "decide," followed by words such as "how," "when," "whether" or "if."  
For example, Keeney offered a decision around a new position. Your thought process may begin with whether to accept a new job – a yes or no. A useful decision statement would be "decide what type of job would be better for my career" or "decide what job would provide the most enjoyment and offer opportunities to expand my skills."
"Writing down multiple decision statements in that format will bring clarity to what needs to be addressed and why," Keeney said. "Understanding the question is important for finding a solution."
Next, consider your potential decision statements and select the one that best describes your interests.
"Your selected decision statement guides your subsequent effort," Keeney said. "It helps you figure out what your objectives are and you will likely recognize more things you need to consider."
Identify Your Objectives
Once you've taken time to settle on a decision, it's time to identify objectives, which specify what you want to achieve.
Keeney suggests making a list of everything you want to achieve as consequences of the decision with a verb in front of an object. 
"If you say 'work-life balance is important' then turn that phrase into 'take more vacation days' or 'spend time with my family every night,'" Keeney said. "This makes your objectives easily identifiable when thinking over your decision." 
Karen Kharasch, senior director of research strategy and operations for the Duke Cancer Institute, also listened to Keeney's LinkedIn Live for help with professional and personal decisions, like setting boundaries for ending her work day while working remotely. 
Kharasch's decision statement was to "decide when to wrap-up her workday at home," and her objective was to close her computer by 6 p.m.  
"While I could work well after 6 p.m., I decided I need to stop myself," she said. "I decided to be intentional about ending my day because I'll be more alert and well-rested."
Take Time to Consider Alternatives
The final step is to give yourself time to create alternatives for your decisions.
See if you can brainstorm new decision statements and objectives to create alternative results to the question at hand. Keeney said never to settle on the first alternative that you come up with.
"Giving yourself time to think of other alternatives will often reveal new and better alternatives," Keeney said. "The more alternatives that you identify, the more likely your choice leads to a consequence that achieves your objectives."
Keeney said to let your values, as expressed by your objectives, guide your thought process during this step of the decision-making process.
"What do you care about?" Keeney said. "People often jump in and go with the first alternative that contributes to an obvious objective without thinking about long-term consequences. Will you be happier making more money with a new job, if you do not learn much or enjoy what you're working on?" 
Diversity, equity and inclusion are some of the values the Duke Career Center's Turrentine holds close when planning networking events for students. 
The center has typically scheduled one or two annual events that focused on employers with diversity, equity and inclusion hiring initiatives for students. But Turrentine and the employer relations team are expanding that to more events.
"Increasing our diversity and inclusion programming is now something we've begun discussing on the front end of event planning at the Career Center," Turrentine said. "The more we talked, the more we realized how important it was. We gave ourselves time to find a better decision."
Got something you would like for us to cover? Send ideas, shout-outs and photographs through our story idea form or write working@duke.edu.