Ways to Move More Outdoors While Keeping Your Distance
Safely enjoy the outdoors with these health practices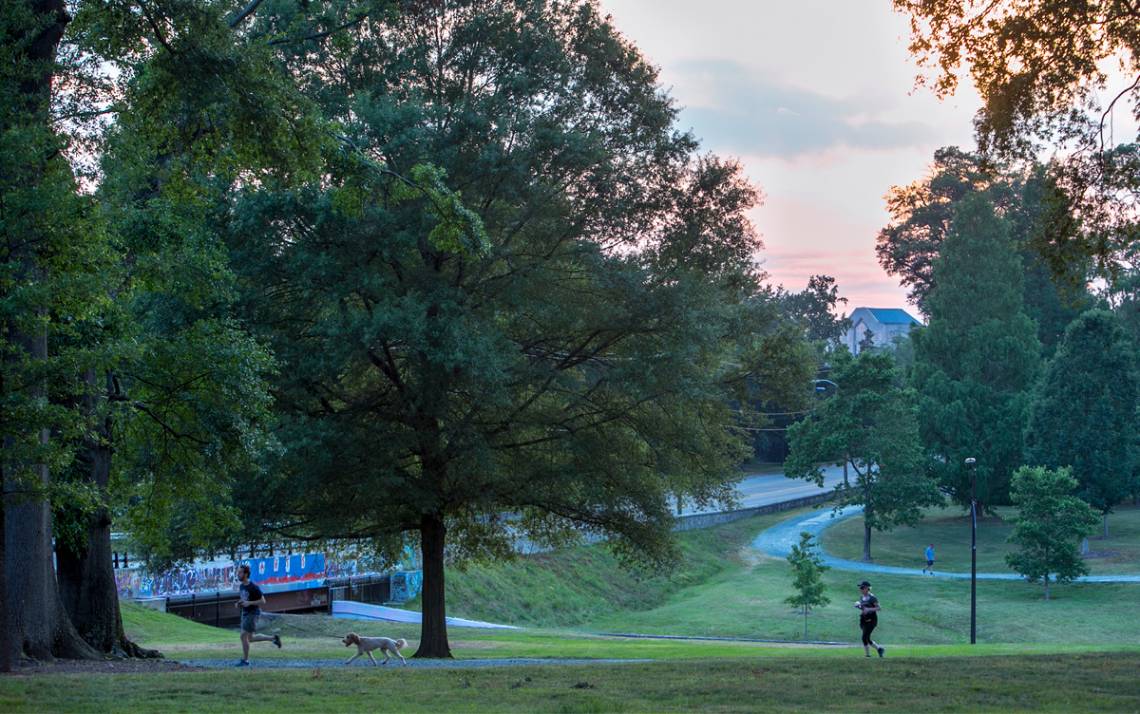 Margo Ginsberg and her 6-year-old son have developed a habit after hiking in Duke Forest: they rub their hands with disinfectant wipes at the car, then immediately wash their hands with soap and water when they arrive home.
The two-step hygiene care is an easy way for Ginsberg to feel at ease after her three to four trips to Duke Forest each week.
"We barely come into contact with anyone else, so the handwashing is just a precaution for protecting ourselves," said Ginsberg, program coordinator for Duke's Electrical & Computer Engineering program. "Our visits to Duke Forest have been really important to my mental health and well-being. Having that outlet is fabulous."
Exercise – particularly in the outdoors – is one the best ways to keep your mind and body healthy during the pandemic, according to the Centers for Disease Control & Prevention. But, while outdoors, it's still important to protect yourself and others from the virus.
Dr. Cerrone Cohen, assistant professor in Duke Family Medicine and Community Health, recommends activities such as hiking, biking, tennis or golf because they are lower risk ways to enjoy recreation outdoors. The American College of Sports Medicine, a national sports medicine and exercise science organization, also has a list of resources to help you stay safe and physically active at home.
"Being outdoors reduces the risk of the virus being transmitted person to person because you've got a lot more space," Cohen said. "The air volume dilutes the virus. It's a safer space to be than indoors as long as you pack a mask, physically distance and don't touch your face."
See how some colleagues are safely moving more in the outdoors.
Choose a path less traveled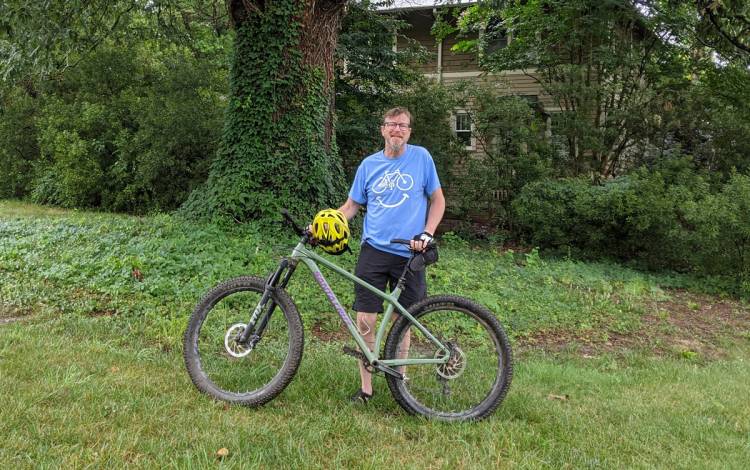 When the heat hits, John Little switches from riding open roads around Durham to cycling on the shaded trails of Rougemont's Little River Regional Park.
On rides, he maintains at least a 6 feet distance, and if he can't, he'll move off the trail to avoid hikers and other cyclists.
"It's a new way of doing things," said Little, data science librarian for Duke University Libraries. "People are much more intentional about giving each other space and not get too close. That physical and emotional safety of giving someone enough space is important."
While 6 feet is adequate distancing for most settings, Dr. Carol Epling, director of Duke Employee Occupational Health & Wellness, recommends moving 10 feet apart for strenuous activities when respiratory droplets may travel farther in the air.
"You're going to have a lot more air coming in and out of your lungs when you're exercising," said Epling said. "Allow those additional 4 to 6 feet of space to be between you and another person so you have a secure buffer."
Epling also recommends visiting less crowded areas during non-peak times to make it easier to maintain physical distancing.
Don't leave home without it

While Ginsberg and her son rarely come into contact with others during outdoor explorations, she always carries face masks.
"I'll slip on my mask as a courtesy when the trails aren't wide enough to physically distance from other hikers," said Ginsberg, the program coordinator for Duke's Electrical & Computer Engineering program.
At Duke, all members of the community—faculty, students, staff, and visitors—must adhere to standards as mandated by local law and university policy. Those include wearing masks or cloth face coverings in classroom and public settings, practicing physical distancing; washing and sanitizing hands frequently; and monitoring symptoms daily. A mask/face covering is required on the East Campus and Al Buehler trails.
"It should be a rule of thumb to always leave your house with a mask because you don't know what's going to happen," Epling said.
Hands off surfaces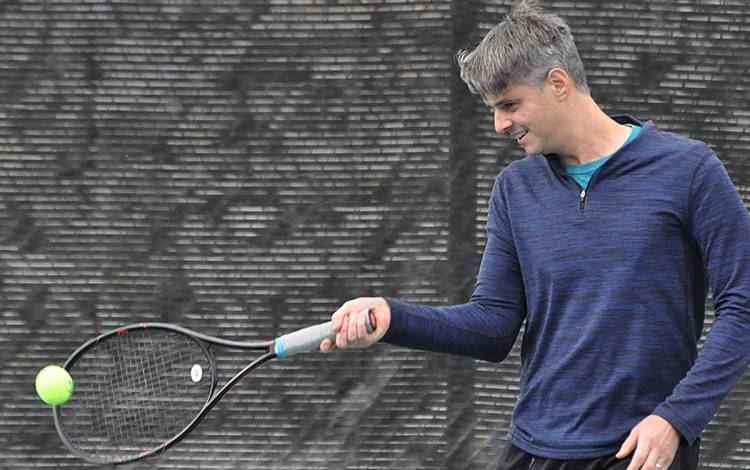 When they play tennis, Ivan Ross and his wife Justyne avoid touching the net and use the back of a hand to open gates to access the court, among other precautions.
COVID-19 is believed to primarily spread between people, but surfaces may be contaminated with SARS-CoV-2, the virus that causes COVID-19. Touching a contaminated surface or object could expose you to the virus if then touch your face or eyes.
"We take the better-safe-than-sorry approach," said Ross, a communication strategist for Duke Talent Identification Program. "We'll even put our own balls in quarantine when they roll onto a different court and another player touches it with their hands."
Dr. Cohen of Duke Family Medicine and Community Health suggests bringing a small container of hand sanitizer or disinfectant wipes to use when you come in contact with high-touched surfaces like handrails and gates.
"Our nature is to touch our face when we have an itch or wipe away sweat," Cohen said. "That's difficult to stop doing, so don't touch something unless you have to."
Is there something you would like for us to cover? Send ideas, shout-outs and photographs here or write working@duke.edu