Ready to Safely Serve 10,000 Meals Daily
Duke Dining establishes new protocols in the midst of COVID-19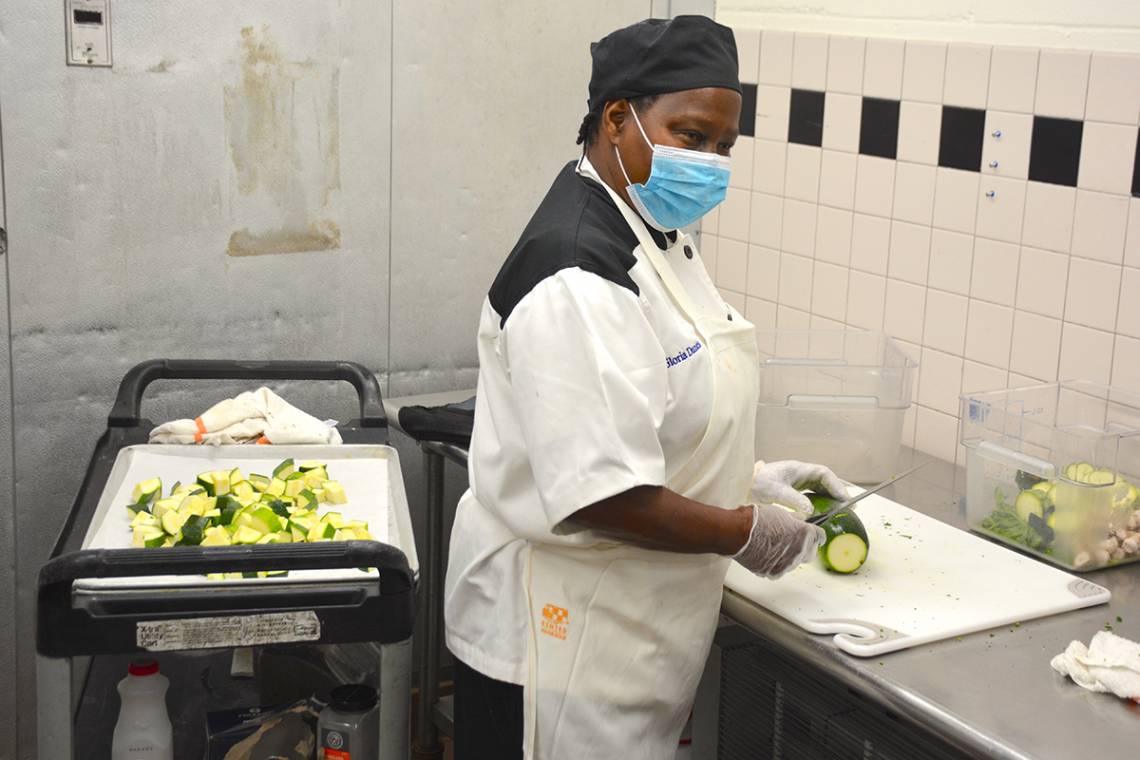 While the process for preparing and ordering food has changed, the Duke Dining team is prepared to safely serve 10,000 meals a day to students, employees and guests.
Dining team members spent the summer preparing about 20 facilities on East and West campuses for the return of first-year students, sophomores and other students, meeting with Duke's COVID-19 response teams and attending new health and safety training.
"Our first priority is, and always will be, to provide guests safe dining options," said Marcus Carson, Duke Dining's sustainability and quality assurance manager. "COVID-19 hasn't changed our principles."
Duke Dining will serve breakfast, lunch and dinner each day at the Marketplace on East Campus, the Brodhead Center on West Campus and at other on-campus eateries when full service for the academic year begins on Aug. 17 in the midst of a pandemic. They'll do so with modified service plans that make it safe, easy and convenient for the Duke community to eat on campus. And all community members – whether ordering or serving food – will be required to wear a mask and practice physical distancing.
Take a look at what Duke Dining has in store for the fall semester.
A food cart and an app
Duke Dining has made changes to the ordering process at the Marketplace on East Campus and for eateries in the Brodhead Center to protect the community.
The Marketplace, which features expanded hours, will not offer self-service options such as a salad bar and drink stations. Dining staff, wearing masks and gloves, will serve all food, including condiments and drinks. The menu will remain expansive, with roasted meats, vegetarian entrees, sandwiches, numerous sides, desserts, pizzas and salads.
To help spread diners out, an outdoor food cart called "Marketplace Express" will be positioned outside of the Marketplace for dinner on East Campus. At the cart, staff will serve a sample of meat and vegetarian entrees and side items.
"The cart will make it easy to go up and get your meal, swipe your card and quickly get out," said Mark Turner, Duke Dining executive chef. "We want to disperse crowds inside as much as possible."
At the Bryan Center and Brodhead Center on West Campus, guests will order food in-person or through the Transact Mobile Ordering app to eat on campus. Dining team members will serve all meals, condiments and drinks.
Mobile ordering will allow guests to place an order for a future pick-up time or within 15-30 minutes at 15 dining locations. Customers pick up the mobile order from a staging area outside of the Devil's Krafthouse on the bottom floor of the Brodhead Center to reduce foot traffic at retail locations.
All meals will be served in recyclable or compostable sealed to-go containers with compostable utensils, making it easy for guests to take meals out of a building.
"The thought is people will be able to get in and out quickly with their mobile orders by having a designated pick-up station," Carson said.
Reconfiguring for distancing
Greetings of "good morning" and "welcome back" echoed around the Marketplace on East Campus on the morning of Friday, Aug. 7, as cooks roasted bacon and diced bell peppers, zucchini and kale.
The prep marked the first day back in the kitchen since March 3 for Duke Dining staff, and they quickly fell back into a rhythm of preparing grits, a mushroom and egg scramble and fruit salad. The only difference: staff members all wore face masks and worked 6 feet apart as they cooked.
"I've been working here for 40 years," said Gloria Daniels, lead production worker for Duke Dining, as she rinsed potatoes. "It felt like part of me was missing the last four months we've been away. I'm smiling through my mask because I'm cooking next to my friends again."
While chefs worked at a distance, the upstairs of the Marketplace was outfitted with stickers and signs to remind community members to remain physically apart while ordering and picking up food.
The Marketplace and Brodhead Center have designated entrances and exits and single-direction aisles through the buildings. Markers separate guests by 6 feet while in line, and additional plexiglass barriers are at registers and service counters. And some tables and chairs have been removed to allow for physical distancing in each building.
"We want people to spread out and avoid eating inside," Carson said.
In the kitchens, physical distancing will taking place as well.
Executive Chef Mark Turner has measured and taped off work zones that are 6 feet apart to keep colleagues distanced in the Marketplace while prepping and cooking.
"We take a lot of pride in being careful, being safe and serving an exceptional meal," Turner said.
Training Together
Duke Dining's 600 employees and contractors completed a series of hygiene, safety and food preparation training sessions.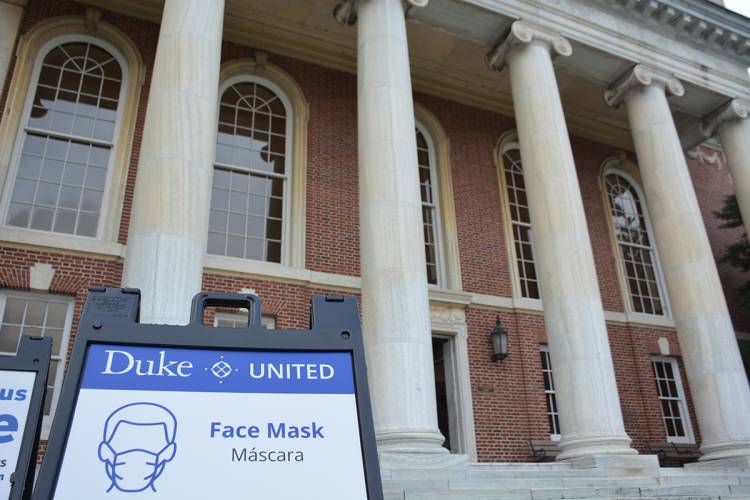 The series includes new COVID-19 courses that train team members on best sanitation and disinfecting practices, guidelines for face coverings and wearing masks, food packaging and safe guest interactions. New protocols require team members to wash their hands every 20 minutes, wear gloves and a face mask and clean high-touch surfaces like card readers.
"Providing COVID-related training and redoing onboarding provides the best protection to our team and the community," Carson said.
To promote safety procedures, Duke Dining has been hosting an internal contest, "Duke Dining Together," which asks contract team members in the Brodhead Center and Bryan Center to submit a creative entry that demonstrates health and safety protocol.
Contract team members so far have submitted photos and videos of themselves standing 6 feet apart, putting on masks and sanitizing card readers and surfaces.
One group of winners from Au Bon Pain in the Brodhead Center snapped pictures of themselves standing 6 feet apart in line, using hand sanitizer and wearing buttons that promote mobile ordering and physical distancing.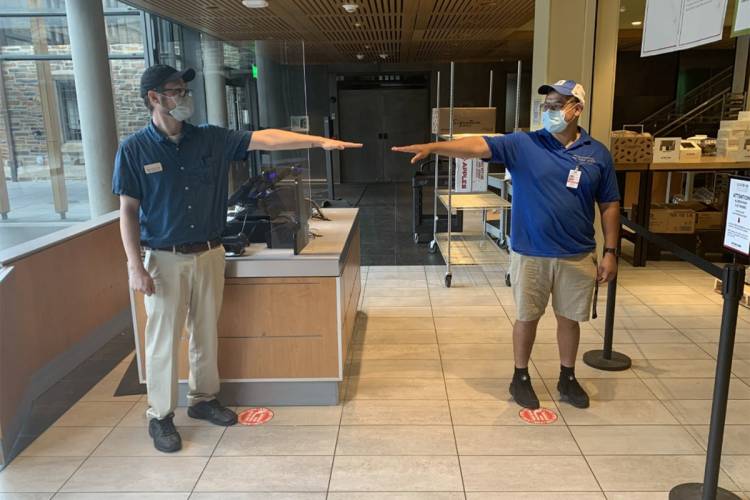 Grayson Crabtree, training and customer service coordinator for Duke Dining, and other Duke Dining leaders pick a winner every week to share on Duke Dining's Instagram.
"Duke Dining Together emphasizes the safety protocols our teams are following and instills this sense that we're all working together to keep Duke safe," Crabtree said.
Help share the proactive and extensive work being done by all Duke community members during the COVID-19 outbreak. Send ideas, shout-outs and photographs here or write working@duke.edu.