Off-Duty Duke Nurse Puts CPR Skills to Work
A nurse manager at Duke Regional Hospital happens upon a car crash while en route to Myrtle Beach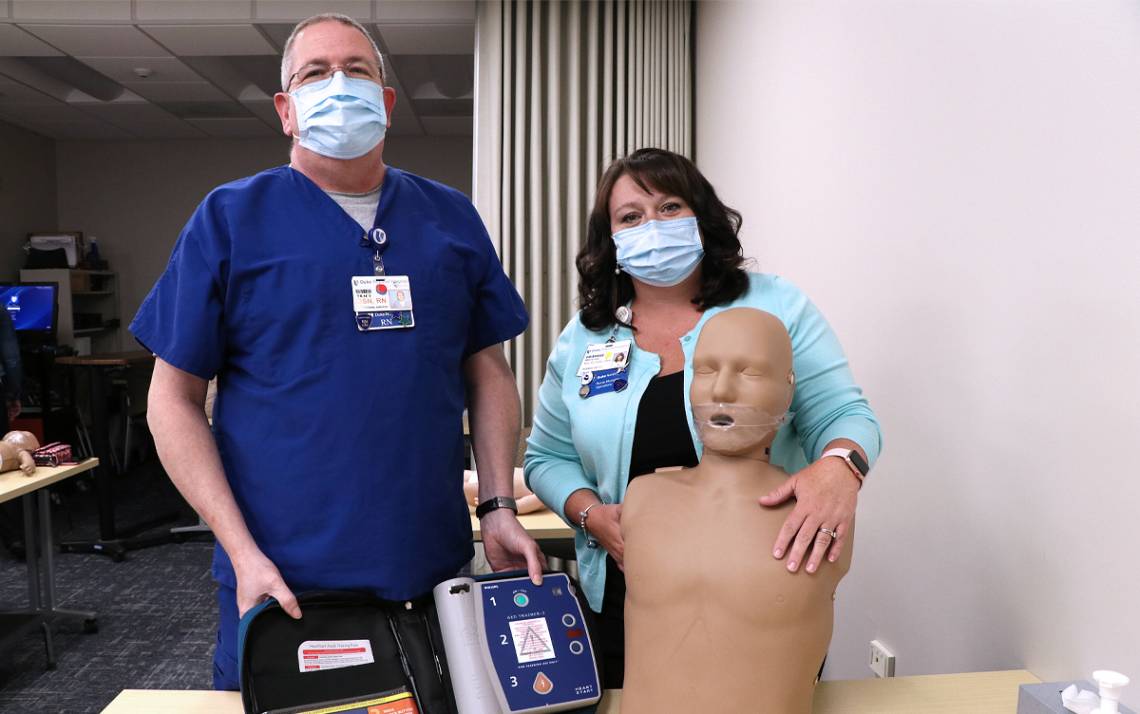 Brittany Hill, a nurse manager of the orthopaedics and neurosurgery unit at Duke Regional Hospital (DRH), was driving with her family to begin their Myrtle Beach vacation when along their route, they came upon a car accident. ​
"I saw a truck hit a car and then go into a ditch," said Hill, MSN, RN, NE-BC, CRRN. "I thought something didn't look right so we pulled over and I got out to check on the driver. The person was completely slumped over and blue."
Hill immediately recalled her recent Basic Life Support (BLS) recertification training and sprang into action.
"I provided Cardiopulmonary Resuscitation (CPR) for five minutes while waiting for emergency personnel to arrive," said Hill. "My husband had to help with compressions as well since it was taking so long."
Hill had just renewed her BLS certification with instructor Tracy Stell, BSN, RN, CNML, EMT, assistant director of staff education and development with DRH's education services department.
"Having just completed my recertification made me feel confident in my skills," said Hill. "I hadn't performed CPR in about two years before this. But, because of Tracy's hands-on training, I jumped in to help knowing I have what it takes."
According to Stell, "CPR isn't hard. It isn't risky. And, it can make a difference in someone's life. Simply assessing the person, calling for help and performing chest compressions until emergency medical professionals arrive can make a big difference."
The police officer who responded to the accident later called Hill and told her the person she helped survived.
"I give Brittany all the kudos," said Stell. "So many people would have just kept driving because they're afraid to help."
"I would do it again tomorrow if I needed to," said Hill. "It's just part of who we are as Duke employees. We're helpers through and through."