A Blue Devil Valentine's Day
Meet three couples who work at Duke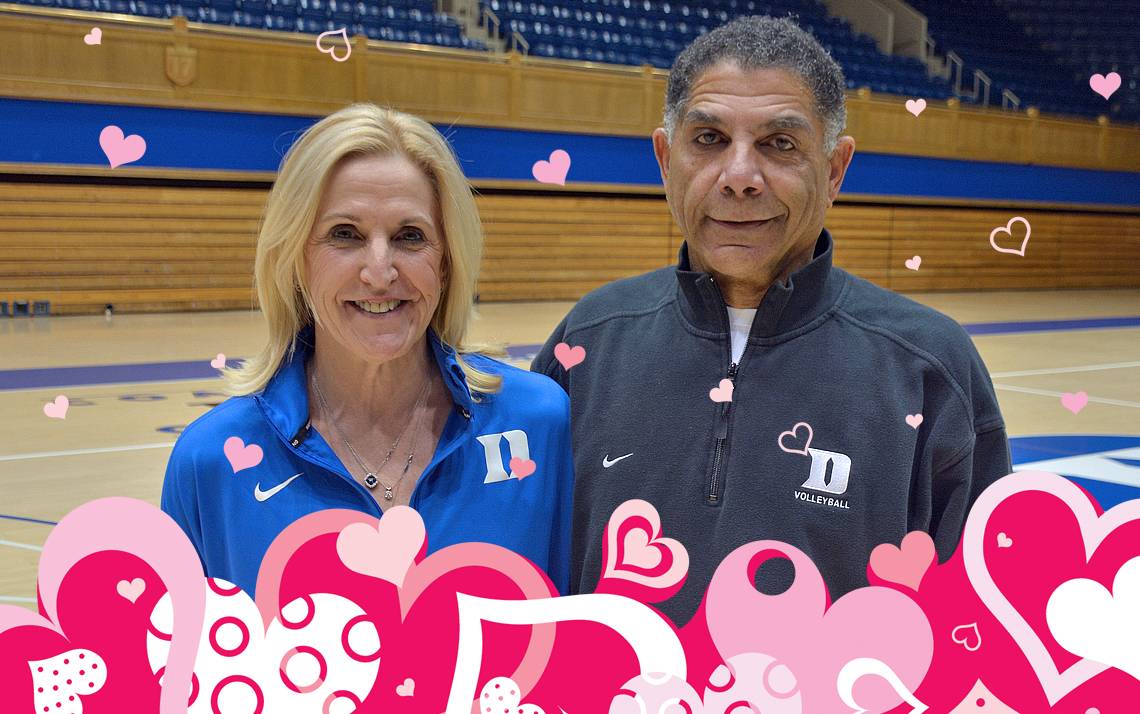 For Jolene Nagel and Samuel Carpenter, the Duke Athletics campus feels as much like home as their house two miles down the road.
Cameron Indoor Stadium is where Jolene leads the Duke Volleyball team as head coach, and Samuel works in Undergraduate Admissions. Their two sons, students at Duke, play on the lacrosse team.
"We're a true Duke Blue family," said Samuel, senior assistant director of Undergraduate Admissions. "Duke has become a very special place for us."
This Valentine's Day, meet some couples who work at Duke.
Courtney Brooks and Rey Quevedo
Years Together: 20
Years Together at Duke: 2

The relationship started with a simple question: "Can I borrow your pencil?"
Courtney Brooks and Rey Quevedo were in chemistry class during their first year at George Washington University when Quevedo asked Brooks for a pencil.
A lunch date the following week at the student center made the relationship official. They graduated in 2004 and left for New Orleans, where Rey attended Tulane University School of Medicine.
Courtney and Rey married and moved to Durham in 2014 for Rey to begin a gastroenterologist fellowship. He now works as a gastroenterologist at Duke Regional Hospital and Duke clinics around the Triangle.
Courtney joined LIVE FOR LIFE, Duke's employee wellness program, two years ago after earning a Master of Public Health from the University of North Carolina at Chapel Hill.
Rey particularly loves it when he passes colleagues in the Duke South hallways and they stop and tell him they saw Courtney the same day.
"None of our family lives in North Carolina," Rey said. "So, the friends we've both made at Duke have contributed to a sense of home here. Duke is a major part of our life."
Jolene Nagel and Samuel Carpenter
Years Together: 32
Years Together at Duke: 21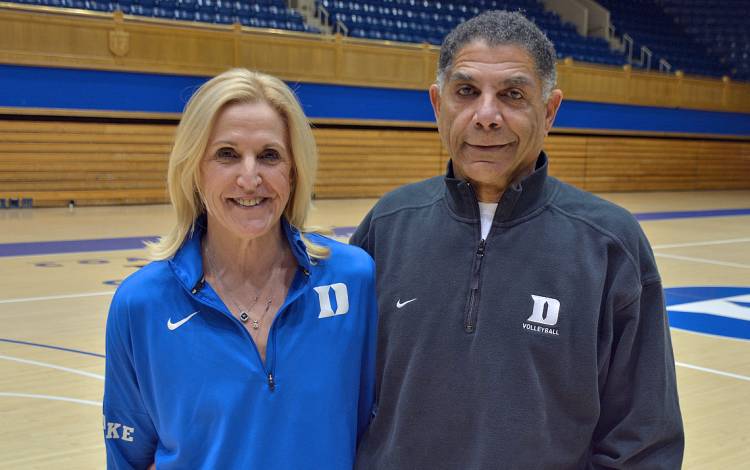 Jolene Nagel and Samuel Carpenter were sports-crossed lovers when they began working at Cornell University in 1988.
Jolene was head coach of the volleyball team. Samuel coached men's lacrosse. They went on snowy walks together and learned about each other's sport.
In 1992, the couple married and moved to Washington, D.C. for Jolene to coach the Georgetown University volleyball team. Samuel coached lacrosse at Sidwell Friends, a K-12 school.
They relocated in 1999 for Jolene's current position as Duke's head volleyball coach, and Samuel works in Undergraduate Admissions.
The couple is often in Cameron Indoor Stadium, where you can find Samuel cheering on Jolene and the Duke volleyball team. While they treasure rooting for the Blue Devils, the two most appreciate the intimate feeling among Duke's employee population. Samuel pointed out how President Vincent E. Price greets him by name he sees him on campus.
"When you work at a place as large as Duke and the president knows your name, that doesn't happen everywhere," Samuel said. "We feel loved here."
Shara and Adam Scher
Years Together: 15
Years Together at Duke: 12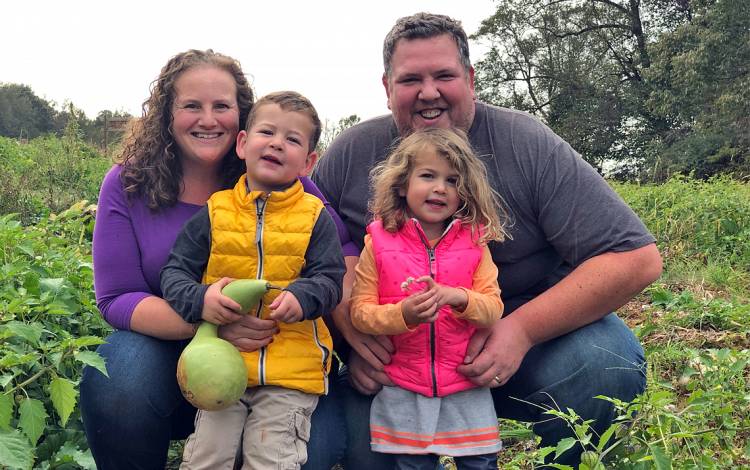 Adam Scher thought Shara Goldberg stood him up for their first date.
The two planned to meet for the first time in 2005 at a restaurant in Montclair, New Jersey, after connecting on Match.com. Adam arrived and waited in his truck for about 45 minutes until he received a knock on his window from Shara.
"Hi, my name is Shara. We have a problem," she told Adam, now a nurse manager at Duke Primary Care Holly Springs Family Medicine.
Shara had walked to the restaurant in the snow after locking her keys in her car.
"We got the fire department to unlock her car," Adam said.
Afterward, Adam and Shara enjoyed a two-hour dinner as snow fell outside the restaurant.
Adam and Shara, an occupational therapist at Duke University Hospital, married in 2008 and moved to Durham that year. The couple wanted to live in a place with lower housing costs than Northern New Jersey.
Shara said they value Duke's benefits and understand each other's work environment. They know the other will understand the work involved with treating patients.
"There's some ingrained understanding of what the other person goes through at our jobs," Shara said. "We're both proud to work at Duke."
Have a love story or news to share? Share it with Working@Duke.