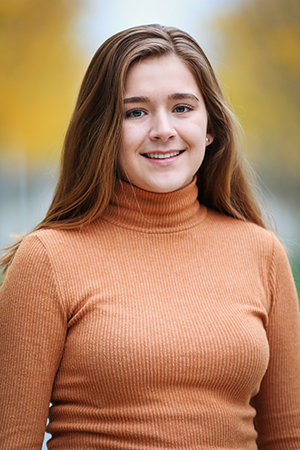 Bailey Rose of Massachusetts got accepted at a number of fine colleges and universities, including Bryn Mawr, UNC-Chapel Hill and George Washington.
She chose Duke Kunshan University (DKU).
"I believed that attending DKU was an invaluable opportunity that would challenge me to become a global citizen and provide me with opportunities that I would not receive at a traditional American institution," said Rose, who is in her first year.
"I can already say that I made the right decision," she added. "My classes are engaging and exciting, I have a wonderful job as a support officer for DKU's Office of International Enrollment, and I have already been able to travel around Asia, visiting Indonesia and the Philippines."
DKU's nearly 600 undergraduates hail from more than 40 different countries, and possess vastly different life experiences. Still, they do share a number of traits, including being inquisitive and hard-working; these qualities, their professors believe, will help them succeed when about 120 DKU students arrive at Duke later this year to study for up to a semester and a summer session.
Since DKU launched its undergraduate program in 2018, more than two dozen Duke faculty have taught at Duke Kunshan -- and even more have visited campus. Many of them came away impressed.
Alison Klein, a lecturer in Duke's Thompson Writing Program, has led writing classes on three separate occasions at DKU. The most recent class, a mix of 24 first- and second-year students, read monster stories from different cultures, and after doing research and analysis came up with their own monster tale.
"One thing I would say is that they are incredibly game," said Klein. "They're open to trying just about everything. For example, I gave them the option to dress up as monsters for extra credit points on Halloween because our class is themed around monsters, and several of them actually did. I think that's a sweet example of the intimacy of the community and the characteristics of the DKU student, because they're willing to be goofy and try new things."
Eric Spana, an associate professor of the practice in biology at Duke, is teaching an advance-level biology course as well as molecular biology at DKU. He said he teaches the same material at Duke, and has not noticed a difference between the students. "I teach biology at Duke, mostly pre-meds. So they are Type-A, go-get-'em, try-hards who want to do all the things. That's almost all the students I've met here" at DKU.
Spana said he would tell Duke professors to expect DKU students to be "scared, but they're crazy hardworking, so you're not going to be disappointed. If they're in your lab or class, they're going to outwork everybody else. … These are the exact same students we'd get at Duke. … They're not lesser or different."
Other Duke faculty who have taught at DKU echo the sentiments of Klein and Spana.
Noah Pickus, an associate provost at Duke and DKU's dean of undergraduate curricular affairs and faculty development, wrote about his experiences teaching at DKU. In a 2018 article in Duke Magazine, Pickus described his class as "the most global I've ever taught in 25 years."
"The students I've encountered are deeply curious and ridiculously hardworking, and adventuresome is their middle name," he wrote.
Haiyan Gao, a Duke physics professor who served several years as DKU's vice chancellor for academic affairs, said DKU students are "intellectually inquisitive. They are very talented -- just this past weekend, DKU students' orchestra gave its debut performance. And a good number of the DKU Class of 2022 students started to do research projects with different faculty members at DKU in their first year."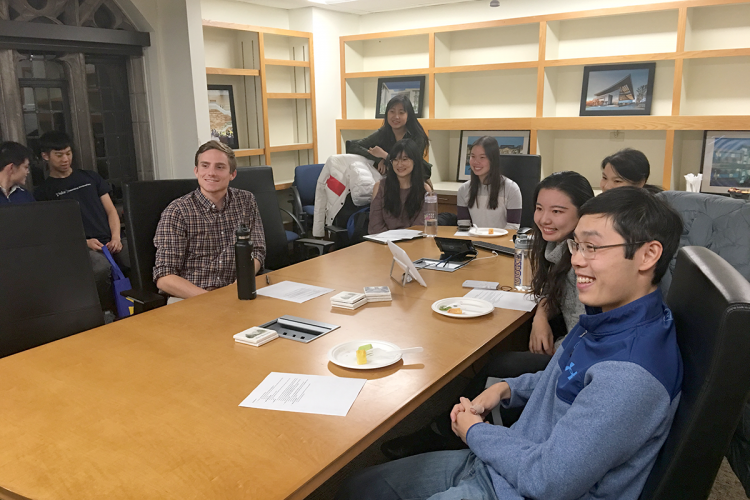 Trinity Dean of Arts & Sciences Valerie Ashby made her first visit to DKU last summer and immediately took note of the quality of the students. "A Duke student is a different student -- fearless, smart as a whip, willing to ask hard questions, eager to learn, kind, thoughtful, introspective. Those DKU students today were absolutely all of that. I was in heaven," Ashby said at the time.
"They desired something so much that they took a chance on it," Ashby added about the DKU students. "That would be so good for the students at Durham to recognize. They ought to seriously respect that. I don't want our students to miss out on the opportunities to engage, to ask about the DKU students' choices and experiences."
Dean of Students Sue Wasiolek came away similarly impressed after her first DKU visit last year.
"I had the good fortune of traveling to DKU in September and was provided with the awesome opportunity of interacting with many DKU students, visiting a class, going on a field trip with a class to a Shanghai museum and meeting with a number of colleagues across the DKU campus," Wasiolek said.
"My primary reason, though, for being there was to prepare students for what they would experience at Duke outside the classroom. I found the students to be dedicated scholars as well as fun-loving young people who have a keen sense of adventure. I can't wait for them to get here!"
Rose, the first-year student from Cape Cod, is eligible to study on Duke's campus in the fall of 2021 or the spring of 2022 and even though that's still a ways off, she is already thinking about it. She believes she and her classmates will fit in well at Duke.
"Our students are brave, for many of them have moved halfway around the world to take a chance on a university that is still in its infancy. Our students are leaders, for last year the class of 2022 started 40 new clubs and organizations. Our students are open-minded, for we have vibrant and productive discussions despite cultural differences.
"DKU's focus on interdisciplinary studies and rooted globalism is preparing students for an exciting future. For these reasons, I believe that DKU students will be a valuable addition to the Duke community."