While a graduate student at Santa Clara University in California, Jonathan Homrighausen became fascinated by a hand-written, hand-illustrated version of the bible in the school's collection.
It was a copy of the Saint John's Bible, commissioned in the late 1990s by Saint John's University in Minnesota to bring the bible with contemporary flourishes and interpretation to a modern audience. It was created by a team of scribes and artists who wrote the bible's text by hand while illuminating it with colorful visuals.
Along with the original, 299 copies were made available for purchase or loan. Two volumes of one of those copies are now at Duke Divinity School, to be displayed, used in teaching and loaned out for study by scholars around campus and beyond. An exhibit on the project will open at Duke Chapel in early January.The volumes will remain at Duke until August 2020.
"A hand-written, hand-illustrated bible like this hadn't been done for 500 years," said Homrighausen, now a Ph.D.student in religious studies. "Why would you do it? Well, just look at it and it speaks for itself. There's a 'wow' factor. Every page, hand-written."
While a master's student at Santa Clara, Homrighausen was so wowed that he wrote a book about the Saint John's Bible. His book, "Illuminating Justice: The Ethical Imagination of the Saint John's Bible," examines the bible's social justice themes in three areas:Jewish-Christian dialogue, women in the bible and caring for creation.
"It urges people to use their own imagination," he said of the illustrated bible. "It sparks discovery and insight, and people like that and gravitate to it."
The Saint John's Bible comprises seven volumes and is two feet wide by three feet tall when open. It is made of vellum -- a prepared animal skin -- though the version on loan to Duke is on paper. Its 160 illuminated images were created through a variety of techniques and tools including hand-ground pigments and gold and platinum leaf.
"For a lot of people, the bible is this thing that has just always been there," said Daniel Train, associate director of Duke's Initiatives in Theology and the Arts, which is serving as the Saint John's Bible's campus host. "This is an opportunity to refresh and renew your views of it. For people who just think it's a boring document, this is a way to bring them in."
The Saint John's Bible isn't an entirely traditional version of the holy book. Some artwork is unusual. In many customary visual interpretations of the raising of Lazarus --in which Jesus brings Lazarus of Bethany back to life four days after his burial --the viewer is placed outside the tomb, with Lazarus visible exiting it. In the Saint John's Bible, this famous scene is shown from Lazarus's point of view, walking toward the light.
There are contemporary touches as well. One is a view from space that is inspired by the "Blue Marble" photo of earth taken from the Apollo 17 spacecraft in 1972-tucked in the Book of Acts.
Another image is a modern twist on the Four Horsemen of the Apocalypse story, told in the Book of Revelation 6:1-8. In the traditional telling, the four horsemen depict conquest, war, famine, death and pestilence. The Saint John's Bible's version re-imagines these as oil rigs, tanks, streptococcus bacteria and nuclear reactors -- the latter a nod to the Fukushima nuclear reactor meltdown in Japan.
The creators of the Saint John's Bible didn't intend for it to be a sedentary museum exhibit, and Duke officials are determined not to treat it as such either. While portions of it will be displayed at Duke Chapel, its two volumes are being used in myriad ways until its return to Minnesota in August 2020. In the works: a conversation about bookmaking; dialogues on scriptures; and loans to the local Catholic center and other worship groups. A faculty member who teaches divinity courses at a women's prison in Raleigh recently took it there to use in a class.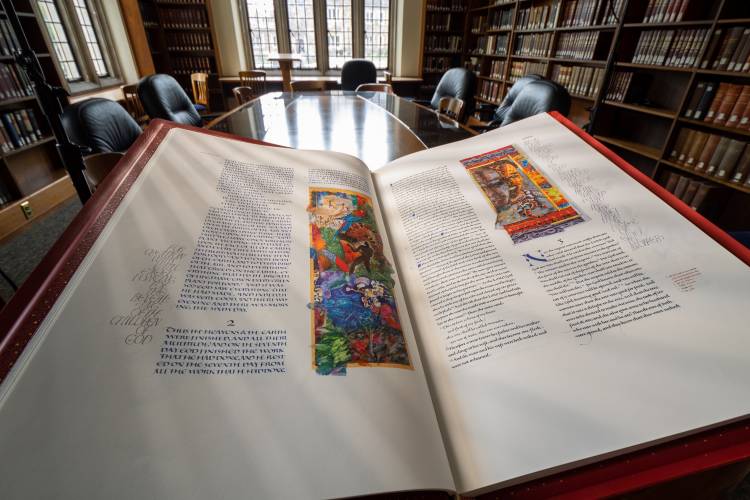 "It brings people into the conversation who wouldn't be in the conversation otherwise," Train said.
Members of the public can drop by the divinity school library adjacent to Duke Chapel most Wednesdays during the Spring semester from noon to 1 for a guided tour of the two volumes.(Visit sites.duke.edu/ditaor email dita@duke.edu for more information about tour dates and related events.)
"This gives people a real, physical sense of the bible," Train said. "You engage with your whole body; you can touch it and maybe feel the emotion of an image. You don't just theorize about it anymore."