A Second Life for Office Furniture
Duke Surplus provides office furnishings for department use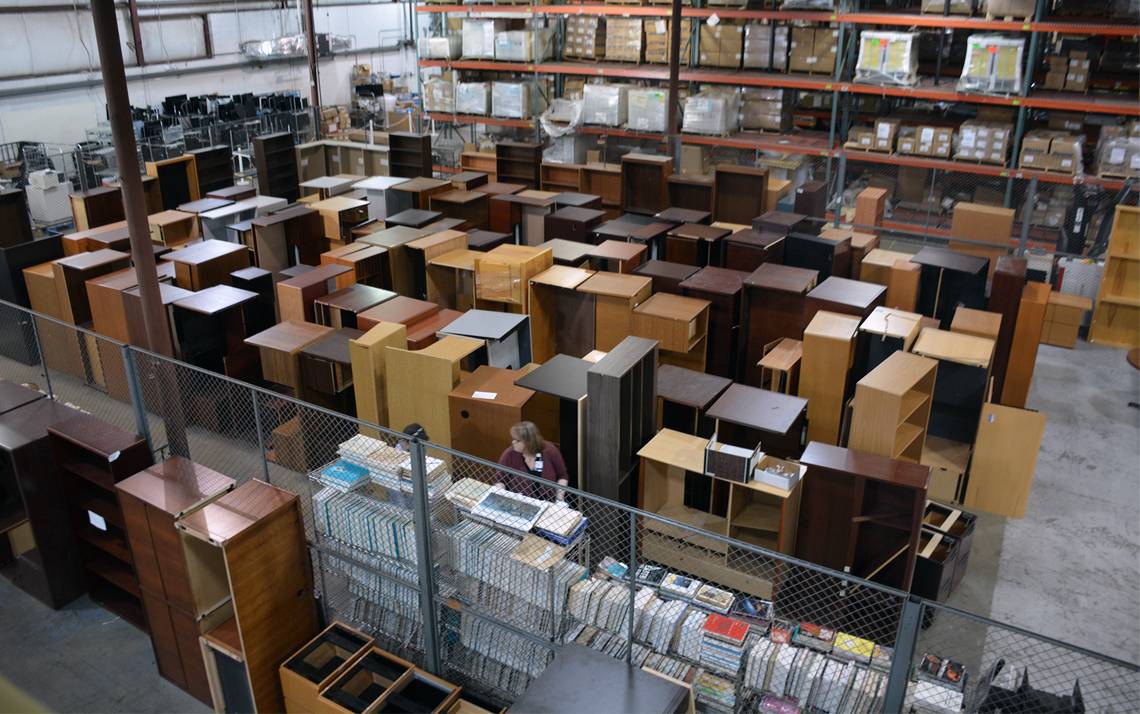 Tom Hunter sits in an office chair, wheeling himself up and down an aisle in a Duke warehouse. He swivels side to side, adjusts the chair height and pushes the armrests up and down.
Satisfied, Hunter pushes the chair out of the building to his truck. The test is part of a recent visit to the Duke Surplus donation site in Durham to get furniture for Duke HomeCare & Hospice.
"I do this little test to make sure the seat is comfortable and can move easily," said Hunter, business services manager for Duke HomeCare & Hospice. "People in my office are always asking me to find them a good chair."
Duke schools, departments and units in need of office furnishings can get supplies through the Surplus Property Program at no charge. The 2,000-square-foot space houses bookshelves, desks, rugs, chairs, binders, notepads, toner cartridges and more. The site is open two days a week to only Duke community members, regional nonprofits and local schools.
To get supplies, staff and faculty must bring their DukeCard and an interdepartmental transfer form signed by a supervisor. The form documents item requests and tracks where property ends up. Items from Duke Surplus are for department use only. Duke does not offer a public access retail store.
In the 2018 fiscal year, Duke Surplus donated 8,098 items, including computers, office supplies and furniture to Duke departments and local nonprofits. Duke Surplus also provides items through the Global Health PLUS (Placement of Life-changing Usable Surplus) program. The program transfers surplus medical equipment such as ultrasounds, anesthesia machines and monitoring equipment to approved, Duke-sponsored projects in low-resource communities around the world.
"The Duke Surplus Property Program helps to eliminate waste and also saves Duke money," said Mary Crawford, Duke's senior director of procurement and supply chain. "Just because one department no longer has a need for 10 desks doesn't mean someone else at Duke or the community isn't in need. We want to give these things second, third or fourth chances."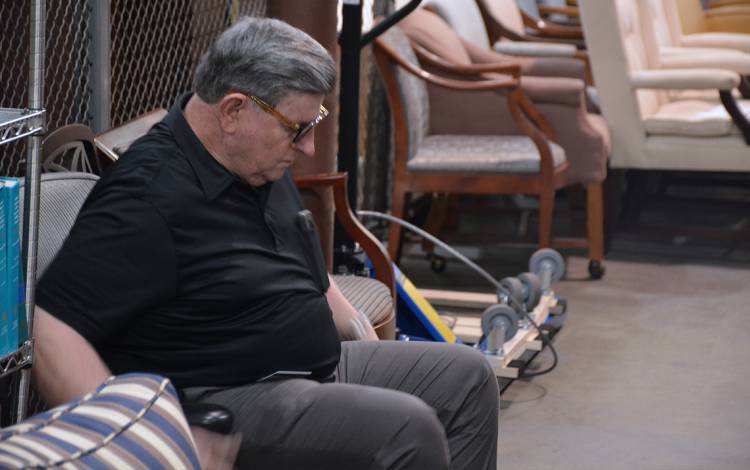 Duke requires that office property no longer in need such as chairs, desks and computers, go through Duke Surplus for processing. Departments can request collection and disposition of items. Materials deemed unusable are recycled through Duke Surplus.
The Duke University Police Department has processed police vehicles through Duke Surplus. Carol Campbell, logistics coordinator for Duke Police, organizes the transfer of cars when maintenance costs more than the vehicle's value.
"We don't have to worry about selling the car or trading it in," Campbell said. "Duke Surplus makes it easy."
Employees from Duke schools, departments and units may visit the warehouse to select items for office use. For a schedule, send email to surplus@duke.edu.
Have a story idea or news to share? Share it with Working@Duke.