Duke in Pics: Scenes from the Duke Football Employee Kickoff Celebration 2019
Employees cheer Blue Devils to victory, enjoy fun with friends, family and colleagues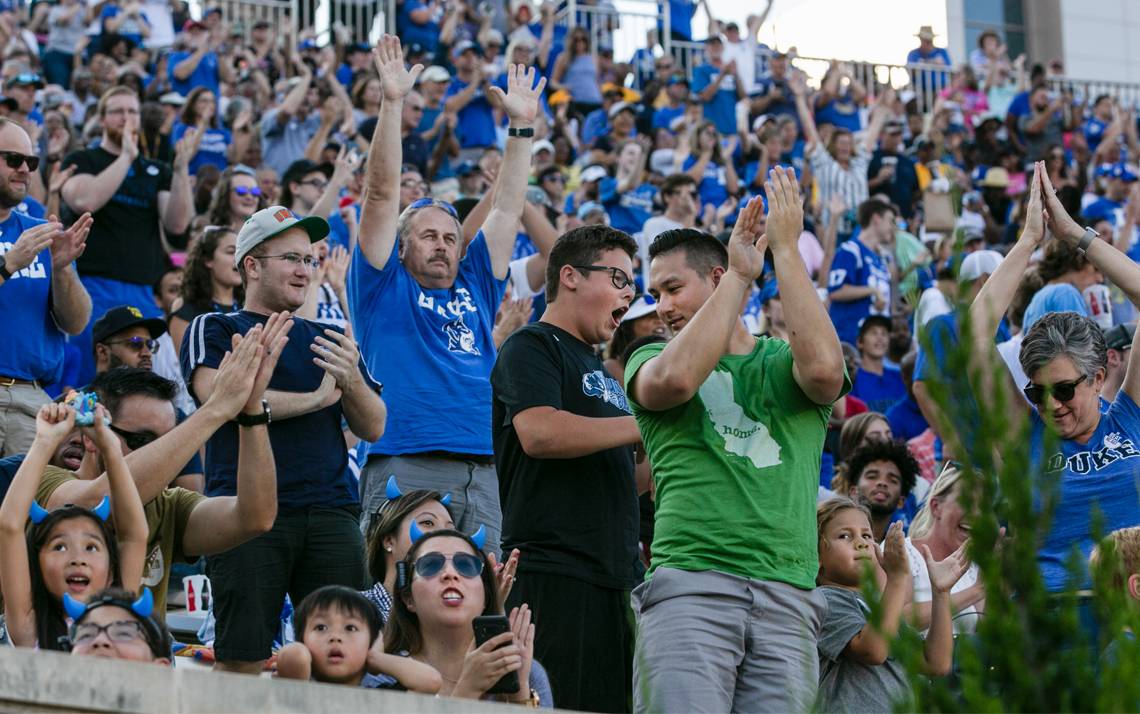 Duke Football's Employee Kickoff Celebration returned Saturday, bringing thousands of staff, faculty and their guests to Brooks Field at Wallace Wade Stadium for a day of football excitement, free food and family-friendly activities.
On the field, the Blue Devils blew past visiting North Carolina A&T 45-13 in front of 38,313 fans. Away from the field, there was plenty of action, too. Check out these scenes from Saturday's festivities.
Jackie Whitaker, a nursing assistant at Duke Raleigh Hospital, admires her face paint prior to Saturday's game. A regular attendee of the Duke Football Employee Kickoff, Whitaker came with three cousins and enjoyed her time at the game.
"I get to enjoy spending time with my family and my co-workers," Whitaker said. "It's pretty cool."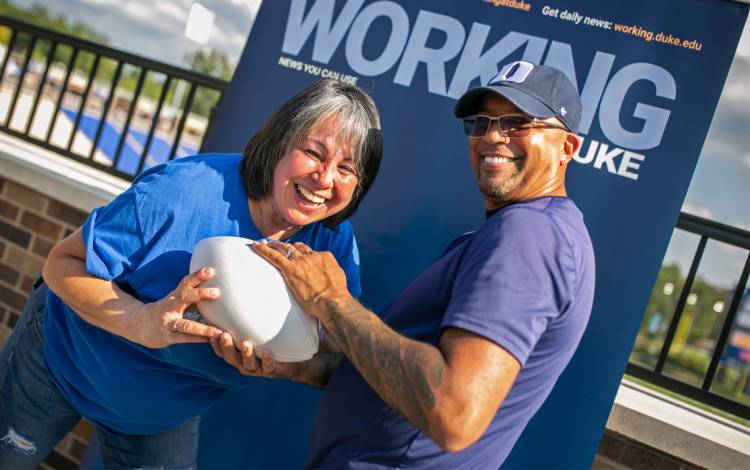 Johnny Vega, a supply chain associate with Duke University Hospital, and his wife Lidyana Calle Vega, a surgical technologist with Duke University Hospital, popped over to the Working@Duke table to pose for a magazine cover.
Johnny Vega said it was his first time going to a college football game since he was in high school.
"Seeing everybody getting into it, we just had smiles on our face the entire time," Vega said. "We just took it all in. It was a lot of fun."
Around 80 Duke employees and their guests stopped by the Working@Duke photo booth before Saturday's game. Each one was entered into a raffle to win a football signed by Duke coach David Cutcliffe. The winner of the football was Jamie Maness, a clinical nurse with Duke University Hospital.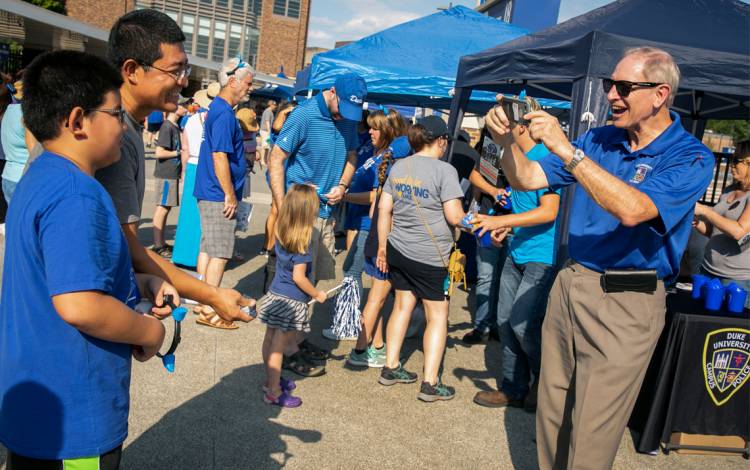 Duke University Police Department Community Services Officer Eric Hester, at right, has fun with visitors to the department's booth on the concourse. Prior to the game, fans stopped by the booth for safety information, free gifts and a chance to take on friends in a game of cornhole.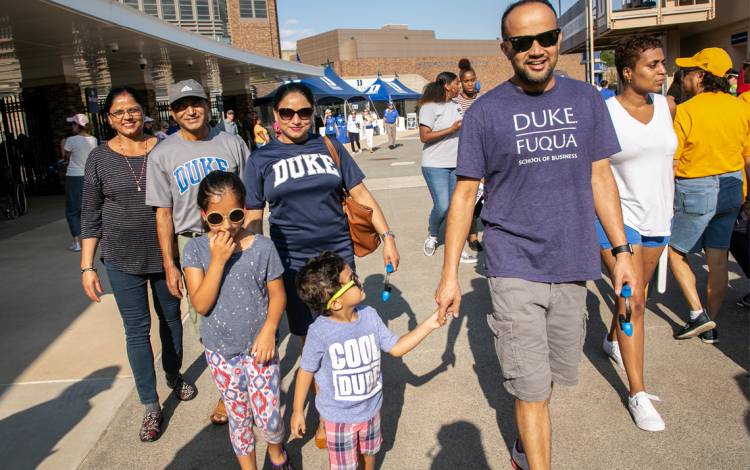 Bikram Gautam brought his wife, two children and his in-laws, who are originally from Nepal, to Saturday's game. Gautam, director of market intelligence at the Fuqua School of Business, said most of his crew had been to Duke football games before.
"It was the first American football game for my in-laws," Gautam said. "It was a completely different experience for them."
Gautam and his family enjoyed the inflatables and food.
"We try to come to these games every year," Gautam said. "It's a really good experience."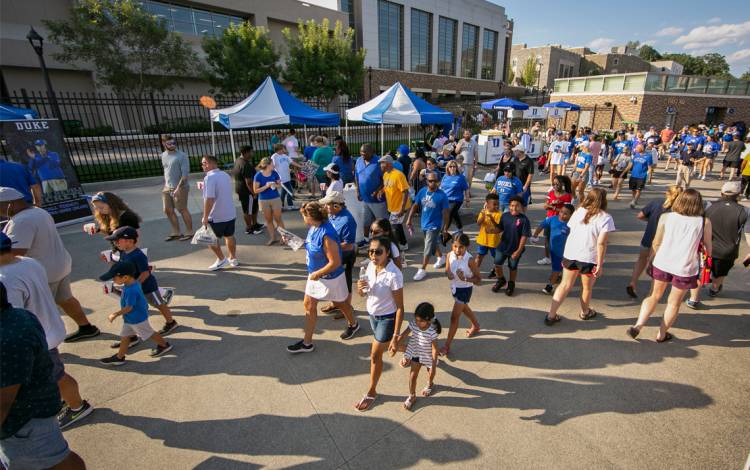 Saturday's game drew 38,313 fans, which is the largest crowd for a home opener in the 107-year history of Duke football. Duke employees and guests accounted for 11,649 of the fans in attendance.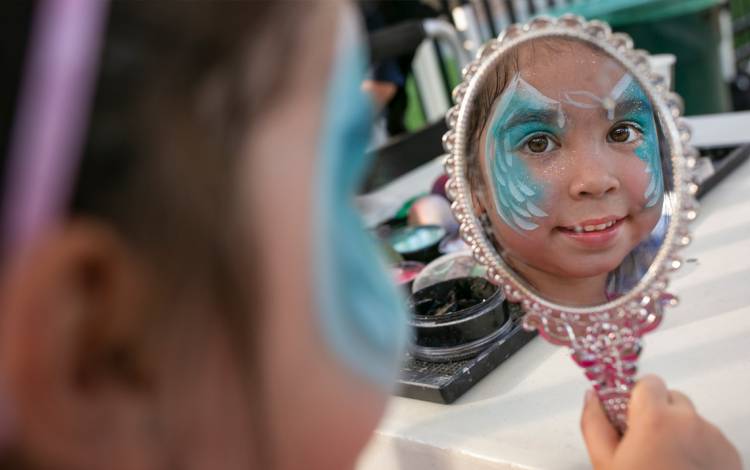 Gabby Sabin, daughter of Duke Nurse Anesthetist Rich Sabin and his wife Erna, checks out her face paint. The Duke Football Employee Kickoff Celebration had an array of attractions aimed at families, including inflatables and costumed superheroes and princesses.
"It was a great game, it was fun and the place was packed, it was cool to be a part of that environment," said Rich Sabin, who joined the Duke staff two months ago after moving with his family from Florida. "The main thing for us were the kids' activities. The face-painting, the games, the kids loved it."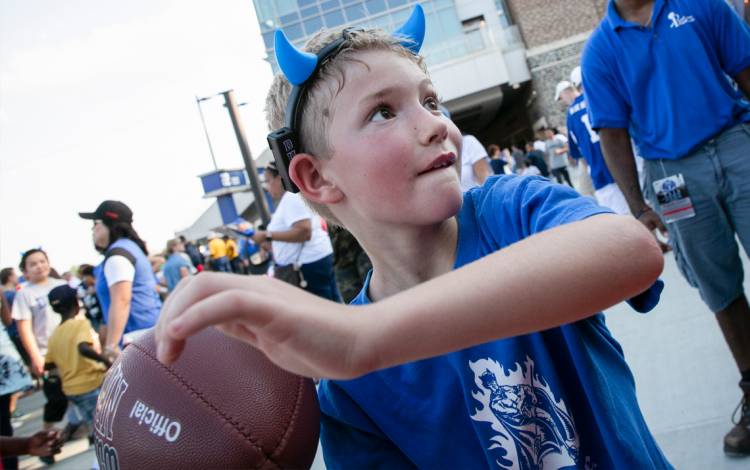 Ashley Lunn brought her sons Parker, 13, and Jacob, 8, to the game. With Ashley's husband Reagan serving as a photographer with Duke Athletics, the family are regulars at Duke football games.
But on Saturday, the Lunn's children – especially Jacob, shown here tossing a football – got into the spirit of the game, lending vocal support to the Blue Devils and sampling as much fun as possible during the pregame festivities.
"He just wanted to walk around and enjoy a little bit of everything," said Ashley, program coordinator for Disability Support and Academic Programs for Duke Divinity School.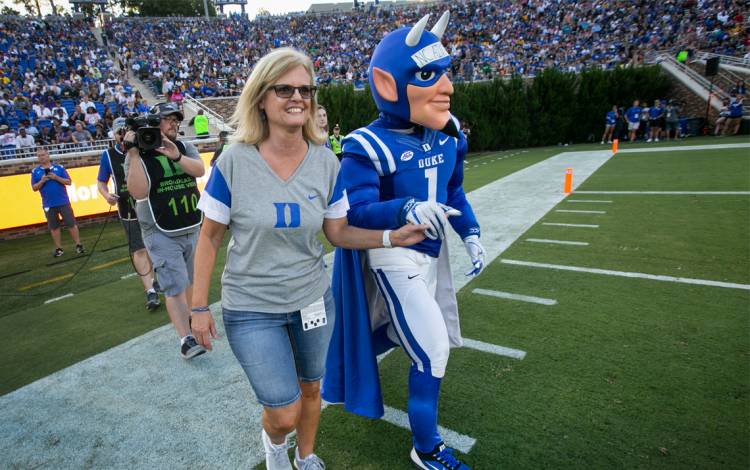 Donna Flamion, administrative coordinator for Duke's Student Information Services and Systems Office, served as the Honorary Employee Captain on Saturday. The 36-year Duke employee got to accompany the Blue Devils as they took the field, be at midfield for the pregame coin toss and get shouted out on the big screen during a first-half timeout.
"It was awesome, it was such an incredible experience, I'll have this memory for a long time," said Flamion, who had around 25 to 30 friends and family on hand to cheer her on. "I was so honored to represent the Duke employees."

Despite falling behind twice in the first half, Duke rattled off 24 unanswered points to take charge of the game. Quarterback Quentin Harris played a starring role, throwing four touchdown passes and rushing for another.
The Blue Devils will return home on October 5 when they face visiting Pittsburgh. In all, Duke will play six home games this season. For ticket information, visit goduke.com or call the Duke Athletics Ticket Office at 919-681-2583.
Check out this special Working@Duke Facebook album:
Duke In Pics Story Photos by Chris Hildreth of Rooster Media Productions.
Have a story idea or news to share? Share it with Working@Duke.