Blue Devil of the Week: Helping Patients Take Steps Toward Healing
Dana Lott, a physical therapist with Duke Neurology, works to reunite mind and body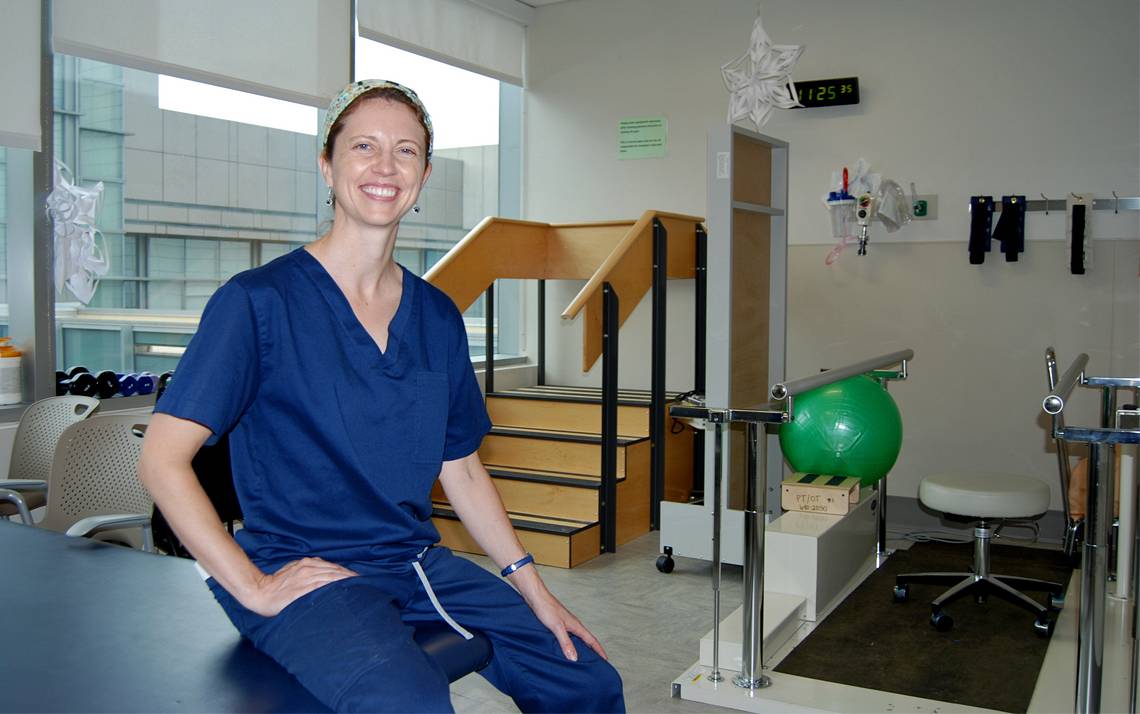 Name: Dana Lott
Title: Physical Therapist, Neurology, Duke University Hospital
Years at Duke: 3
What she does at Duke: Dana Lott finds immense satisfaction in helping patients in Duke Neurology's inpatient unit navigate the early stages of trying to rebuild the connection between their brains and their bodies.
Lott's patients are being treated for brain injuries, have recently had brain surgery, or are dealing with conditions that have compromised brain function. She gets them moving in ways that begin the healing process. Her challenge is to figure out the best approach, since each diagnosis, each patient and each situation can be different.
In addition to parallel bars and exercise balls in her workspace, she calls upon an upbeat personality and a keen emotional awareness to help patients endure therapy that can often be physically taxing.
"There's so much going on with these patients," said Lott, who helped create, and currently oversees, the unit's residency program for physical therapy students. "I like that I get to tie in the medical side and the emotional side."
What she loves about Duke: Lott often sits in on daily presentations from School of Medicine faculty members to medical residents about different aspects of patient care.
"It helps me understand why our patients end up here and what they face," Lott said.
Lott said that's one example of how Duke is a place where curiosity is encouraged and opportunities to learn – such as training courses on specific skills or lectures from the Duke Institute for Brain Sciences – are plentiful.
"You don't get that everywhere," Lott said.
She can't do her job without: When not with patients, Lott enjoys working to the soundtrack of 1990s R&B artists such as Boyz II Men, Tevin Campbell, Bell Biv DeVoe, Keith Sweat and Tony! Toni! Toné!
"It's the best music in the world," Lott said.
Music has always been a part of Lott's life. Her mother, Kathy West, was a longtime Top 40 disc jockey for stations in Florida, North Carolina and Connecticut. Her father, Dennis Reese, worked on the promotional side of the music industry, helping new artists find their foothold on radio.
"My dad would bring home music from a new artist and play a song that they were going to make the new hit," Lott said. "Then you'd hear it on the radio later and it would really be the next hit."
First ever job: Lott spent summers working as a lifeguard for a public pool at home in Stamford, Connecticut. In addition to the fun of being outdoors and stress of occasional emergencies, she fondly recalls the perpetually upbeat vibe at the pool.
"You got to see families when they're at their happiest," Lott said. "You were really, for the most part, never around unhappy people."
Something most people don't know about her: With many facing terminal illnesses or difficult recoveries, Lott's patients often grapple with heavy emotions. That's why Lott's unit collaborated with Duke Psychiatry and Behavioral Science for training to help patients work through mental and emotional hurdles.
That's especially meaningful for Lott, who said she faced her own mental health crisis a few years ago. While in a residency program in New York, Lott said she battled clinical depression. She recalls periods when she struggled to get out of bed.
"Clinical depression is deep hole to be in," she said.
She said she eventually sought medication and therapy. And after the residency, she moved to North Carolina, providing a change of scenery.
Lott said the episode underscored the importance of facing mental health concerns head-on. The experience also provided valuable perspective while helping patients through tough times.
"I've been in that dark place," Lott said. "I understand what that's like."
Is there a colleague at Duke who has an intriguing job or goes above and beyond to make a difference? Nominate that person for Blue Devil of the Week.