And the 2019 Duke Time Off Photo Winners Are…
See the amazing summer moments shared by Duke staff and faculty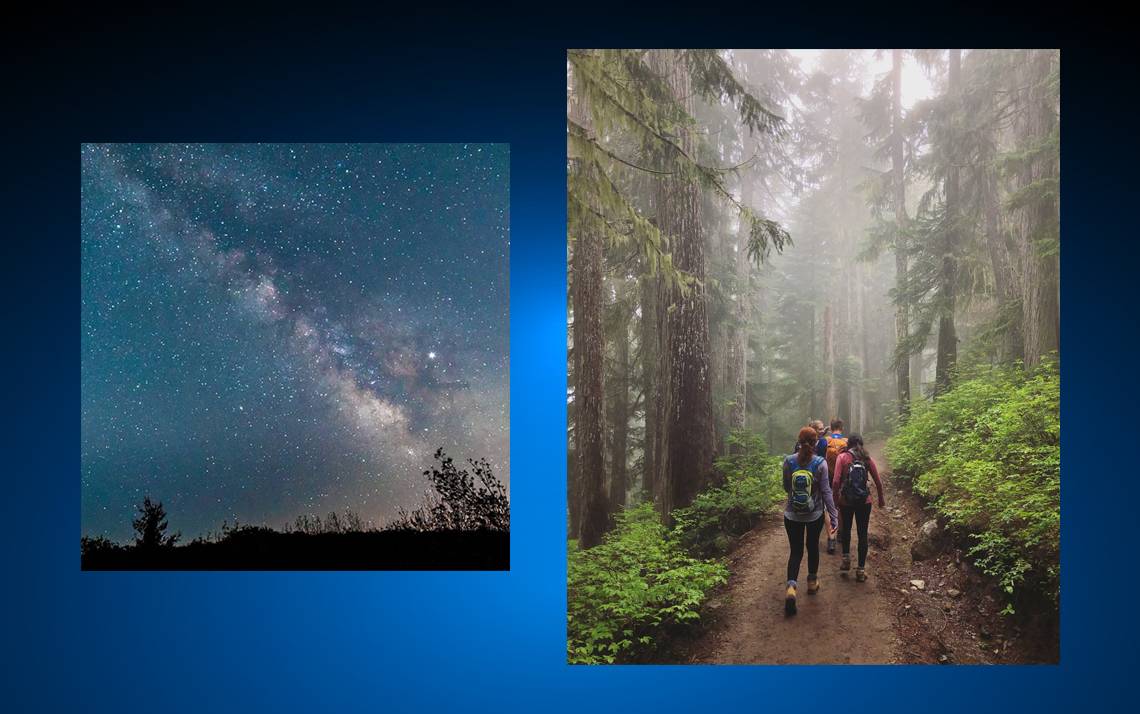 Duke staff and faculty hiked across national parks, enjoyed family time at the beach, got married and enjoyed other fun this summer during their time off from work.
We received about 650 entries during the Duke Time Off campaign, which ran from the end of May through Aug. 9 and highlighted Duke's time off benefit. Many entries included multiple pictures.
Here are the grand prize winners, employee-shutterbugs and 13 other amazing moments. Thank you to everyone who participated.
Grand Prize: Jessi Cruger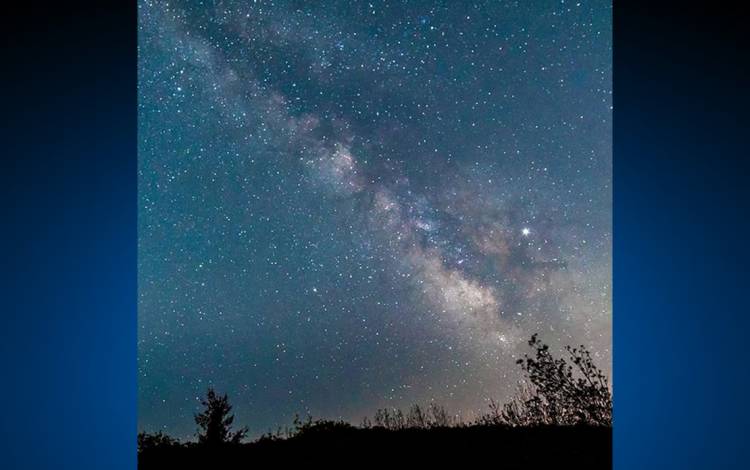 Jessi Cruger, lab manager for Duke Neurobiology, loves taking photos at night to capture the starry sky.
While vacationing in Emerald Isle, she had the perfect opportunity to photograph the Milky Way from the front porch of a rental home. She captured the photo of the sky using a single, long exposure from her Sony a72 II camera.
"I take my camera everywhere," Cruger said. "I'm able to control so many things when I'm shooting. It puts me in a wonderful headspace."
Cruger won dinner for two at the Fairview Dining Room, courtesy of the Washington Duke Inn & Golf Club.
Grand Prize: Justin Frye
Justin Frye keeps moving during his time off.
The physician assistant for Duke Infectious Diseases traveled to Oregon, Washington and British Columbia, Canada, for a series of hiking trips and reunions with friends he met through the Duke Physician Assistant Program.
He photographed his friends hiking at Garibaldi Provincial Park in British Columbia.
"Hiking allows me to reflect and relax, similar to what one would experience from meditation," he said. "I appreciate time off because I can unplug from the working world and recharge. It makes me better at my job when I come back. It's all about balance."
Frye earned an overnight stay and breakfast, courtesy of the JB Duke Hotel.
Employee-Shutterbugs
Sara Clark
Director of Communications and Guest Experience Manager Sara Clark for the Duke Lemur Center shared photos of her June road trip to Montana. Our favorite shot came during a visit to Badlands National Park in South Dakota alongside her traveling companion, a German shepherd named Minka.
"Not only was it a great way for me to recharge and practice self-care, but it was a wonderful training trip for Minka," Clark said of the adventure. "She's a Search and Rescue (SAR) prospect, so I was able to introduce her to new situations, surroundings, and distractions – not to mention hotels, campsites, long car rides, and lots of one-on-one bonding time. It was an amazing trip, and I'm so grateful to Duke for allowing me the time to do it."
Lindsay Gordon-Faranda

Lindsay Gordon-Faranda, senior public relations specialist for Duke Children's Development, traveled to Japan for two weeks with her husband, Jon. The couple spent most of their time in Tokyo and Kyoto. While in Kyoto, Gordon-Faranda visited Daikaku-ji, a large Buddhist temple dating back to the early 800s.
"We'd dreamed of going to Japan for years and the trip was everything we wanted and more," she said. "We are already trying to figure out how and when to go back to see all the things we missed during our time there."
George Kasotakis
Part of the summer was busy for Assistant Professor of Surgery George Kasotakis, who completed a grant application in June. But after that, he left work behind and took a road trip with a friend from Paris to Amsterdam.
"It was great, it was the thing that kept me going," Kasotakis said. "There was a lot of work that went into putting together the federal grant application. You have to keep dangling a carrot in front of you and that trip was the carrot for me."
One of the many submissions from the trip, which took Kasotakis through northern France and Belgium, was a stunning photo of the Amsterdam's Basilica of Saint Nicholas lit up at night.
"We were on a walk and on the way back to the hotel, you could see the river with the basilica at the end of it and it was just gorgeous," Kasotakis said.
Michael Royster
Whether he was on a boat, dropping his son off at camp or at the beach, Michael Royster of Duke University Stores found numerous ways to enjoy time with his family.
"It's the way I grew up. We always did stuff in the summer," Royster said. "I just want to create memories with my family. Any time spent with them is a good time."
One of our favorite submissions came from the July 17 performance by blues musician Cedric Burnside at the Sarah P. Duke Gardens, part of Duke Performances Music in the Gardens series. Royster, his wife Kristi, and their sons Cameron and Aiden all went to the show, which was cut short due to thunderstorms.
"It was real fun," Royster said. "He played, the kids were running around, we had a picnic, blankets and plenty of food. I wish he could have played the whole set, but we had a great time."
13 Amazing Images
Chandler Bowlus, clinical nurse for Duke Neurological Disorders Clinic, traveled to Chicago to celebrate her great-grandmother's 90th birthday. During the celebration, Bowlus took this picture with four family members, including her 2-year-old daughter Nora, to highlight the five generations of women in the family.
Seated in the photo is the great-grandmother, Stallman. Behind Stallman, from left to right, is Bowlus and her daughter, her mother Pamela and her grandma Sue.
"Being surrounded by such strong women really shaped who I am now, and I am so grateful that we have all been able to be a prominent part of each other's lives," Bowlus said. "Living so far from my family can be challenging at times, but thankfully Duke gives such a generous amount of time off that makes it easy to have a great work/life balance."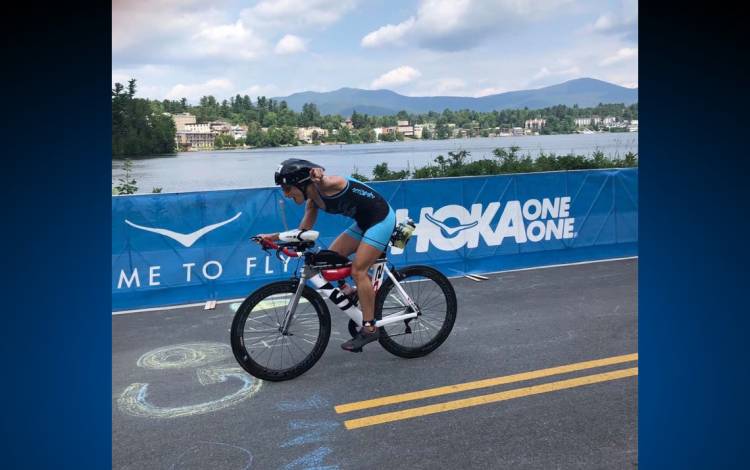 Carrie Endara was about halfway through the bike ride portion of the Lake Placid Ironman triathlon on July 28 when a friend caught her zooming by.
It was the first full Ironman event – consisting of a 2.4-mile swim, a 112-mile bike ride and a 26.2-mile run – the clinical nurse completed. She finished in 12 hours, 36 minutes and came in ninth in the women's 35-39 age group.
After the race she celebrated with a week in New York visiting her parents.
"It was really incredible to have that whole week off to recover and visit everybody," Endara said.
On a hot day in June, Duke Parking & Transportation Business Manager Sierra Foxx took her daughters, Emma, 4, left, and Bella, 2, right, to the Build-A-Bear Workshop at the Streets of Southpoint for an early birthday present.
After the girls picked out every detail of their bears, Foxx snapped this photo of her daughters and their new friends.
"Every day with them is special," Foxx said. "Just watching them grow up and enjoy things is great. You want to see your kids with a smile on their face. It's every parent's dream."
Melodie Goswick, director of hospital supply chain for Duke Regional Hospital, enjoyed gorgeous sunsets on the Intracoastal Waterway at Holden Beach during a vacation with her husband, 20-year-old son and 15-year-old daughter.
"It gives me time to disconnect from the electronic world and enjoy my family," she said. "In a blink of an eye, my children have gone from babies to young adults. I don't want to miss a minute."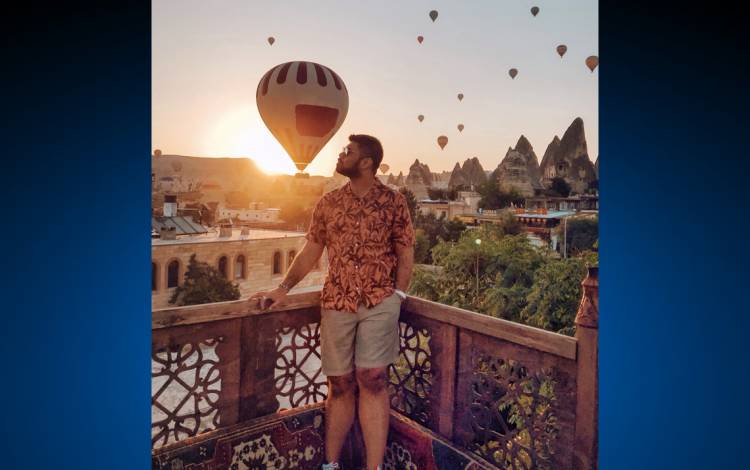 A fleet of hot air balloons taking off in the morning light is a memory that Clinical Nurse Aron Hewakopara will take with him from his eight-day trip through Turkey. This image from July 31 in the Cappadocia region of the country caught Hewakopara enjoying the scene and savoring a trip he'd been wanting to take for several years.
"It was truly a magical experience," Hewakopara said. "It reminds me that there's always another beautiful day to look forward to despite the many challenges we face in our daily lives."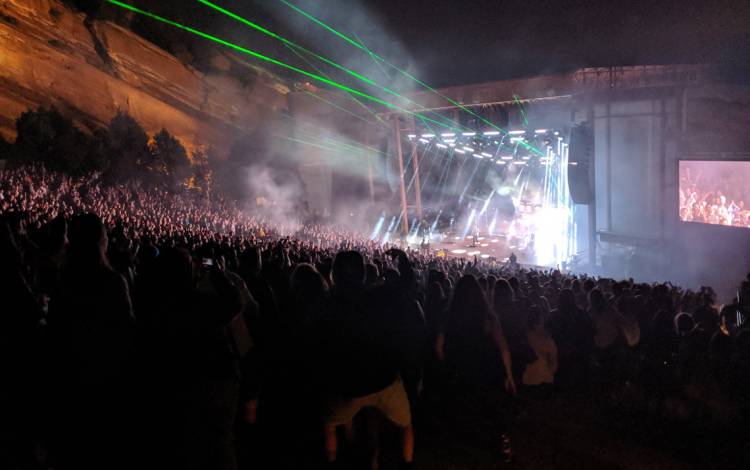 In June, Krista Melo and her husband Dan caught a concert by the band Rainbow Kitten Surprise at the sold out Red Rocks Amphitheatre near Denver, Colorado. In doing so, they stayed true to a promise they made years ago to Krista's brother-in-law Sam, Rainbow Kitten Surprise's front man. She got this shot when the band hit the stage.
"Red Rocks was always kind of a dream venue for them," said Krista, Duke Health Technology Solutions (DHTS) application analyst. "When they were playing these little college shows where people weren't coming to see them, we told them that if they ever make it to Red Rocks, we'll be there."
Despite having a baby and recently switching roles at DHTS, Krista and her husband took two days off to be there for the band's long-awaited moment.
"A promise is a promise," Krista said.
Sharlini Sankaran, director of Translation Programming at Duke Innovation & Entrepreneurship, shared this photo of her daughter, Nisha, walking on a dock on the first night of a vacation in Surf City.
The vacation immediately followed the end of the school year for Sankaran's two children and allowed the family to celebrate Fathers' Day together by relaxing on the beach, collaborating on puzzles in their beach house and savoring several salt marsh sunsets.
"We totally unplugged," Sankaran said. "It was just lovely. We felt completely relaxed."
Clinical nurse Dana Scofield captured this photo of her four dogs before a June road trip to the beach. The trip, which she took with her husband, came when she had a block of days off and was in need of some relaxation.
"Having four dogs can complicate last-minute plans but we always make it work by bringing them along," Scofield said. "They all love the car. We had a great time even though none of our pups were interested in the ocean. They'd rather dig in the sand."
Miranda Shipman, far right in the photo, traveled to Cuba and the Bahamas with friends during her time off. The trip celebrated the one year anniversary of surgery that removed a tumor in Shipman's brain.
"I made the sad realization that I had never seen clear water and may not actually live to do so," said Shipman, a research technician for Duke Neurology. "A year later, after a very successful surgery, I'm back in my research lab, and used my Duke time off to go to Cuba and the Bahamas to see the clear water that I never thought I'd get to see."

Chris Silcott, operations engineer for Duke Facilities Management, captured his 13-year-old son Ben and 8-year-old son Jack fishing on Kerr Lake, northeast of Durham.
"Duke Time Off is essential for both me and my family," he said. "It gives me a chance to create bonds and memories that will last with my children their whole life."
Tanya Smith knew her two-week trip to Ireland would be memorable. But the revenue integrity analyst with the Patient Revenue Management Organization didn't know just how memorable it would end up being.
"It was like a fairytale," Smith said.
On June 27, her boyfriend Scottie Smith surprised her by proposing during a trip to the Cliffs of Moher on Ireland's rugged western coast. After she accepted, the surprises kept coming as the two were married in a Celtic wedding ceremony Scottie had arranged.
"It was the trip of a lifetime," Smith said.

Brandi Tuttle, a research and education librarian for the Duke University Medical Center Library, and her 10-year-old son, Lincoln, hiked around Bryce Canyon National Park and Zion National Park in Utah. They snapped this selfie while exploring the hoodoo formations – tall, thin spires of rock – in Bryce Canyon.
"Southwest Utah has some phenomenal landscape to explore on my Duke time off," she said. "It was Lincoln's first experience in a desert climate or seeing anything of that magnitude. He was just a lot of fun. I'd go anywhere with him!"

Kyara Watkins, certified medical assistant for the Duke Outpatient Clinic, spent her summer trying new experiences, including kayaking on Jordan Lake.
"I loved kayaking," she said. "It's super relaxing and takes a lot of strength, so it was a great workout."
Watkins also hiked Hanging Rock for the first time and went fishing at the Eno River.
See more photos from the summer by searching #DukeTimeOff on Twitter, Instagram and Facebook.
Have a story idea or news to share? Share it with Working@Duke.