Duke Citizens Police Academy Leaves Lasting Bonds
Duke University Police honors newest class of graduates
The last time members of the Duke University Police Department's Citizens Police Academy saw Tammy Boseman, she had arrived at her workplace a few weeks ago to find a window broken, a door ajar and a crime scene waiting inside.
"I was actually pretty calm," said Boseman, who patiently explained to academy participants what she'd seen, which was all part of a training exercise.
Back among many of the same people at Friday afternoon's graduation ceremony of the Citizens Police Academy, Boseman smiled as she thought back to that day's burglary simulation as part of the academy.
"It was wonderful," Boseman said, recalling her role in the simulation.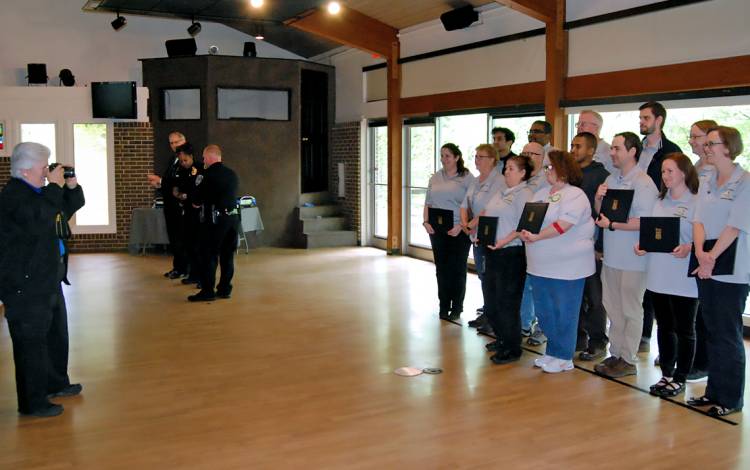 Over the past few years, Boseman, a senior staff assistant with Duke's Center for the Study of Aging and Human Development, took part in two rounds of the Citizens Police Academy. This spring, she returned to help, volunteering to play the role of a witness during an exercise built around the simulated crime scene.
And on Friday, her affection for the program brought her back to celebrate another group of graduates.
"I just love the camaraderie," Boseman said. "It's wonderful. If I could do it all over again, I would."
The Citizens Police Academy, which gives Duke employees a seven-week opportunity to learn how police do their jobs, honored its 13th class of graduates on Friday with lunch at the Devils' Den on Central Campus. Also celebrated at Friday's event were the graduates of the third Student Police Academy, which covered two weeks, and the seventh round of graduates of the Alumni Citizens Police Academy, which unfolded over five weeks.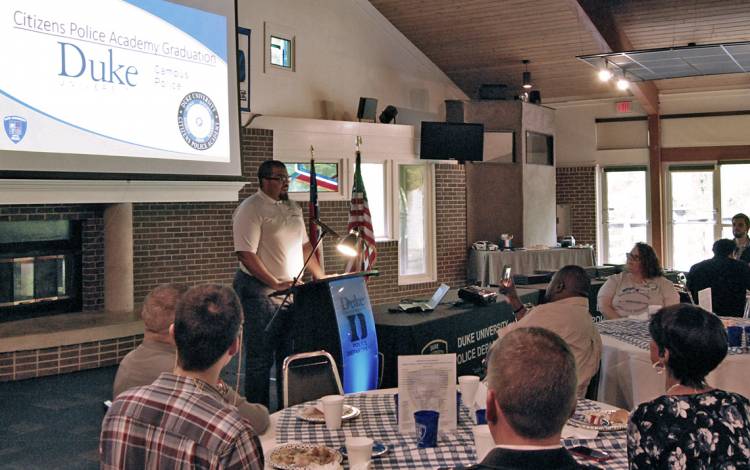 While many of the sessions of the police academies provided hands-on learning opportunities about active shooters, drunk drivers, self-defense and the complex decisions law enforcement officers make on a regular basis, many academy graduates say that the major benefit of the experience is the lasting bonds among participants and officers.
"We're really honored that you chose to spend some time with us," Duke Police Chief John Dailey told the group. "I hope you learned more about us, but more importantly, I hope you were able to establish some relationships with each other and also with the officers."
Daryl Mount, who took over for longtime Citizens' Police Academy Director Eric Hester earlier this year, called the network of academy alums "a big family."
"This just brings a lot of people together," he said.
That family was back together on Friday as members of the Duke University Police forces and former Citizens Police Academy participants, such as Boseman, showed up to support the new class of 41 graduates.
"You just have a greater appreciation of the job they do," said Barbara Pollock, who completed the Citizens' Police Academy after recently retired from Duke's Sanford School of Public Policy. "It was a great time."
Here are the Duke employees who took part in the 2019 Spring Citizens' Police Academies
Citizens' Police Academy
Amy McCann – Sanford School of Public Policy
Amy Puglia – Office of Emergency Preparedness
Barbara Pollock – Sanford School of Public Policy
Ben Miller – Clinical and Translational Science Institute
Grant Martin – Duke Stores
Jay Harris – Duke Press
John Gorsuch – Duke Stores
Jory Weintraub – Duke University Science & Society
Kelly Jennings – Student Affairs
Keysha Hall – Duke University School of Nursing
LaRon Blount – Physical and Occupational Therapy
Maria Perrone – Office of Trademark and Licensing
Owais Mahmood – Biomedical Engineering
Rometa Summerlin – Duke School of Nursing
Susan Ellis – Duke University Police Department
Alumni Citizens Police Academy
Amy Hnat – Duke Infection Prevention
Anne Guyton – Duke Cancer Institute
Bonita Douglas – Duke University School of Nursing
David Kearns – Duke Health Technology Solutions
Jamie Cross – Duke Childrens' Health Center
Lolita Guasp – Gastroenterology
Lori Crooks – Duke University School of Medicine
Maggie McDonough – Duke University School of Nursing
Paula Alford – Duke University School of Medicine
Rhonda Tilley – Duke University Hospital Risk Management
Sam Fox – Office of University Counsel
Sharone Pack – Patient Revenue Management Organization
Susan Chase – Office of Research Administration
Have a story idea or news to share? Share it with Working@Duke.