Duke Celebrates Those Creating a Green Future
Duke community members receive 2019 Sustainability Awards
Speaking to the audience at Monday's 2019 Duke University Sustainability Awards ceremony, Toddi Steelman, dean of the Nicholas School for the Environment and the co-chair of Duke's Campus Sustainability Committee, described a university setting as a "microcosm of the larger world."
"We are a city unto ourselves with the opportunity to experiment, to succeed, to fail, to adapt and to learn how to practice this incredibly complex idea of what it means to be sustainable," she said at the event in the Doris Duke Center at Sarah P. Duke Gardens.
Duke staff, faculty and students were honored at Monday's event, which was presented by Sustainable Duke, for helping Duke move closer to embodying the vision of sustainability. Their work organizing waste reduction strategies, shaping the ideas of colleagues and implementing tall sustainability tasks helped push Duke further down the path toward sustainability.
Meet this year's winners.
Outstanding Leadership in Waste Reduction
Susan Jackson, Business Analyst, Performance Services
A Duke employee for more than 25 years, Susan Jackson has spearheaded waste reduction efforts in Performance Services, which houses around 100 employees.
Among the most visible parts of her efforts are composting stations she's provided in each of the Hock Plaza kitchens used by Performance Services. She collects the compostable waste and uses it to create fertile soil at her home garden.
Co-worker Jamie Duffy, Jackson's nominator, wrote that initiatives such as the composting program have "created a culture of waste reduction and encourage a curiosity for environmentally friendly actions day-to-day."
Among the other sustainable steps Jackson has helped her department take include providing a filter for tap water that encourages the use of personal containers instead of disposable plastic bottles, and encouraging employees to use to a local thrift store which helps provide scholarships to nursing and medical students.
Outstanding Leadership in Sustainability – Faculty
Amanda Starling Gould, Digital Humanities Specialist, Franklin Humanities Institute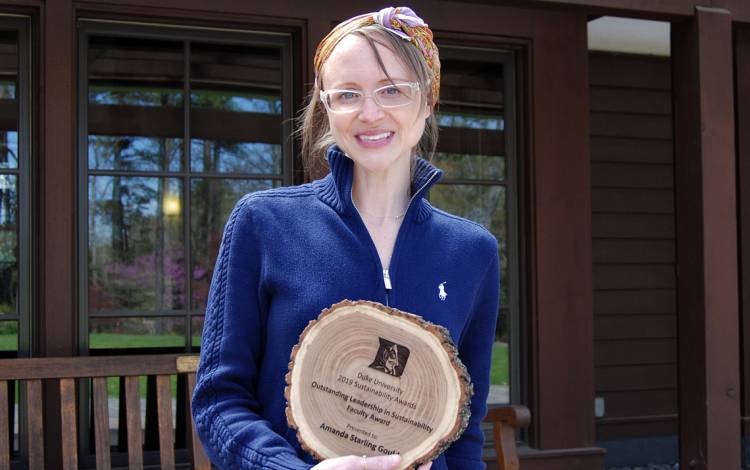 Gould is champion of sustainability for her colleagues at the Franklin Humanities Institute and for Duke as a whole. In addition to making sure her classes and event she helps organize meet the requirements of Sustainable Duke's Green Certifications, she also serves on the Environment & Culture subcommittee for the Healthy Duke initiative.
But it's the effect on her students that likely yields the most meaningful results.
In her nomination, student Barbara Lynn Weaver wrote that Gould's "emphasis on making change empowers students to implement solutions. Her class on activism lets students try out sustainable outreach tactics on the student body, and the global ecological humanities class I took challenged my own perception of what it means to be 'natural.' Dr. Gould impacts Duke's overall sustainability by creating a legion of thoughtful and motivated students."
Outstanding Leadership in Sustainability – Staff
Abhi Bathula, Belle Farish and Charlie Perez, Duke Facilities Management Department
Farish, left, Perez, center, and Bathula, right, spent roughly two years overseeing the implementation of one of Duke's most fruitful – albeit complicated – steps toward sustainability.
All part of Duke's Facilities Management Department, Bathula, an energy engineer, Farish, a project manager, and Perez, a general maintenance manager, coordinated the effort to replace standard lighting with energy-efficient LED lights in around 1.5 million square feet of Duke buildings. The project covered two years and resulted in an annual savings of around $330,000 and 11 metric tons of carbon emissions.
Getting it done required plenty of research into which products would work best for each space, a detailed plan for scheduling work so as not to interrupt the life of each building and precise organization to keep a wide range of stakeholders invested in the project.
"These three folks represent the kind of teamwork it takes to modernize a campus," said Duke Energy Manager Casey Collins, the group's nominator. "They're a living example of the paradigm shift for how organizations must think about their energy infrastructure and assets, and how we as a society must think about forming these multidisciplinary teams to address the challenges that come with the transition that we are all living right now."
Outstanding Leadership in Sustainability – Student
Trisha Dupnock, Ph.D student, Environmental Engineering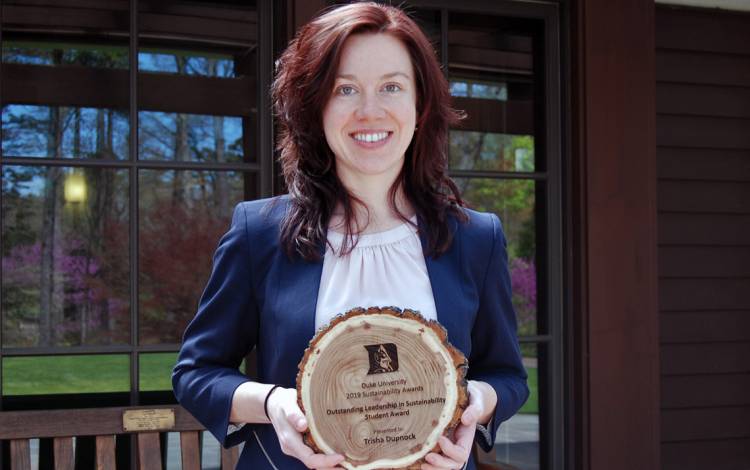 With her actions and ideas, Dupnock has helped make the Pratt School of Engineering greener.
An avid cyclist, Dupnock advocated for more bicycle parking on campus and coordinated a report showing the spots where additional bike parking would be most beneficial. She also advised a Bass Connections team on the feasibility of a campus digester to turn waste into fuel, and conducted research on how best to make labs more sustainable.
As chair of the Engineering Graduate Student Council, she made sustainability a core part of its mission and even wheeled recycling bins to campus events where they otherwise might not be.
With Pratt School of Engineering undertaking an ambitious goal of getting all of its labs to be certified green, Dupnock has played a large role, offering guidance to school leaders.
"When we talk about sustainability at the Pratt School of Engineering, Trisha's name almost always comes up in the conversation and she's usually the first student we look at for examples of how to be more sustainable," wrote nominators Marc Deshusses, Mark Schreiner and Kelly Rockwell.
Outstanding Leadership in Sustainability – Student
John Desan, senior
In her nomination material, fellow student Lara Breitkreutz wrote that Desan "does not shy away from any opportunity to engage others in conversation regarding sustainability."
That quality shows in the way that Desan has aimed to weave sustainability into the Duke student experience.
He created the Undergraduate Environmental Union to amplify and focus the voice of students when it comes to Duke's sustainability decisions. Desan also helped develop Sustainable Duke's database of green projects and coordinated a program that encouraged first-year students to make their dorm more sustainable.
He also helped devise a project that diverted most of the waste created by Krzyzewskiville away from the landfill that led to him occasionally sorting trash on frigid mornings.
"John's impact is far-reaching," Breitkreutz said Monday. "He is truly invested in cultivating a mindset of sustainability on campus and within the student body."
Have a story idea or news to share? Share it with Working@Duke.