Tracking a Murderer and Painting a Mural: Scenes from Duke Spring Breakthrough 2019
No grades, no tests, just their imagination. The more than 100 students who took part in Duke Spring Breakthrough 2019 spent a week playing in the muck on the barrier islands, retracing crime and injustice in Durham and learning how to fix things. Now in its third year, the program allows students to stretch their academic interests with a four-day dive into engaging topics.
Below are photos from some of the programs. Photographs by Jared Lazarus
A Printed Monument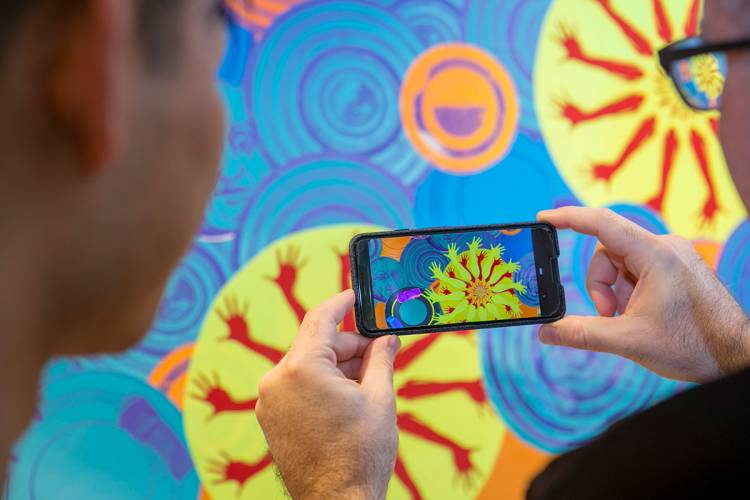 Above, Department of Art, Art History & Visual Studies faculty members Mark Olson and Bill Fick guided students in learning the basics of screen printing and creating an mural in the Rubenstein Arts Center. Called, "Visitor Please," the mural draws on Duke's iconic stonework, as well as elements that evoke a concern for lost time, care for the environment, interconnection, and a hope that new futures can be imagined from the structures of the past.
Write Your Story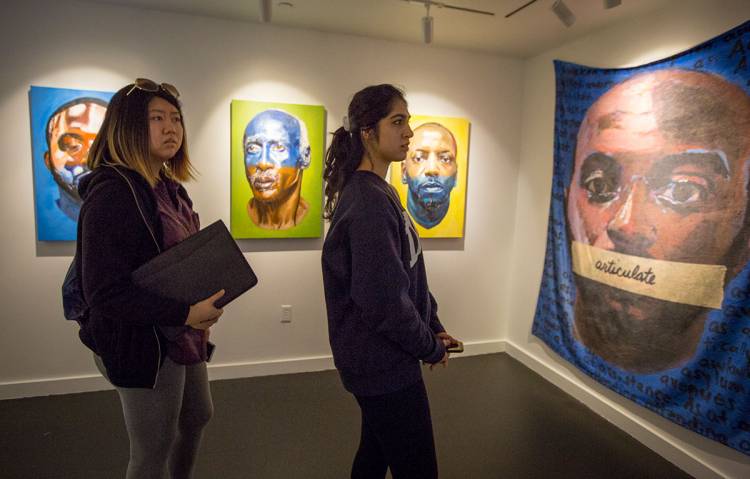 Above, Ananya Vohra, sophomore, and Christine Wei, senior, take in the artwork in 21c Museum Hotel Durham during their class, Finding My Voice: Writing True Stories, taught by Misha Angrist, associate professor of the practice in the Social Science Research Institute, and Barry Yeoman, Center for Documentary Studies instructor. Angrist and Yeoman asked students with outgoing personalities to observe and their shyer classmates to interview people on the street. Below, the students experience downtown Durham.
Crimes of the Mind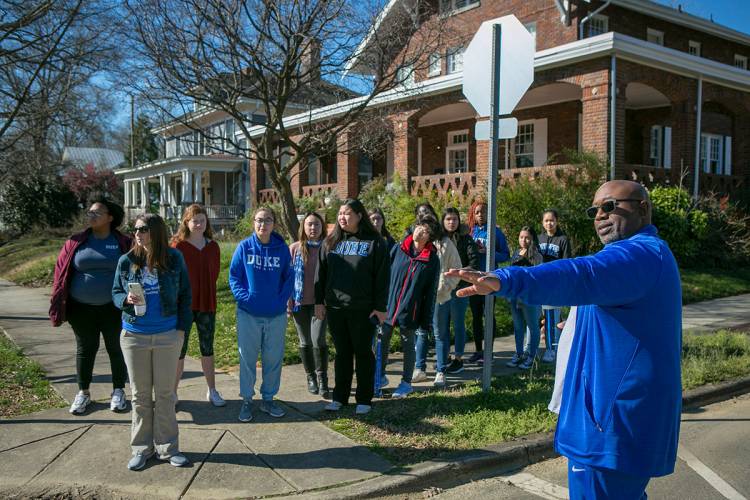 Students retrace the steps of a serial rapist through Trinity Park and Walltown and learn how a man was wrongfully convicted for the crimes during their Spring Breakthrough class "Forensic Psychology: A Story of Mitigation." John Blackshear, a psychology instructor and an academic dean of Trinity College of Arts and Sciences, and Kimberly Blackshear, assistant director of the Center for Child and Family Policy, who are faculty-in-residence in Trinity residence hall, used their dorm as their class headquarters. The course explored how psychology, through mitigation, has become an essential tool for helping juries and the courts understand and consider the complex psychosocial, behavioral, neurological and socioeconomical aspects of a person's life when dispensing justice.
Puppies!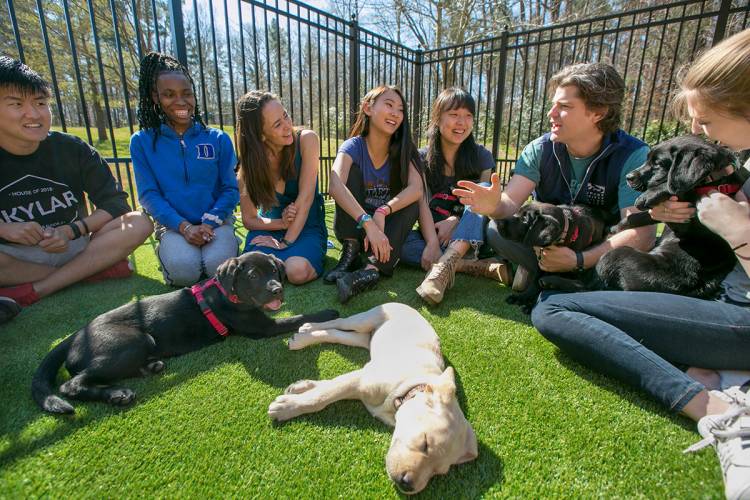 Students spend time with puppies to explore concepts in cognitive neuroscience, veterinary science, evolution, and behavioral economics during a Spring Breakthrough class taught by Brian Hare, professor of evolutionary anthropology, and Vanessa Woods, evolutionary anthropology research scientist. The puppies in the class are in training with the service dog organization, Ears Eyes, Nose and Paws. From left are Charles Huang, senior, Genesis Dawson, sophomore, Woods, Lydia Wang, freshman, Alina Xiao, sophomore, Hare, and Kate Brownstein, freshman. From left are Charles Huang, senior, Genesis Dawson, sophomore, Woods, Lydia Wang, freshman, Alina Xiao, sophomore, Hare, and Kate Brownstein, freshman.
Coding Fun
Hugh Thomas of the Office of Information Technology guided novice programmers in building their first mobile app for iPhones and iPads. The students learned programming theory and practice and learned how to use Apple's latest development tools. Above is a video trailer for their app, showcasing Duke basketball.
For all of the Spring Breakthrough classes, click here.