Get Fit For Spring With Duke Run/Walk Club
Registration is open for the spring session, which starts March 11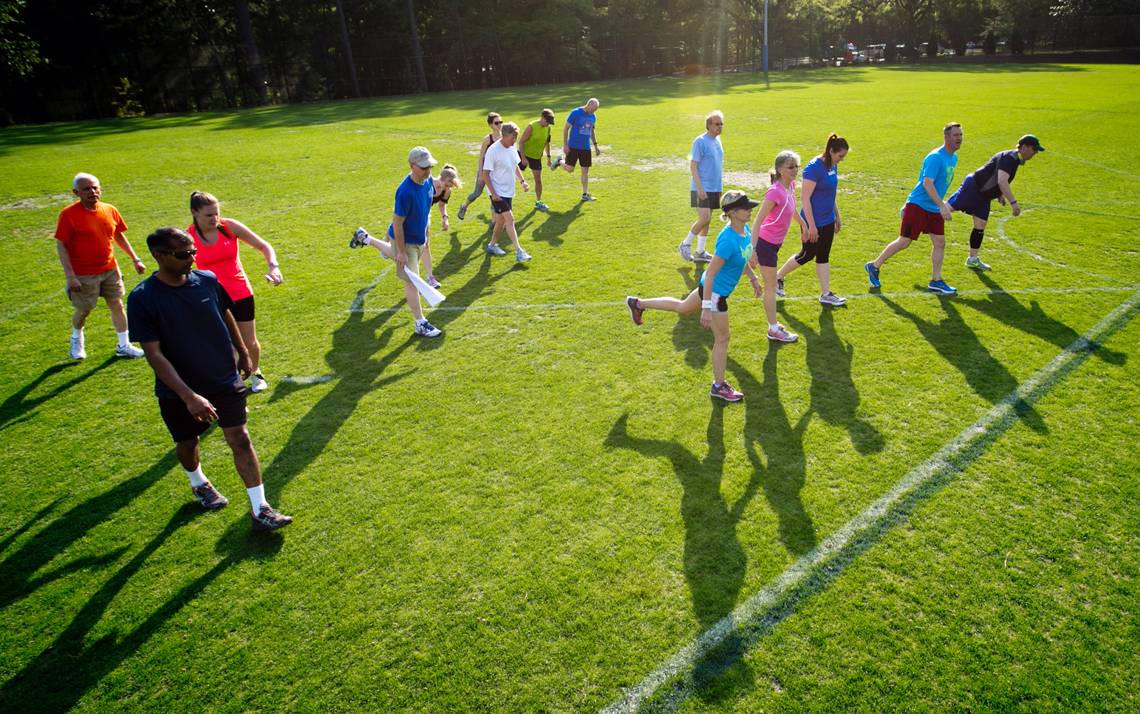 Theresa Shouse considers herself a Duke Run/Walk cheerleader.
She invites new colleagues to join her for a meeting of the club at East Campus and encourages participants with shouts of "Let's go!" and "We can do it!"
"The Run/Walk Club is such a great benefit I want everyone to enjoy it as much as I do," said Shouse, higher education analyst for Duke's Office of the Provost. "It just makes me feel better to move. I'm happier and more energized."
Shouse will be walking and cheering on Duke Run/Walk Club participants when the program returns March 11 to May 29. The club is a low-pressure workout group that meets on Mondays and Wednesdays at East Campus and the Al Buehler Trail on West Campus.
Staff and faculty at all fitness levels can participate in the free club, which is organized by LIVE FOR LIFE, Duke's employee wellness program. The program also includes free events, including body composition analysis and strength classes.
The Duke Run/Walk Club meets at the following locations and times:
East Campus: 5:30 p.m. Mondays and Wednesdays. Meet at the section of wall across from Whole Foods (beginner and intermediate walkers and runners)
Al Buehler Trail on West Campus: 5:30 p.m. Mondays and Wednesdays. Meet at the Green Zone Al Buehler jogging trail lot off 751/Cameron Boulevard. (advanced walkers and runners)
Duke Raleigh Hospital: 11:30 a.m. Thursdays at Duke Raleigh Hospital (walking only)
Christian Kennicott, LIVE FOR LIFE fitness specialist, said the club is a helpful way to develop your own walking or running pace.
"You don't have to get out there and run a half marathon," he said. "What matters is you're moving and staying as active as possible. The Run/Walk Club leads to a healthier lifestyle."
For help with her pace, Theresa Curington sets a personal goal to match the pace of the fastest person in her intermediate walking group on East Campus.
"I tell myself I'm not going to finish at the back of the line," said Curington, a clinical research coordinator for the Duke Office of Clinical Research. "In the end, it doesn't matter too much though because we're all walking, talking and having a great time."
Duke community members can also participate remotely by tracking progress online. All members of the Run/Walk Club receive weekly emails with tips, motivation, information about races in the area and local discounts.
Got a story about your health and fitness efforts? Share it with Working@Duke.