Celebrating Duke's Canopy
Duke community plants trees on campus to celebrate 11th year as Tree Campus USA
With the spires of West Campus seeming to rise out of an expanse of trees, it's easy to understand why Duke is often referred to as a "university in the forest."
Earlier this year, Duke was named a Tree Campus USA for the 11th-straight year by the National Arbor Day Foundation and the North Carolina Forest Service.
And on Friday, students, staff and faculty joined representatives from Duke Facilities Management and the North Carolina Forest Service to celebrate the recognition and next month's Arbor Day with pizza, a brief educational presentation and a chance to grab work gloves and shovels and plant 10 trees along Flowers Drive.
"When you come out here and plant trees, it makes you feel like you're a part of it," Senior Grounds Supervisor Mark Carpenter said as around two dozen members of the Duke community dug holes and filled them with redbuds and dogwoods. "Now they have some ownership and pride in it. I've been here going on 15 years and I can ride around campus and see trees that we planted 10 years ago that are thriving and growing. And you're like 'I remember when we planted that.'"
Check out some scenes from Friday's event.
Duke students, staff and faculty gathered along Flowers Drive to plant 10 trees – seven dogwoods and three redbuds. They got help from representatives from the North Carolina Forest Service and Bartlett Tree Service.
In January, Duke was named a Tree Campus USA by the National Arbor Day Foundation and the North Carolina Forest Service for the 11th-straight year. On Friday, Christian Hirni, the North Carolina Forest Service Ranger for Orange and Durham Counties, presented Bryan Hooks, director of Landscape Services for Duke Facilities Management with a plaque for the honor.
The Tree Campus USA honor is based on a multi-part criteria that include crafting a responsible plan for managing trees on campus, soliciting input from a circle of university stakeholders in decisions about trees and providing opportunities for students to help green the campus.
"I think we're very conscientious of what we're doing to our trees," said Roger Conner, project coordinator with Duke Landscape Services and one of the organizers of Duke's Tree Campus USA entry. "We're doing a better job year-by-year."
Around 60 percent of Duke's campus is forested. Duke leaders have mandated that each tree that's removed must be offset by a new tree planted elsewhere on campus.
"As campus grows, we try to keep it as close to a zero net loss as we can," Hooks said. "The trees are part of the character of the campus."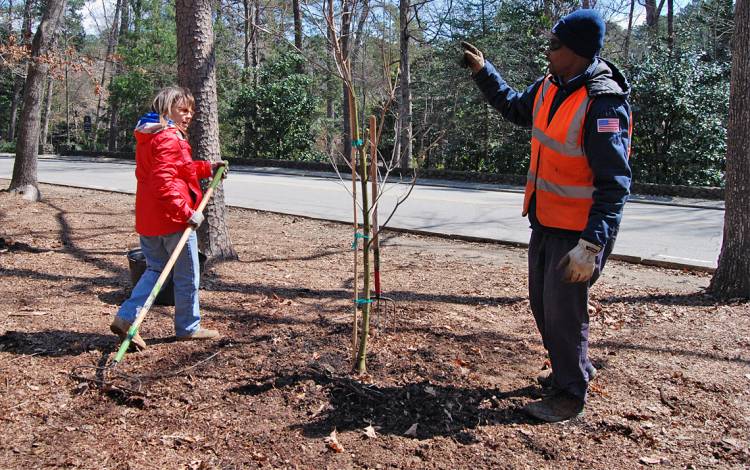 Gary Atkins, a tree pruner with Landscape Services, and Mary Ellen Matta of Duke Health Technology Solutions straightened a tree they planted.
Matta said she left Friday's event with some helpful tree planting tips, such as the fact that tree roots don't like to be buried too deep, instead they like to spread just below the surface of the soil.
Mark Carpenter, center, offered pointers to the volunteers that were planting the trees. He said events such as this not only help attendees to learn more about trees, it also results in a few more trees added to the roughly 15,000 that are growing in campus.
"We've always prided ourselves on having a tree canopy, so it's good that we're putting them back," Carpenter said.
Have a story idea or news to share? Share it with Working@Duke.