Blue Devil of the Week: Showing How to Care for Older Adults
Michael Cary exposes Duke nursing students to new avenues to satisfying work
Name: Michael Cary Jr.
Title: Associate Professor, Duke University School of Nursing
Years at Duke: 7
What he does at Duke: Cary said that he often encounters students who have a negative view of aging and gerontological nursing, seeing it as a career track that isn't particularly enriching compared to other specialties such as medical-surgical or critical care. But with more than ten years of nursing experience in long-term care, rehabilitation and community health settings, Cary aims to show his students how rewarding it can be.
He does that by taking students in his "Nursing Care for Older Adults and their Families" course, part of the Accelerated Bachelor of Science in Nursing Program, out of the classroom to get first-hand experience seeing innovative models of care for older adults, such as programs that bring high-level health care in the home and community to older adults who would otherwise live in nursing homes.
Cary points out a significant amount of money is spent on older adults as they consume more health care services than any other U.S. demographic. And most of those services are delivered outside of hospital settings. So, Cary believes that giving attention to the health and social service needs of older patients in community-based settings is fertile ground for the kind of innovation that can solve pressing challenges. Strengthening community-based services to older adults can reduce the need for acute care and hospital services, yielding better health outcomes, improved patient satisfaction, and lower overall costs.
With his research, Cary, a Senior Fellow in the Aging Center and core member of the Center on Biobehavioral Health Disparities Research at Duke, looks for ways to improve care for older adults in non-hospital settings, focusing on ways to identify high-risk groups and close inequalities in care among vulnerable populations.
Cary's interest in the field stems from an experience he had while he was a biology major at James Madison University (JMU). As part of a gerontology course, he volunteered at a nursing home. It was there, while befriending residents and suffering an untold number of defeats in games of checkers, he became curious about the care older patients received and the potential ways to improve it.
"I actually changed my major because of that experience," said Cary, who graduated from JMU with a degree in health care administration.
What he loves about Duke: Cary said he values Duke's institution-wide expectation of excellence because it pushes him to excel.
"Some may find that challenging, most of us do, but it pushes me every day," Cary said. "When you're around a lot of really bright students and faculty, you really have to focus and put your best foot forward every single day."
Cary has embraced that idea and was recently honored with the Duke University School of Nursing's Early Investigator Award for his research into identifying high-risk groups of older patients who are recovering from hip fracture.
Memorable day at work: Cary came to Duke fresh off of completing his doctorate and with little teaching experience. When he had to give his first lecture a few weeks into his time here, it was a tall order.
"Lecturing in front of about 70 students and having very little experience at that time, that was very intimidating," Cary said.
Cary said he was familiar with the material he was covering – the talk was on preventing falls in older adults – and he'd prepared diligently. But when the moment arrived and he found himself in front of a packed lecture hall in the Pearson Building, his nerves got the best of him.
"I remember sweating and shaking uncontrollably," Cary said. "My mouth was excessively dry as well. I felt like I bombed that day."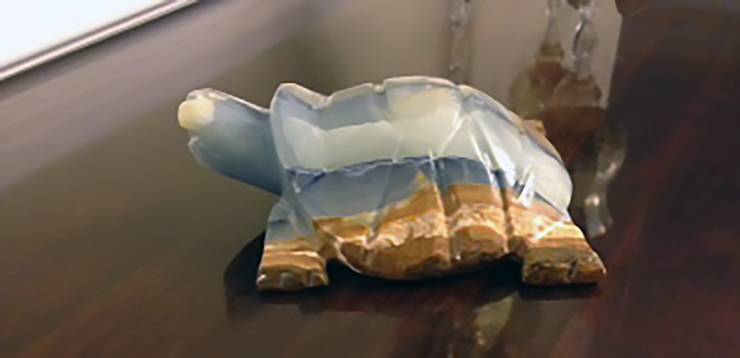 Special object in his workspace: Sitting on his desk, Cary has a ceramic turtle that was given to him by a nursing philosophy professor he had at the University of Virginia.
"It's to remind me to be patient with myself," Cary said. "I shouldn't think about being fast like the Hare, but instead being methodical and steady like the Turtle wins the race."
First ever job: As a high school student in Charlottesville, Virginia, Cary was a sandwich artist at Subway.
"Aside from money, I thought it was fun and interesting," Cary said about what he got from the experience.
Cary said the time he spent working there burned him out on sub sandwiches for a while, though the lull was temporary.
"I actually eat there a lot now because my kids love it," Cary said.
Something most people don't know about him: Cary has three children, 11-year old Michael, 9-year old Mykayla and 7-year old Landon. All three were born when he was in graduate school at the University of Virginia.
He recalls reminders of his children following him through his time in graduate school, whether in the form of spots of baby spit-up on his clothes that went unnoticed until he sat down for class, or the large photo of his children he pasted on the front of his statistics notebook.
"The photo reminded me why I was there and how going through this would be life altering, not just for me, but also for them," Cary said.
Is there a colleague at Duke who has an intriguing job or goes above and beyond to make a difference? Nominate that person for Blue Devil of the Week.