Get Help With Your Retirement Plan
Seminars guide new enrollees and other employees through Duke retirement plans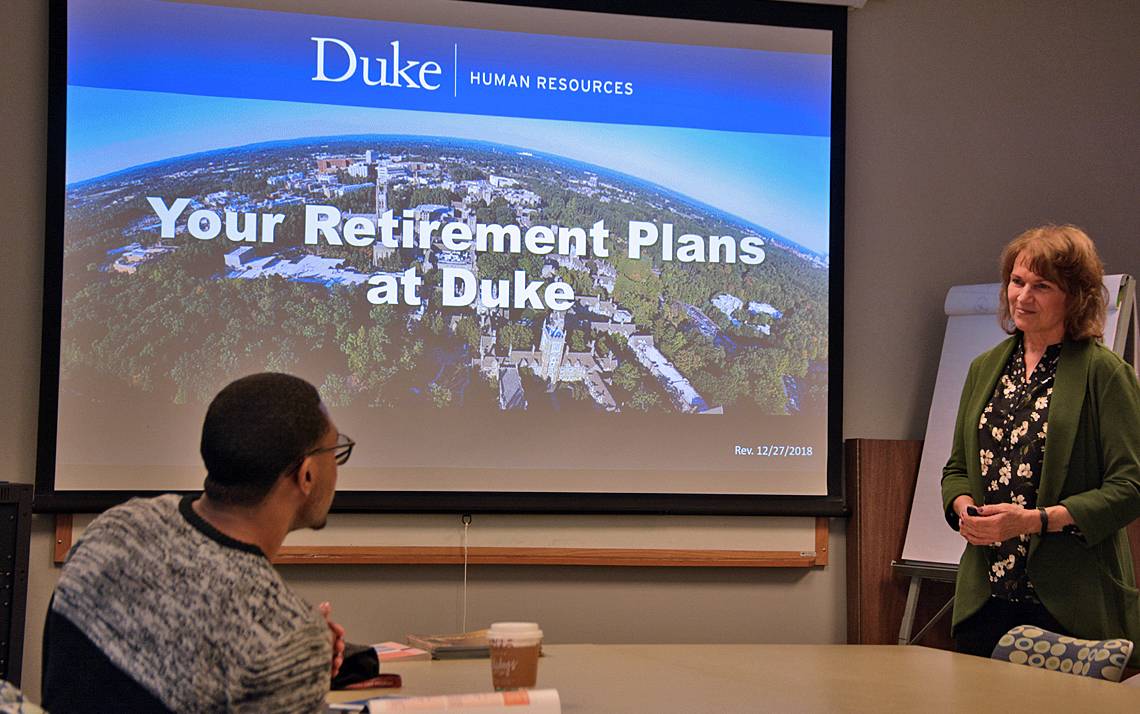 When Scott Chasse joined Duke in November 2017, he wasn't quite sure what to do with his retirement contributions.
Chasse worked for his previous employer for 12 years and hadn't considered his next steps to reach a goal of retiring at 65. But, after he went to a Retirement Plans Overview seminar hosted by Duke Human Resources a few months after starting work at Duke, Chasse had a plan.
Chasse, who is 55, signed up for a target date fund, which is designed for investors expecting to retire around the year indicated in each fund's name. A target date fund is invested in a portfolio of mutual funds that automatically becomes more conservative as the fund approaches its target retirement date and beyond.
"I'm not someone who's aggressively monitoring investments, so I appreciate there's a safe option for someone like me," said Chasse, research manager for Duke's Department of Medicine.
While the seminars are designed for new enrollees, all employees are welcome. Upcoming seminars are scheduled for Feb. 26, March 26, April 23 and June 25 in Duke Human Resources on Broad Street. Sign up here.
"It can be difficult to understand retirement," said Sara Howe, benefits administration and communications analyst for Duke Benefits. "The seminars help employees understand how retirement plans at Duke work and the options they have."
During the seminar, Duke Human Resources representatives review Duke's two retirement plan options: the Employees' Retirement Plan and the Duke Faculty and Staff Retirement Plan. Employees paid on an hourly or biweekly basis are eligible for both plans; employees paid on a salaried or monthly basis are eligible for the Faculty and Staff Retirement Plan.
The presentation includes information about the retirement plan features, as well as contribution amounts and Duke's retirement plan redesign.
This year, Duke moved from four retirement plan service providers to Fidelity as the primary recordkeeper for retirement services to streamline options and administration as part of its ongoing oversight of its 403(b)-retirement plan. Employees can meet with Fidelity representatives for help selecting investments for the Duke 403(b) plan and creating a well-diversified portfolio based on their unique circumstances.
Larysa Stolyarchuk, who previously managed her retirement through Vanguard, attended a seminar to learn about her retirement options with Fidelity. She chose a target date fund because for conservative investments as she gets closer to her goal target retirement age of 67.
"It's very relieving that Duke has experts readily available to walk us through retirement," said Stolyarchuk, 51, health unit coordinator for the Duke Clinical Staffing Department. "I feel much more confident about managing my retirement."
Sign up for a seminar here.