Bringing the Library to You
Duke teams with neighbor universities to create a new online library catalog system
Duke Libraries' new catalog was rolled out over the course of a few hours on the morning of January 16.
As visitors to the public computers in the libraries and users of the libraries' website got their first taste of the new system, Cory Lown watched it stir to life through the software that monitored its usage.
Seeing the number of searches soar and requests for materials pour in, Lown, application development project lead for Duke University Libraries Assessment and User Experience Department, gained a new appreciation for the multi-year project that led to this moment.
"It's pretty rewarding to work on something that researchers and students could potentially be using for the next 10 years," Lown said.
On that day, library users began enjoying an entirely new online catalog system that allowed them to find, request and explore roughly 15 million items held by Duke Libraries and those of other area universities.
The new system, which is also being used at the University of North Carolina at Chapel Hill, North Carolina Central University and North Carolina State University – the schools that, along with Duke, comprise the Triangle Research Libraries Network – was the result of more than two years of work by library staff members from all four schools.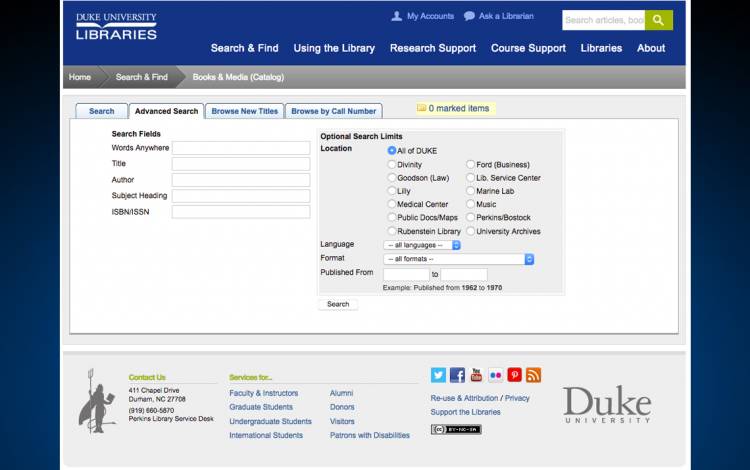 The process began in 2016 when a committee drawn from the four Triangle Research Libraries Network schools determined the old online catalog, which all four schools had been using since 2008, was obsolete.
"They realized this was crumbling infrastructure, it was no longer being supported and it was starting to fail," said Emily Daly, head of Duke Libraries' Assessment and User Experience Department, who spearheaded Duke's involvement in the project.
In addition to the technical issues, the existing catalog's user experience now lagged behind the systems of other research libraries.
"At the time it was developed, it was pretty innovative," Lown said. "I remember it being a pretty big deal in the library world. But 10 years have passed, other libraries have caught up and there are other tools available to do this kind of work."
Once the team charged with designing and building the new system had been formed, the first step was to seek input from users about what they wanted.
Daly recalls that, throughout the design process, library staff would occasionally set up tables in the lobbies of some of Duke's libraries and, in exchange for a free cup of coffee, get visitors to test various iterations of the new system and offer their reactions.
The result is a new system that features an updated look and technological features, a system that is more approachable. Now, users find larger online catalog images of an item, an easier way to tell if an item is available to read online and a prominent button to click to reserve something.
Finding items with other Triangle Research Libraries Network catalogs is also simpler because of an easy-to-find button that allows users to decide whether they want their search limited to Duke's collection or expanded to include other schools.
"We also wanted to use more user-centric language," Daly said. "We often speak in librarian jargon, but we wanted to make it easier for people who don't know libraries to understand what all these items are."
For instance, instead of listing similar materials under the library-specific term "subject headings," the new site has them listed as "related subjects."
The team that's worked on the project is now in the next phase of the process, making the final tweaks as more user feedback comes in. But with the new system already in use, the goal of the project has been realized. With a refreshed user experience and sturdier software behind it, the distance between those that use the libraries and the vast amounts of information the libraries contain has become smaller.
"Library staff seem to really appreciate the features of the new catalog," Daly said. "The new interface helps make everything in our collection more discoverable."
Have a story idea or news to share? Share it with Working@Duke.