Get Outdoors with Duke Recreation
Outdoor trips and skills workshops are offered to Duke community members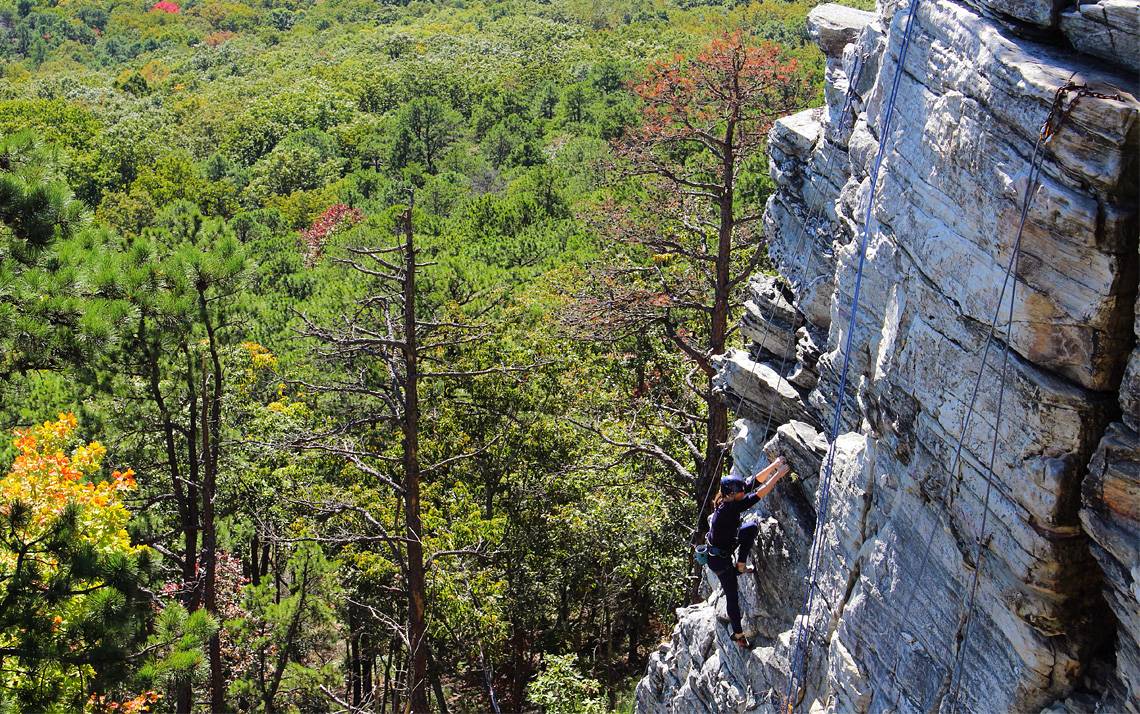 Climb a mountain for a bird's eye view of North Carolina, see the sunset from a paddle board or raft rapids with Duke Recreation.
Duke Recreation & Physical Education offers a variety of skills workshops and land and water-based activities for Duke faculty, staff and students. Some outdoor trips include a winter day hike on Feb. 3 and sunset stand-up paddle board trip on April 5. Skills workshops are also open to the entire Duke community. Workshops through April 22 teach kayaking basics and an introduction to levels of rock climbing.
Beginners to avid adventurers are welcome. You do not need a Duke Recreation membership to participate in the skills workshops or the outdoor trips. Most skills workshops are free, but some cost $10. Outdoor trips range in price from $10 for an afternoon excursion to $265 for multiple day events.
Chris Hendricks, who directs Outdoor Adventures in Duke Recreation, said the trips fulfill many of the core areas of the Healthy Duke initiative. The activities provide an opportunity to connect with the environment, exercise and practice mental and emotional well-being.
"As technology continues to be integrated into our daily lives, we need to find ways to disconnect," Hendricks said. "These opportunities are important, especially here at Duke, because they give you a healthy outlet to forget about the stressors of our work or school environment and immerse ourselves in an activity."
Joel Luber attended a rock-climbing outing to North Carolina's Pilot Mountain last October. Luber, an assistant managing editor for Duke University Press, began rock climbing at the indoor climbing wall at Wilson Recreation Center in 2017.
He climbs two or three times a week, but the trip was his first outdoor experience.
"I didn't sign up for the trip with anyone, but rock climbing is naturally a very social activity," Luber said. "It was one of those late October days where the sun was shining and the leaves had started to turn colors. I'm really glad I signed up for the trip."
Outdoor Trips
Feb. 23-24: Wildness Backpacking. An overnight backpacking and hiking experience at Birkhead Mountains Wilderness in Asheboro, N.C.
Feb. 24: Intro to Outdoor Climbing. Learn how to Rock Climb outdoors at Pilot Mountain State Park. A
March 31: Women's Outdoor Climbing. A women-only rock climbing trip to Rocky Face State Park.
April 5: Sunset Stand Up Paddleboarding. Watch the sky change colors atop a paddleboard in Falls Lake.
April 6: Whitewater Rafting and Adventure Activities. Whitewater raft, zipline and challenge yourself with ropes courses at the U.S. National Whitewater Center.
April 7: Gym to Crag Outdoor Climbing: Join Outdoor Adventures on a more advanced climbing adventure. You must be belay certified and climb at least at a 5.8 level.
For more information, see here.