Taste of Home for International Spouses
Duke's International House offers programs to spouses and partners of international students, staff and faculty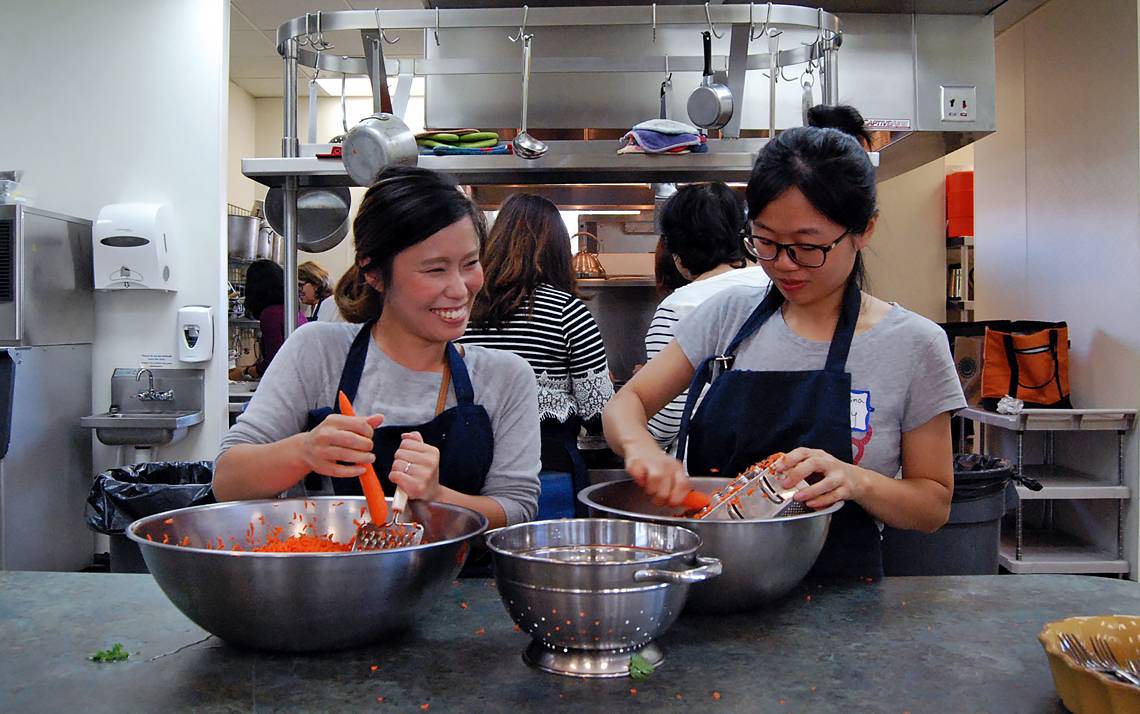 On a recent Monday, Amal Mejdoub stirred a simmering pot filled with shreds of chicken in a silky red tomato sauce. It would soon become Chorba, a traditional soup from her home country of Tunisia. Later, she added delicate peas, handfuls of vibrant green chopped parsley and orzo, which she said isn't quite like the kind back home.
"Ours is thinner than this," she said, holding one of the fat grains
Around her, the crowded kitchen of Blacknall Memorial Presbyterian Church, a block away from East Campus, was a whirlwind of action.
Nearby, Jiang Li, a native of China, sliced carrots while Eva Kornfeld, who's from Israel, cut up lemons. The produce went with Mejdoub's Tajine, a baked side dish filled with potatoes, mushrooms, chicken and cheese.
The women are part of a group of two dozen spouses of Duke graduate students and faculty members who gather in the Blacknall kitchen each Monday for exotic food and familiar fellowship.
"Having a community, and this is a community, was so important for me when we arrived," said Nofar Levin, a volunteer with Duke's International House who came from Israel two years ago with her husband, a Duke Ph.D student. "You feel like you're the only one facing these challenges, but that's not true. There are many others and you share the same feelings. For me, it was such a relief to know that something like this exists and I could come a see people each week who are in the same situation and I can share what I'm going through with them."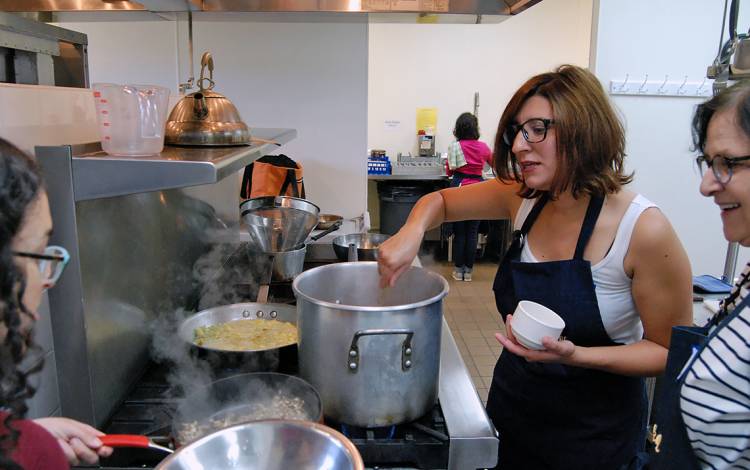 The Cooking Club is one of several activities organized by the International Spouses and Partners Program, which is run by the International House, part of Duke Student Affairs. The program is open to the partners – both men and women – of Duke students, faculty and staff.
"All internationals that are affiliated with Duke are welcome, regardless of visa status," Seun Bello Olamosu, Associate Director of the International House.
The program helps organize activities such as a book club, a weekly outing for parents with small children, monthly potluck dinners and the weekly English Hour program which provides non-native English speakers and chance to work on their speaking and make friends.
"If you come here and you're the one that's employed or studying at Duke, you've got a built-in group of colleagues," said Kate Macartney, who came to Duke from Canada along with her husband, who is an assistant professor of economics. "But I think it's important that Duke has these programs to make sure that all the members of the family feel welcome and everybody can enjoy their experience here."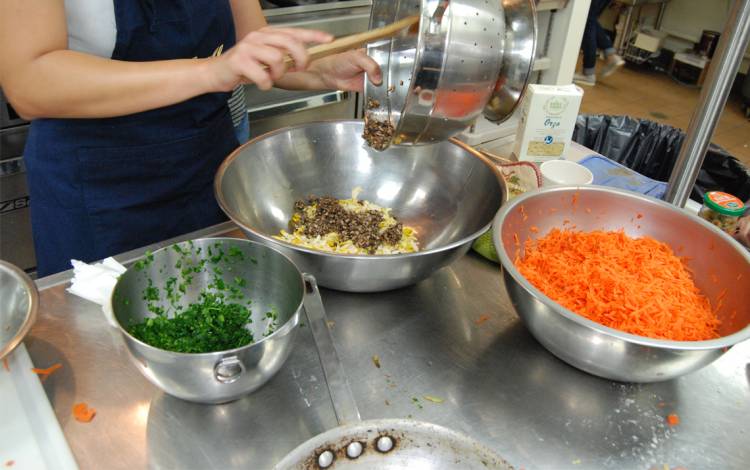 While Mejdoub watched her soup closely and answered the questions of her kitchen full of busy helpers, Tita Arky grabbed dirty pots and pans and whisks them to a nearby sink. Originally from Portugal, Arky is one of the volunteers who helps organize the event, which, each week, sees a different member of the club cook dishes from their homeland.
"I feel like I was, to use the American expression, walking in their shoes," said Arky, who moved to Durham with her Duke-graduate husband around 35 years ago.
Watching the busy kitchen, she said part of the fun on days like this is to experience the difference in cultures. Duke brings together so many people with different languages, backgrounds and tastes.
"But there's another side to that coin," Arky said. "We're like sisters. It's so much like a community of sisters. We all want the same thing. We want to learn how to cook, we want the best for our children, we want peace for our countries. We have so much in common."
Have a story idea or news to share? Share your news with Working@Duke.