Duke Leadership Academy Celebrates Newest Graduates
Class of 27 employees completes yearlong journey through comprehensive development program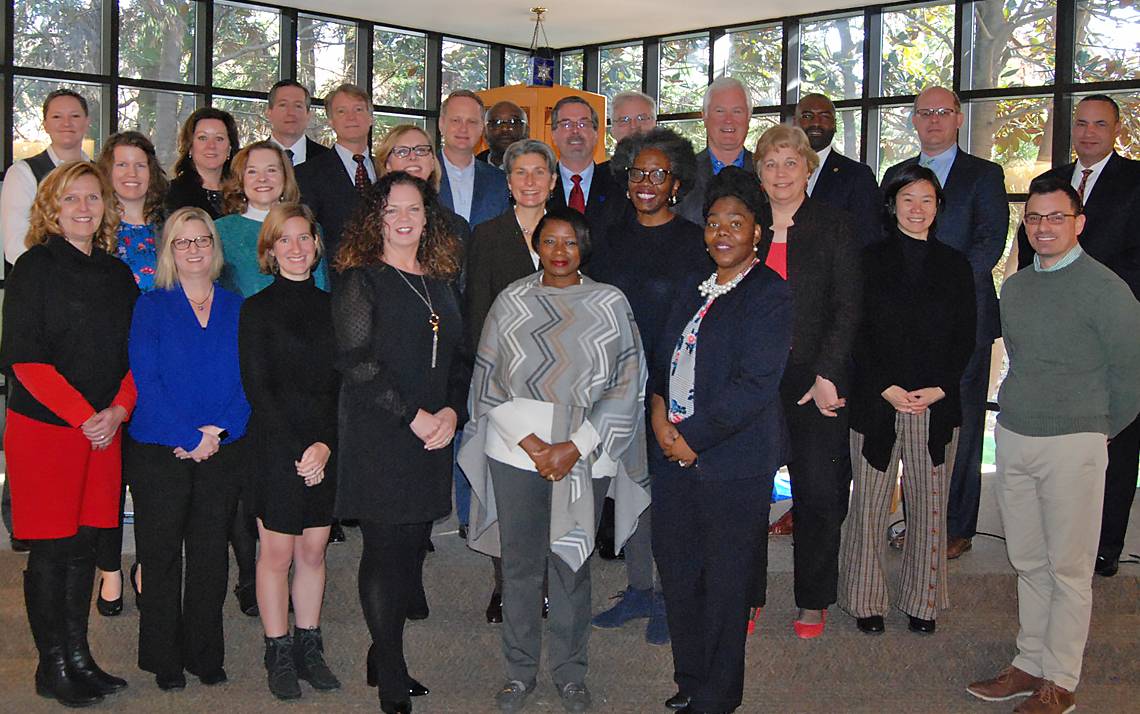 For the 27 members of the 2018 Duke Leadership Academy class, last week's graduation ceremony was more than just a celebration of their year of hard work. It was also a chance to reflect on what the work meant.
"For some of us, being nominated for this was the first time, or one of the very few times, that we felt seen, listened to, encouraged, supported and given a chance," said Dina Helderman, director of events management at the Duke Divinity School and a member of the class. "Maybe for the first time, someone put resources, time, money and energy into us."
The group met for a final time Thursday morning as the class was honored at the Duke Leadership Academy's graduation ceremony at the Freeman Center for Jewish Life.
"Our scholars have worked very hard for this moment," said Keisha Williams, assistant vice president for Learning & Organization Development.
The Duke Leadership Academy, which is in its 10th year, is run by Duke Learning & Organization Development, a division of Duke Human Resources. Members of the class were nominated by Duke vice presidents and deans and submitted résumés and letters of intent.
"This program reflects our commitment as an institution to identify and support emerging leaders because they are the foundation for our future success," said Kyle Cavanaugh, vice president of Administration.
During the yearlong program, participants take part in discussions with senior leadership, undergo a comprehensive analysis of their work and personality styles, receive coaching and collaborate on a group project offering solutions to real world concerns relating to life at Duke and in Durham.
This year's team projects covered such topics as how to make life easier for Duke's nursing mothers and how the institution can refine the ways it develops faculty members.
"Most people who find their way into leadership positions, or aspire to leadership positions, don't magically know how to lead," said Duke Provost Sally Kornbluth, who was the keynote speaker of the ceremony. "It's not something you're magically born with. From having completed this program, there are many skills you now realize that you can learn, tools you can acquire and approaches you can take that will make things a whole lot easier."
Helderman, who was selected to deliver remarks at the ceremony, said she expects the lessons she learned in the Duke Leadership Academy to serve her well. The fact Duke gave her the opportunity to learn leaves an impact.
"It doesn't end here," Helderman said. "It's our turn to pay it forward and share with others what has been entrusted to us."
Here are the 2018 employee graduates:
Marsha Adams-Rucker – Director of Human Resources – Duke Graduate School
Ann-Louise Aguiar – Senior Director of Regional Engagement – Duke Alumni Association
Julie Barker – Executive Director of Duke Kunshan University Support – Office of the Provost
John Blackshear – Academic Dean – Trinity College of Arts & Sciences
Melany Bray – Senior Regional Director – University Development
Nicolette Cagle – Director of K-12 Diversity Pipeline Programs – Nicholas School of the Environment
Matt Cloues – Director of Development – University Development
Ron Evans – Major – Duke University Police
Jim Gaston – Assistant Dean, Advising & Undergraduate Education – Pratt School of Engineering
Kacey Hammel – Program Director, Special Assistant to the Dean – Trinity College of Arts & Sciences
Dina Helderman – Director, Events Management – Duke Divinity School
Jenny Sloop Johnson – Associate Director of Career Services – Pratt School of Engineering
Zach Johnson - Director of Budgets & Financial Analysis – Sanford School of Public Policy
Annie Kao – Director for Finance & Administration, Global & Civic Education – Global Education Office
Antwan Lofton – Assistant Vice President, Staff & Labor Relations – Duke Human Resources
Adrienne Martin – Managing Editor, Duke Magazine – Duke Alumni Association
Kevin McCarthy – Associate Dean, Development & Alumni Relations – Nicholas School of the Environment
Wayne Miller – Associate Dean, Academic Technologies – Duke Law School
Bebe Mills – Director, Student Services – Duke University School of Nursing
David Mixon – Director of Budgets & Business Services – Office of Information Technology
Amy Powell – Director of DukeReach – Student Affairs
Brenda Ratliff – Assistant Director, Information Technology – Office of Information Technology
Kenneth Stern – Associate Director of University Audit – Office of Audit, Risk & Compliance
Brad Teague – Assistant Dean & Director of EIS Program – Duke Graduate School
Diane Uzarski – Chief of Staff – Duke University School of Nursing
Melissa Vetterkind – Director of Government Relations – Office of Public Affairs & Government Relations
Jane Walbrun – Associate Director, Benefits Administration – Duke Human Resources
For more information on the Duke Leadership Academy, visit: https://hr.duke.edu/training/programs/duke-leadership-academy