A Duke and Durham Partnership
As the state's second largest private employer, Duke creates deep community connections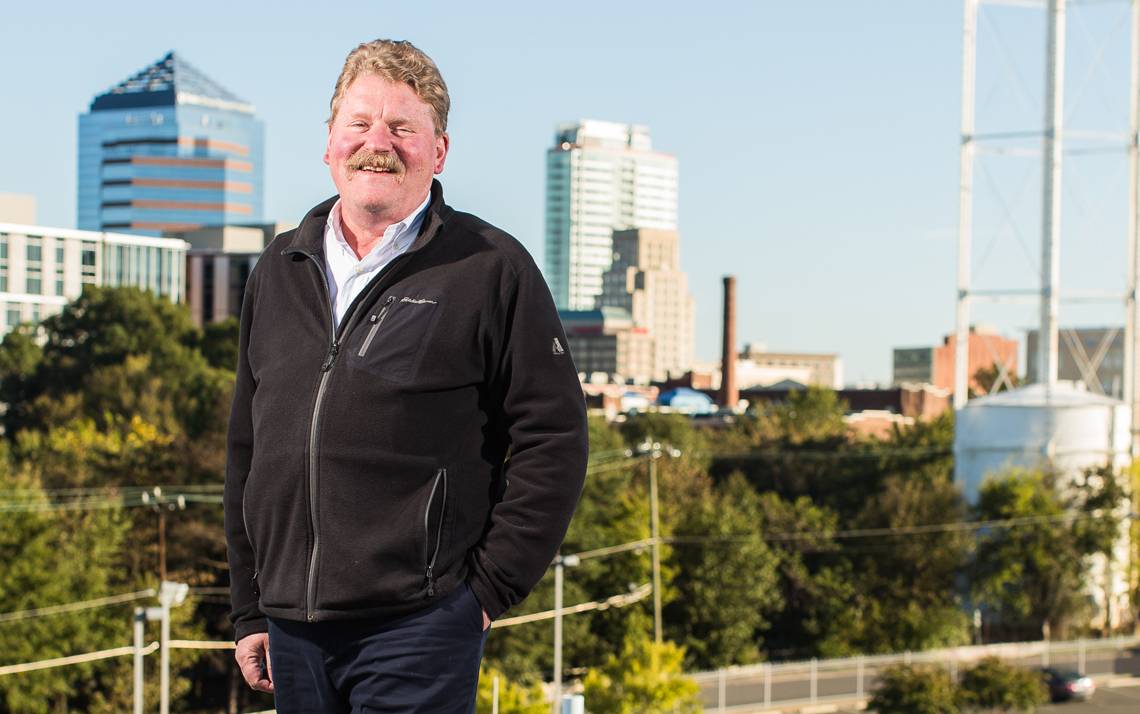 Two decades ago, Jacqueline Wachholz unpacked her belongings in an apartment near East Campus, unsure of what to expect from Durham.
In her mid-20s and with a new job at Duke University Libraries, the Michigan native who had studied at universities in Minnesota and Texas wondered if Durham would become home.
"It didn't occur to me that I'd be sitting here 20 years later," said Wachholz, director of Rubenstein Library's John W. Hartman Center for Sales, Advertising & Marketing History.
With her position at Duke providing intellectual stimulation and stability, Wachholz now has roots in Durham. She bought a home, met her husband and is raising two daughters here. For Wachholz – whose life moves to the rhythm of swim meets, dance classes and Girl Scout meetings – Durham is home.
"I didn't want to be here for two years and bounce off to the next place," she said. "I was hoping Duke and Durham would be that place. And it is."
Wachholz is among nearly 40,000 employees at Duke University and Health System, the largest employer in Durham County and the state's second-largest private employer. Hers is one of many lives shaped in some way by Duke.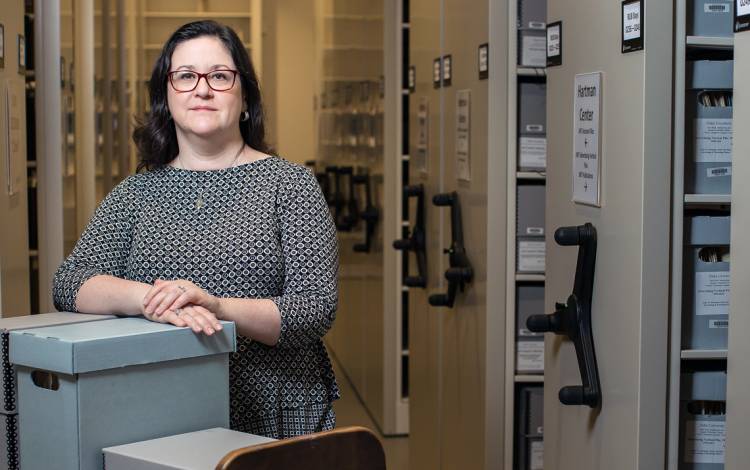 The story of Duke University, which moved to Durham 126 years ago, has been one of ambition and progress. By educating tomorrow's leaders, fostering ground-breaking research and providing innovative health care, Duke aims to lead the charge into a better future. But that story isn't limited to classrooms, labs and clinics.
As an employer, business partner and health care provider, Duke helps Durham and Triangle area community members create their own better futures.
"I think that the partnership between Duke and Durham is mutually beneficial and incredibly important to both," said Durham Mayor Steve Schewel, a Duke graduate and visiting assistant professor in the Sanford School of Public Policy.
From helping people gain control of their health to the Bull City's downtown revival, Duke has played a supporting role in many success stories.
Fostering a Healthier Community
When a vascular condition forced Beverly Goss to leave her job helping visually-impaired children in Durham Public Schools in 2014, she felt ready for the transition.
She saved up money, became a coupon wizard and continued to offer private tutoring. While things would be tight, she felt she'd be OK financially. But with five years until Medicare eligibility and unable to afford private insurance, her health care situation was less certain.
She planned to keep paying for basic care at Lincoln Community Health Center, where she'd gone for decades. And after losing 104 pounds, switching to a mostly organic diet and getting more exercise – including practices with Divas 'N Dudes, her senior cheerleading team – she felt she'd make it through.
"I had to take charge," Goss said.
But last year, pain from a degenerative back problem and circulatory issues in her left leg severely limited her activity. Struggling to afford her medication, something needed to change.
Her doctor recommended Project Access of Durham County.
Partially funded through The Duke Endowment, Project Access connects uninsured patients with donated care from a local network of clinics, labs, pharmacies and hospitals. According to Sally Wilson, the executive director of Project Access, the program helps roughly 1,800 patients per year, and around 85 percent of the care is provided by Duke University Health System.
"This is an amazing program," Wilson said. "Physicians are so generous with their services. I feel really fortunate for the resources we have."
Duke's donated care with Project Access is a small piece of its commitment to caring for its community. During the 2016-17 fiscal year, Duke University Health System provided $97 million in charity care. Eighty-four percent of that went to patients living in Duke's primary service area of Alamance, Durham, Granville, Orange, Person, Vance, and Wake Counties.
"A community is only as healthy as the people in it," said MaryAnn Black, associate vice president for Community Relations for Duke University Health System. "It's our responsibility to take care of the people in our community who need our help."
With help from Project Access, Goss received physical therapy from Duke's Department of Physical & Occupational Therapy. By improving her balance and strengthening her legs, Goss returned to her active lifestyle, pom-poms and all.
"I've got to do what I've got to do to be at my optimal health," Goss said.
Fueling Innovation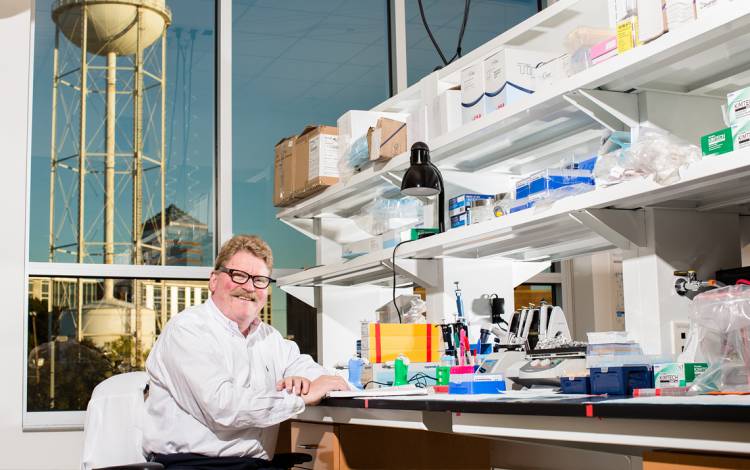 Touring the Carmichael Building six years ago, Christopher Newgard couldn't quite picture what it would become. Built in 1926, the tobacco-warehouse-turned-social-services-office was a maze of tiny rooms and corridors.
"It was hard to see how it could be transformed into anything useful for us," said Newgard, director of the Duke Molecular Physiology Institute whose airy office is now on the building's second floor. "It just goes to show what you can do with a great, old building."
In the past two decades, Duke's search for innovation and research space led to downtown, where roughly 4,000 Duke staff and faculty work in around 1.4 million square feet of leased space. That presence has played a valuable role in the city's renaissance.
The goal was to create a vibrant city core that would help Duke compete for students and faculty against institutions with cosmopolitan settings such as Boston, San Francisco or Austin, Texas.
Duke knew it couldn't do this alone.
"Not-for-profit universities bring many things to the table, but they're not the whole answer to the puzzle," said Tallman Trask, Duke's executive vice president.
With developers, Duke committed to lease no more than 50 percent of any project, meaning developers had to court additional tenants. As a result, in places such as the Chesterfield Building, American Tobacco Campus and One City Center, Duke employees work alongside innovators from other companies.
"If we can get business to come to Durham and get involved in the community, we'll have a much more interesting place to live," said Scott Selig, Duke's associate vice president for Capital Assets.
From his Carmichael Building office, Newgard had a good view of downtown's transformation from a sleepy cluster of brick warehouses to the city's liveliest neighborhood. His team, which explores the molecular makeup of diseases to better understand their causes and develop therapies, moved to the Carmichael Building in 2014 from a lab in north Durham.
Twice as big as its previous home, the new space features cutting-edge technology and room for the institute's roughly 150 faculty and staff to innovate and collaborate.
Equally as important is what's beyond the Carmichael Building's brick walls. With options for dining, culture and camaraderie, the downtown location is as much a selling point as the science.
"We've had many well-known scientists from outside of Duke visit us and go 'Whoa!'" Newgard said. "If we had an unlimited recruiting budget, several would come back in a heartbeat."
Building Business Partnerships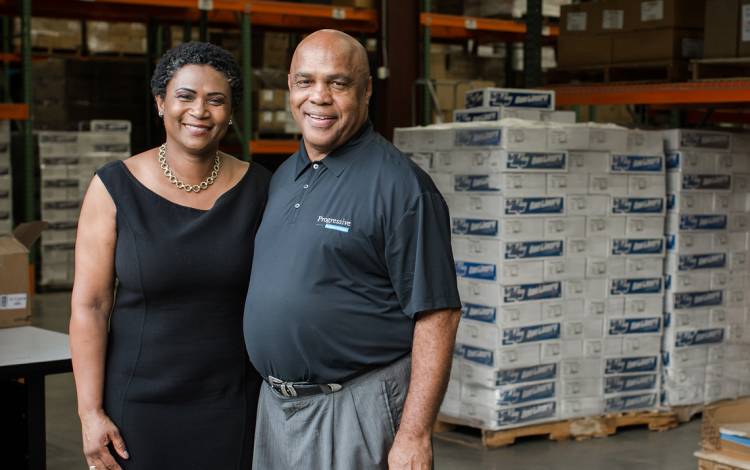 Progressive Business Solution's massive, 30,000-square foot warehouse often feels surprisingly tight.
Pallets of toilet paper, paper towels and trash can liners are everywhere. Boxes are stacked halfway to the ceiling. Eventually, most of this will end up at Duke.
"This is about a month's worth of supplies," said Tim Catlett, who owns the business.
Raleigh-based Progressive Business Solutions distributes most of Duke's janitorial and paper hygiene products. It's a big job, one Catlett never thought the printing business he started three decades ago would ever handle.
But now, his deal with Duke is a centerpiece of the company.
"Duke became my flagship," said Catlett, whose company also works with GlaxoSmithKline, UPS and Duke Energy. "When you tell somebody you're doing business with Duke, they know you're legitimate."
During the 2017-18 fiscal year, Duke spent roughly $529 million with Triangle-based companies. And with the help of its Supplier Diversity Program, which fosters relationships with businesses – such as Progressive Business Solutions – which are owned by minorities, women or veterans, the benefits were spread throughout the community.
"We want to put money back into the communities of the people Duke serves," said Mary Crawford, senior director for procurement programs and supply chain and small business liaison officer for Duke Procurement and Supply Chain Management.
The Supplier Diversity Program helped nurture Duke's relationship with Catlett, who first bid on a Duke contract to provide business forms and printing services during the company's early years. Later, Duke Vice President for Procurement Jane Pleasants approached Catlett with the idea of being Duke's distributor for janitorial products purchased from Georgia-Pacific.
"She felt that I had the facilities, the technology and the knowledge," Catlett said. "She said, 'Tim, have you considered the possibility of distributing janitorial supplies?'"
With no janitorial supply distribution experience, Catlett and his team rose to the challenge and have thrived in the role.
"Tim's commitment to customer service has proven true year after year, and it was important to us that he succeed in this space," Pleasants said.
The deal with Duke helped Progressive Business Solutions expand its warehouse, buy two trucks and add 10 full-time employees.
"Duke put trust in me," Catlett said. "I'm not going to let them down."
Have a story idea or news to share? Share your news with Working@Duke.