Department Spotlight: Performance Services Puts Patients at the Center
Finding signals in the data that help Duke Health thrive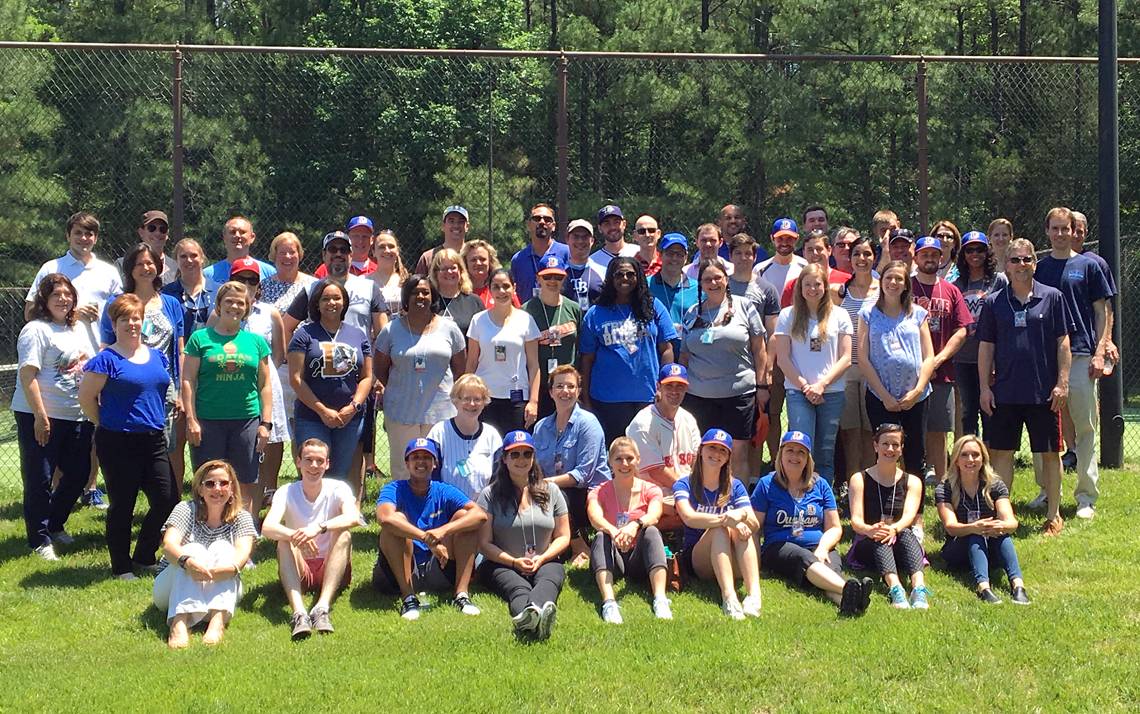 Department: Performance Services
Years at Duke: 25. Performances Services was formed as part of the finance unit of Duke University Hospital. After starting with four employees in Erwin Square, the operation later moved to its current home in Hock Plaza.
Number of employees: 95
How they makes a difference: With around 69,000 inpatient stays and around 2 million outpatient visits per year, Duke Health is a massive organization. And everything it does is carefully recorded and logged, creating a galaxy of data.
The job of Performance Services is to use that data to find ways to make Duke Health more efficient and effective.
"In a broad sense, I look at the office as helping the organization measure, analyze and improve performance," said Bill Burton, Duke Health's associate vice president for Performance Services.
Their data experts study how Duke's overall performance compares with other health systems and its own goals. Their findings are then passed on to health system leadership to help them make informed decisions.
Staff members analyze data at many different levels. Some examine the performance of the entire health system, while others tighten their focus on specific areas, such as the Private Diagnostic Clinic, the Patient Revenue Management Organization or individual clinics. And others work with individual doctors and nurses to draw conclusions from smaller data sets.
"We want to help providers understand the small signals that are occurring," said Arnie Boardwine, Performance Services director. "If they can understand what's happening with one or two patients, they can impact what happens with everyone else."
What they are known for: In addition to being adept at crunching numbers, the staff at Performance Services has to rely on a wide arsenal of skills to make sure that their analysis can turn into solutions. They use their problem-solving skills to help clinical teams create stronger, more streamlined ways to deliver care.
"It takes a lot of resolve, but we don't give up," said Senior Director Jeff Harger.
Another key skill is communication. Performances services staff members often have to boil complicated analyses down into more approachable terms in order to help busy physicians and nurses make decisions.
And Burton said his staff also excels thanks to a strong sense of purpose. While their work often unfolds in quiet offices, the solutions they uncover help improve patient care.
"They're very competent as far as technical skills, but then you couple that with a real passion to support the mission of the organization and make a difference," Burton said.
Hidden fact: While the department is celebrating its 25th year in existence, in a way, Performance Services isn't quite that old. Prior to changing its name to Performance Services in 2000, the department was known as Management Engineering.
Significant Achievement: For most of Duke Health, the Balanced Scorecard is the best-known way Performance Services affects their work. The scorecard, which Performance Services manages, is a vehicle for insights to reach the people who can best use them.
The scorecard offers feedback and highlights trends about how units perform in areas such as quality of care, patient safety, work environment and finance.
"It communicates the organization's priorities, measures key units of success and shows how were performing every month," Burton said. "It also helps us frame what kind of analysis we need to do. If we're not performing in an area, that's the first indicator."
It also celebrates successes.
"It's a great tool for leaders in organizations to be able turn to their front-line staff and say this is where the hard work is seen, it's reflected right here," Boardwine said. "That's helpful."
Have a suggestion for a Department Spotlight? Let us know here.