5 Ways to Sharpen Your Skills in 2019
Read a career-related book, attend a Duke lecture and more
Having obtained her undergraduate degree two decades ago, Jennifer Larke decided it was time to return to a classroom. 
Larke enrolled in "Administrative Assistant of Excellence," a certificate program offered by Duke's Learning & Organization Development (L&OD). Larke, who wanted to brush up on soft and technical skills, learned how to put herself in other's shoes and how to maintain databases with Microsoft Excel. 
"So much has changed in the workplace since I graduated from college," said Larke, administrative specialist in Duke Health System's Quality Office. "Duke provided the resources and support for me to learn so I didn't have to return to school." 
Taking an L&OD class is just one way to sharpen your skills through Duke in 2019. Whether it's reading a career-related book, networking or attending a talk on campus, it's important to set long-term career goals to strengthen yourself professionally. 
"Career goals help keep your work fresh," said Ed Bernier, director of daytime MBA Career Services at the Fuqua School of Business. "Make yourself stronger in a skill you already know or pick up something brand new. Both are challenges that can be fun and add something new to your position."
Here are five ways to sharpen your skills in 2019: 
Read a book

Meg Trauner is the go-to source for book recommendations at the Fuqua School of Business.
Trauner, associate dean for library services at Fuqua's Ford Library, writes and curates bi-monthly reviews that are posted on the library's website. Books range from "When: The Scientific Secrets of Perfect Timing," about how to build a schedule and perform certain chores, to "Chaos Monkeys: Obscene Fortune and Random Failure in Silicon Valley," about the author's five-year stint working at Facebook. 
Fiction and nonfiction alike can be helpful in building your career. 
"So many of the ways we can improve ourselves spills over from what we're reading," Trauner said. "How to negotiate, how to communicate, how to observe. You can pick all of that up from a book."
Duke community members can check out print books through the libraries or download eBooks and audiobooks with Duke OverDrive using NetID and password. 
Learn a new skill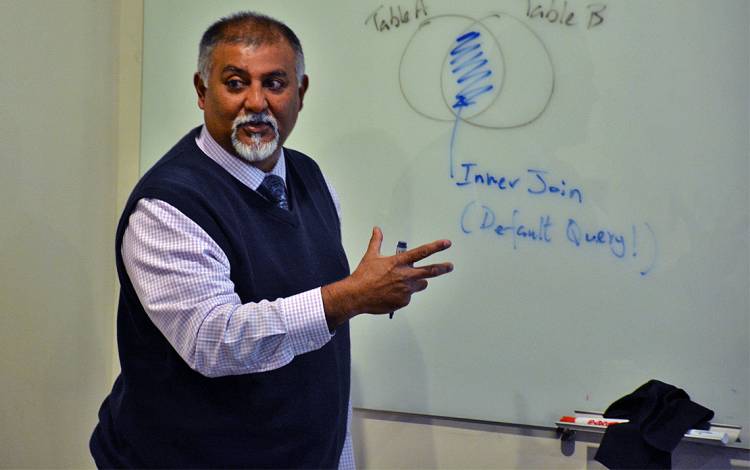 Srini Iyengar is a master of all things Microsoft. 
Iyengar, senior technology partner for L&OD, instructs classes on Excel, PowerPoint and Word. But he wants to learn more. Iyengar is using Lynda.com to learn Python, a computer programming language. He hopes to one day teach a programming class through L&OD. 
Lynda.com is free to Duke employees and students and offers nearly 6,500 instructional videos on topics from creative skills to technology to business. 
"I like Lynda because it's broken up into chapters that you can complete at your own pace," Iyengar said. "If a student asks me a question in class that I don't know the answer to, I can go to the chapter on Lynda and find the answer." 
Take a class on Lynda. 
Aim to network

Networking is an essential problem-solving tool for Ed Bernier, director of daytime MBA Career Services at the Fuqua School of Business. 
Bernier regularly exchanges emails and phone calls with other leaders at business school career centers when he's facing a tough issue. At a conference in October, Bernier met with the head of the University of Michigan's career center to discuss jobs that will sponsor visas for international students. 
"We're trying to figure out how to make students who don't have green cards more attractive for companies," Bernier said. "Networking helps me be more effective with my current role and its challenges." 
Discover these four tips for boosting your networking. 
Attend a Duke talk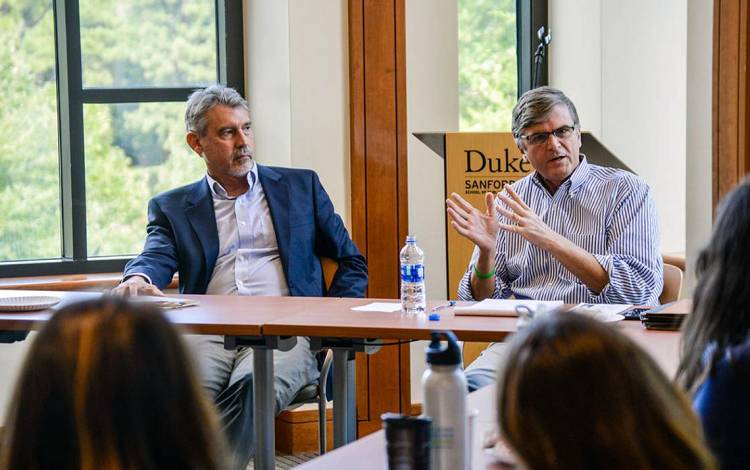 Justin Clayton needed to do his homework ahead of the 2018 election. Unsure of what all the proposed constitutional amendments meant, Clayton decided to attend an October lecture by Mac McCorkle, professor of the practice in the Sanford School of Public Policy. 
The lecture, "What's at Stake in North Carolina's Elections" was sponsored by POLIS: Duke's Center for Political Leadership, Innovation and Service. McCorkle described what each of the six amendments could mean for the future of North Carolina. 
Clayton left the lunchtime talk feeling like a more informed voter. 
"I'm interested in politics so I try to attend lectures during lunch or after work," said Clayton, staff assistant for the Duke Center for Child and Family Policy in the Sanford School. "Going to a lecture is a great way to learn about current events and network with other people interested in the same things."  
Some of Clayton's favorite Duke lectures include Nikole Hannah-Jones, a journalist covering racial injustice for The New York Times Magazine, and Tamera Luzzatto, chief of staff for then-Senator Hillary Rodham Clinton. 
Find a lecture to attend by visiting the Duke Event Calendar. 
Track your goals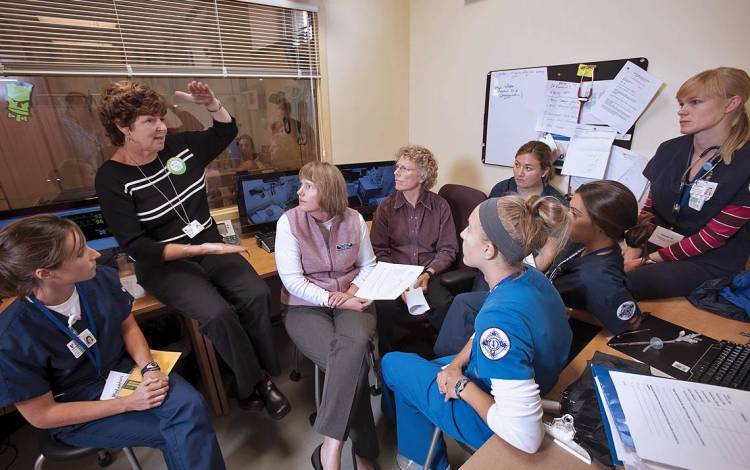 Dinetta Richardson holds herself accountable for her long-term career goals. 
Richardson, L&OD's assistant director for organization development, writes her goals in a journal, or to-do list. That way, she's constantly reminded of what she wants to learn. She also recommends telling a trusted coworker or friend for some outside accountability. 
"It's easy to prioritize other tasks when you internalize goals," Richardson said. "If it's out of sight then it's out of mind, so it's important for me to keep my goals visible."  
Sign up for a L&OD class. 
Have a story idea or news to share? Share your news with Working@Duke.