2018: A Year of Lively Speakers at Duke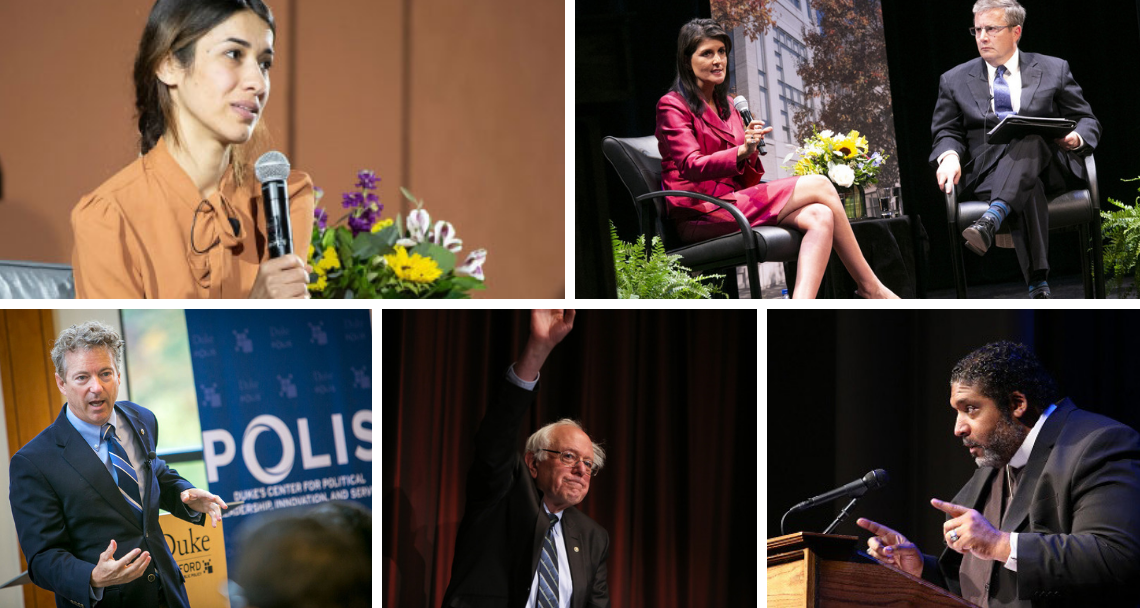 2018 was a year of tumultuous politics at home, uncertainty in foreign relations abroad and volatility in the global economy. The major speakers at Duke during the year reflected that. Here are some of the most notable speakers who visited campus in 2018:
Nadia Murad
The Nobel Prize winner described her work turning truth as a weapon against sexual violence and genocide. "Speaking about what happened to me and to the Yazidi, it is not easy to do, but it is not only my own story," she said. Read More.
Sen. Rand Paul
The U.S. senator from Kentucky, a Duke alumnus, has a reputation for partisanship, but he noted that his libertarian ideology allows him to find allies across the political spectrum on important issues such as immigration and drug policy. "As a Libertarian I can talk with the far left about war, drug policy … not about guns and taxes," he said. Read More.
Sen. Bernie Sanders

Sen. Bernie Sanders joined Rev. William Barber for a conversation about social justice in April.
Rev. William Barber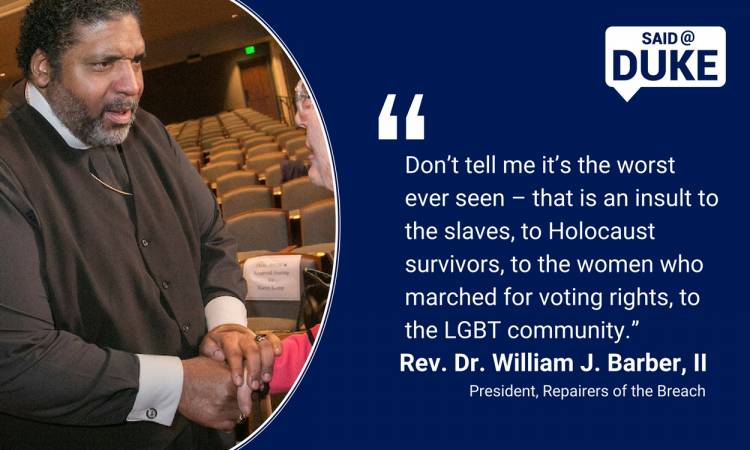 Divinity School alumnus and national activist Rev. William Barber spoke on the need for a moral economy.
Gen. Joseph Dunford
When Gen. Joseph Dunford spoke at an American Grand Strategy Program event in November, the chairman of the Joint Chiefs of Staff made national news with his announcement that U.S. military forces would not be involved in denying a caravan of Central American immigrants entry to the country.
But Dunford also discussed how the military is handling renewed military challenges from Russia, China and other countries, as well as military-civilian relations in the United States. "We work for the American people and we're conscious of that. We think they should understand what we're doing and why we're doing it," he said. Read More.
Nikki Haley

Then US Ambassador to the United Nations Nikki Haley delivered the Terry Sanford Distinguished Lecture on April 5, focusing on the challenges of global governance. Read More.
Ambassador Brian Nichols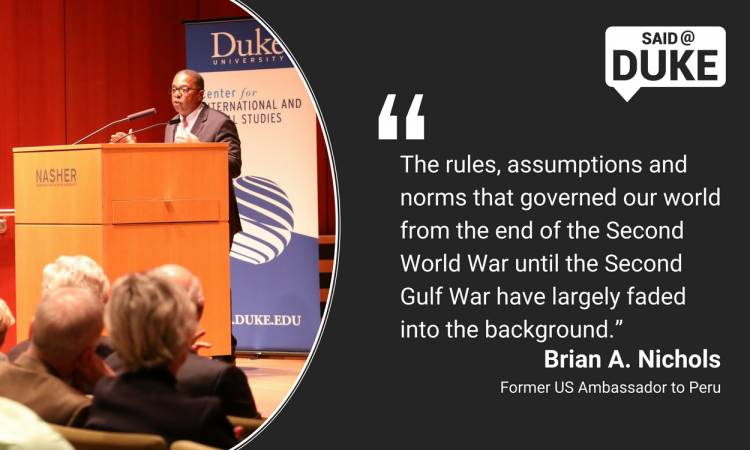 Former US Ambassador to Peru Brian A. Nichols gave the 2018 Anthony J. Drexel Biddle, Jr. Lecture in March. He cited concerns that uncertainty and instability are diminishing best practices in foreign policy.
Marc Edwards
Civil engineers rarely become heroes, but to the people of Flint, Michigan, Marc Edwards is one. A Virginia Tech professor, Edwards was the scientific crusader who exposed the city's water crisis and brought needed attention to the effects of the government's neglect of pollution and an aging infrastructure for water and other utilities. "We sent a message that a lie was being perpetrated by our government against one of our most vulnerable populations," Edwards said.
Colson Whitehead

Colson Whitehead, author of the acclaimed "The Underground Railroad" and other novels, presented the Weaver Memorial Lecture in February.
Elliott Abrams

A leading voice on foreign affairs for three decades, Elliott Abrams spoke in February about using foreign policy to defend democratic values.
To view comments from more campus speakers, visit the Said@Duke series here.