Selflessness and Empathy Drive Teamwork and Diversity Award Winners
Duke staff and faculty honored with 2018 awards for rising to challenges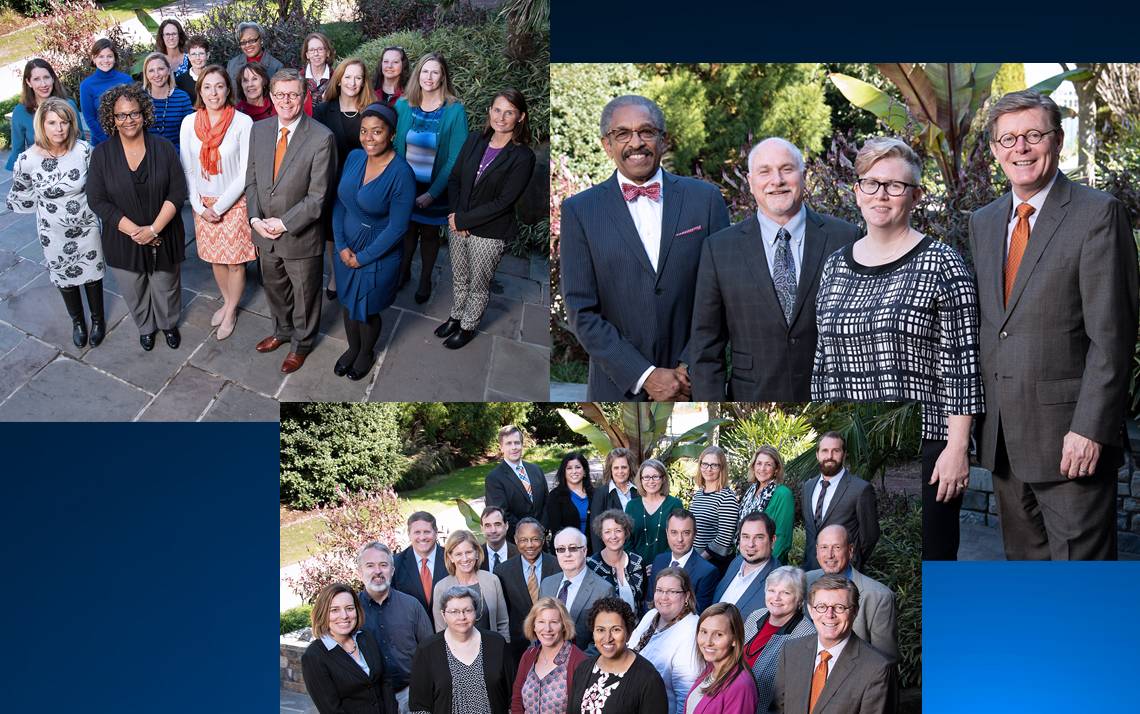 In celebrating the contributions of the 2018 Teamwork and Diversity Award winners, Duke University President Vincent E. Price describe the honorees as embodiments of two of Duke's bedrock principles.
At Duke, teamwork and diversity aren't simply buzzwords. They're guiding values.
"We collaborate across disciplines on countless projects and reap the rewards of being a truly and diverse team," Price said during the awards ceremony on Wednesday. "And that's what makes this such an exciting place."
Among Duke's highest honors, the Teamwork and Diversity Awards are given every year to employees who champion the values of collaboration, cooperation and communication as a team or demonstrate respect and value for people of different backgrounds and points of view.
This year's Teamwork Awards went to two teams: Administrative staff who helped the Board of Trustees during its two-year review and implementation of governance reform, and the NIH Response Team, a group of staff and faculty members from the Duke University School of Medicine, Duke University School of Nursing and Duke University. They developed and implemented improvements to processes Duke uses to manage grants from the National Institutes of Health.
The Diversity Awards went to Duke Cancer Institute Deputy Director Steven Patierno, who has devoted his career to closing health care disparities, and Research Services and Collection Development Librarian at the Sallie Bingham Center Kelly Wooten, who has been a driving force in ensuring Duke Libraries' collection reflects the diversity of the community it serves.
Learn more about this year's Teamwork and Diversity Award winners.
Diversity Award
Kelly Wooten's work with Duke University Libraries has been driven by the idea that everyone's story deserves to be preserved. And everyone should feel comfortable coming to the libraries to learn about those stories.
Wooten helped create Duke University Library's Diversity, Equity and Inclusion Council, which evaluates the library's strengths and challenges as it works toward being a more inclusive institution. She also writes and presents regularly about the importance of diversifying the voices who end up in archival collections.
She helped develop an inclusive restroom policy, a Collection Spotlight program that highlights diverse voices in the libraries' collection, and a series of training programs for staff that aim to make the libraries a more inclusive and accessible place.
"Kelly's dedication to making the Duke Libraries' collections, services and programming more diverse and inclusive has had far-reaching impacts," wrote Naomi Nelson, the director of the David Rubenstein Rare Book and Manuscript Library.
Diversity Award
For the past quarter century, Steven Patierno has studied the cancer disparities among racial minority groups. Since arriving at Duke six years ago, he's helped make closing those disparities an institutional priority.
In his role with the Duke Cancer Institute, Patierno oversees the institute's Cancer Control and Population Sciences Program, Cancer Supportive Care and Survivorship Center and the Office of Health Equity and Disparities. That's allowed him to combat the disparities in cancer care for minority populations on the clinical, research and community levels.
He's also organized outreach efforts in the Durham community and collaboration with institutions such as North Carolina Central University in order to engage minority patients and scientists in solving the cancer care inequality problem.
"I'm grateful I'm at a university and medical center that understands and appreciates how important this topic is and has created space for me to do the things that I love, the things that I'm passionate about and, particularly at this moment, could not possibly be more important," Patierno said.
Teamwork Award: NIH Response Team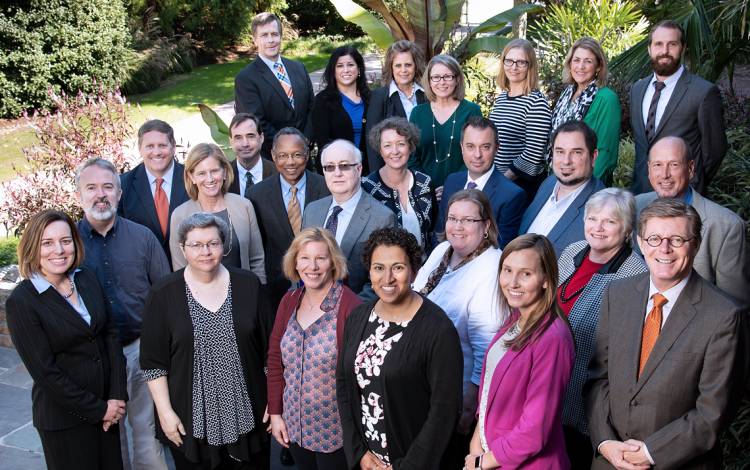 Dave Bowersox, Ann Bradley, Larry Carin, Michael Dickman, Joanna Downer, Monica Elam, David Falcone, Chris Freel, Scott Gibson, Leigh Goller, Adrian Hernandez, Keith Hurka-Owen, Laura Jensen, Donna Kessler, Jim Luther, Jennifer McCallister, Nate Martinez-Wayman, John Michnowicz, Moria Montalbano, Michelle Rigsbee, Lindsey Spangler, Geeta Swamy, Mollie Sykes, Laurianne Torres, Raphael Valdivia.
In March, the National Institutes of Health, which provides roughly $500 million in research funding to Duke each year, informed Duke that it needed to update its grant budgeting procedures to allow NIH to approve any grant budget extensions, a process which had previously been done internally.
Thus, the NIH Response Team was formed and was tasked with, within the time frame of a few weeks, figuring out how to implement the changes. Among the issues it had to tackle were setting up procedures for faculty members to request and justify grant budget extensions, and how to communicate the changes to both NIH and the faculty who would be affected.
The response to NIH was delivered in late April and accepted by NIH in June. Of Duke's 71 requests for grant budget extensions since the change, 70 have been approved and one still being reviewed.
"In my 18 years at Duke, I have never seen a finer example of teamwork under a pressure situation as exhibited by this group of administrative leaders," wrote Duke University School of Medicine Executive Vice Dean for Administration Scott Gibson, one of the honorees. "The stakes were (and are) very high for Duke, and the School of Medicine, and every team member came to meetings focused on the right thing for Duke."
Teamwork Award: Board of Trustees Task Force Support Staff
Connie Badger, Susan Booth, Cindy Canty-Dumas, Hallie Davis-Penders, Carolyn Gerber, Sharon Hamilton, Wendy Hofmann, Michele Jones, Angela Karl, Susan Kauffman, Nicole Kempton, Hallie Knuffman, Wendy Morris, Rose Porges, Gloria Taylor-Neal, Janee Wallace, Michele Wittman.
In order to do its work, Duke University's Board of Trustees relies on a group of administrative staff members drawn from several corners of the institution. The team is responsible for coordinating the logistics of board meetings, providing informational materials for board members, providing meeting summaries and minutes, and keeping the lines of communication between the trustees and university leaders open.
Last summer, the job got more involved when the Board of Trustees opted to form a task force to review its governance practices. Over the next year, the administrative support staff helped the task force stay informed and coordinated as it evaluated and adjusted how it operated. The work was completed in May and the administrative support staff played a large role in how smoothly the process went.
"The team that supports the trustees illustrates a particular Duke strength," wrote Duke University Senior Vice President and Secretary of the Board of Trustees Richard Riddell, the team's nominator. "Rather than 'staffing up' to meet a challenge, Duke University finds ways to align and coordinate outstanding support from existing staff. This not only has the benefit of effectively using the institution's resources, but it also builds a greater sense of purpose throughout the university, since members of multiple departments come together and have an impact on an important goal – in this case, supporting the trustees."
Have a story idea or news to share? Share it with Working@Duke.