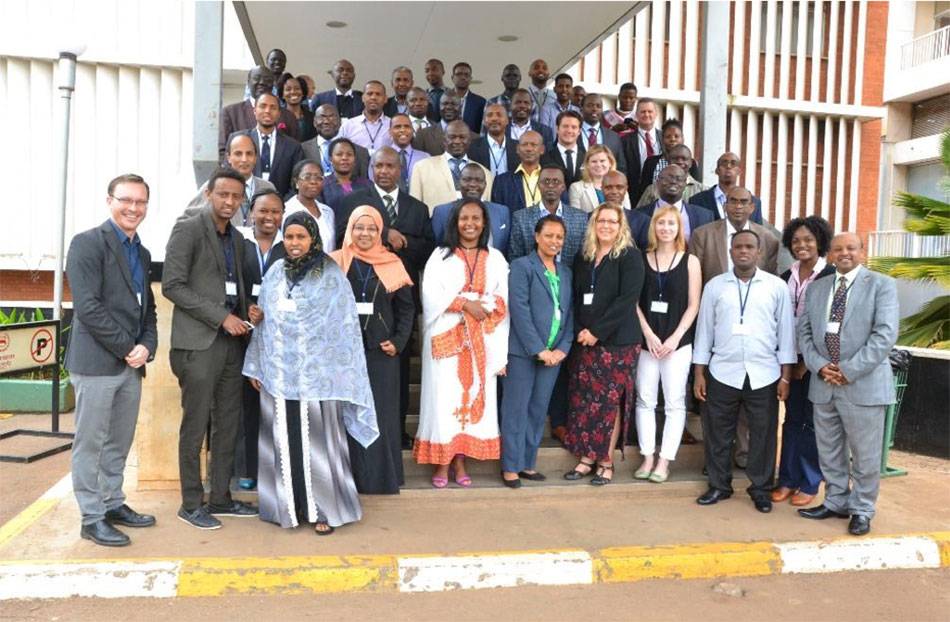 For many citizens who live and work around border regions, receiving consistent, high quality health care is difficult. Lawmakers who oversee these regions also find it difficult to create policies that promote better care for these citizens. Two Duke researchers have joined an initiative to address this problem.
Krishna Udayakumar and Patricia Odero with the Duke Global Health Innovation Center and Duke Innovations in Healthcare are collaborating with the West African Health Organization (WAHO), Intergovernmental Authority on Development (IGAD), Jembi Health Systems, and BroadReach Healthcare on a joint USAID-funded project called Regional Action through Data (RAD).
Throughout East and West Africa, citizens who live near their nation's borders may receive health services in multiple states, which makes it challenging to maintain continuity of care for these populations.
RAD addresses these difficulties by bridging gaps in health data sharing and making patient records accessible across borders. This cross-border data sharing will allow country and region leaders to better capture and use this data for decision-making. Setting a pathway for maximized impact, RAD's researchers are engaging with policymakers to make this happen.
Udayakumar and Odero said their work on RAD taught them to "engage early rather than showing up with a fully formed project and results that may not answer the question appropriately from the policymaker's perspective. The earlier you can engage with policymaking bodies, the better you can understand their needs and their perspective."
Two years ago, Odero attended a 3-day USAID workshop with 10 organizations including an array of international policy actors, researchers and African regional government leaders to identify thematic areas where researchers and USAID support would be the most helpful.
"It's great because we would not ordinarily have the chance to interact with [these partners] because of the nature of our work. Health innovation is not a primary focus for these organizations. The co-creation process democratizes that space," said Odero. Co-creation allowed them to gain new perspectives and develop their idea organically so that all partners could define the program jointly.
The Innovations Team did note several challenges. "Co-development led to a slower start, so there was a lot of relationship building before moving to the execution stage," said Udayakumar. They did not anticipate the complexity of trying to intervene at multiple levels of governance, Odero added. They took the first year to perform landscape analyses and unpack these complexities to be respectful engaging with their partners.
The team's initiative and patience may prove to be a key indicator of RAD's future success. "It makes sense why it took longer," Udayakumar added. "There can be frustrations working with new partners who have a broader scope and perspective for the program than what we would have brought on our own."
He also emphasized the value of getting to know partners. "Building engagement and trust over time hopefully improves the probability the evidence and analysis is actionable."
Entering their third year of executing RAD, they are hopeful it will help generate better data for influencing policymaking in real time. The team expects this will also help policymakers understand needs from a practitioner standpoint.The goal is a cycle where essential health technologies and services get to vulnerable populations more quickly and effectively.
Both trained physicians, the team leaders shared the importance this work holds for improving patient-centered care. The team shared, "at the end of the day, our mission is to improve heath and healthcare."
This story is part of a Duke Policy Bridge at Sanford series highlighting the policy engagement work led by faculty and researchers across campus. Regional Action through Data is a 5-year project funded by USAID's Global Bureau for Africa. To learn more about this project, please visit the Duke Global Health and Innovation Center's website.
To inquire about our engagement story series, please email patience.wall@duke.edu.