A Few Duke Co-Workers to be Thankful For
Employees share some colleagues whom they are grateful to work alongside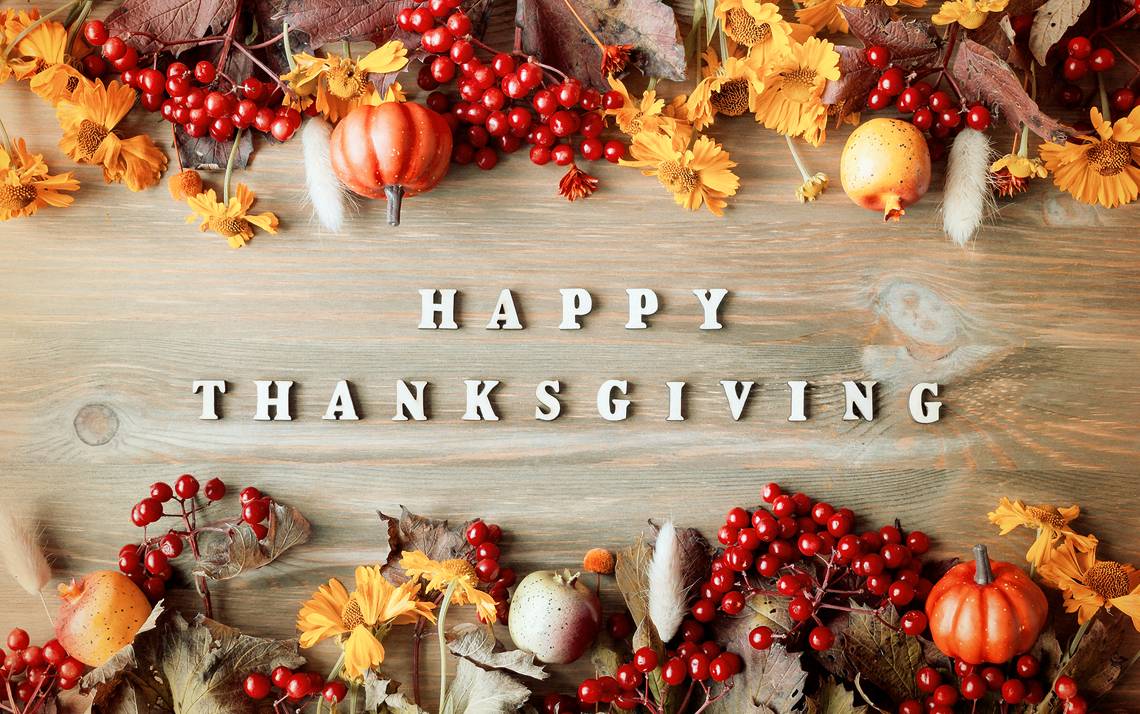 There are nearly 40,000 members of Duke's staff and faculty, meaning few employees work in a vacuum. As Thanksgiving approaches, Working@Duke asked readers to share the colleagues they're thankful for.
Enjoy some of the stories we got in response and feel free to share whom you're thankful for here.
Chris Hughes, Staff Assistant, Office of Information Technology (OIT)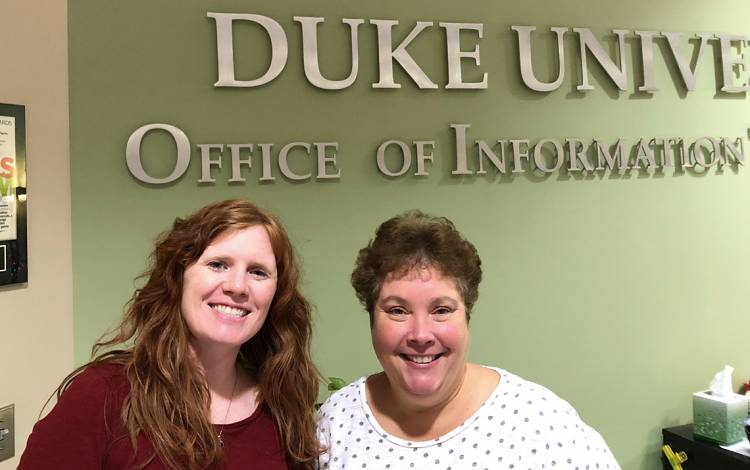 Jillian Warren, senior project and client relations manager for Duke Web Services, said that Chris Hughes is an invaluable part of how Duke's OIT office functions.
In addition to serving as the assistant to some members of OIT leadership, Hughes helps everyone in the office with important tasks.
"She helps with everything, from setting up meetings and catering them to handling travel expenses and making sure we have parking passes when we need to go to campus," Warren said. "For someone like me, she helps with all the little things that people don't always think about. She's at the center of everything that happens."
Kara Lyven, Senior Associate for Patient Safety, Duke University Hospital
Marianne Drexler's gratitude for Lyven is rooted in a bond formed after both faced an unexpected health crisis.
Drexler had to stay in the intensive care unit after she suffered severe hemorrhaging during the birth of her second child in 2014. Lyven was sent to the emergency room after she suffered a stroke 2016. The two met when Lyven spoke to a School of Medicine class Drexler organizes, Clinical Foundation Skills. Lyven speaks to the class every year about how well she was treated as a patient at Duke University Hospital.
"I admire Kara's resilience in the face of her medical crises," Drexler said. "She took that experience and turned it into something positive. It's not an easy thing to share the most harrowing time of your life."
Jeff Volkheimer, Don Phillips, Duke Health Technology Solutions
With several hundred employees tackling a wide scope of Duke Health needs, much of the work done by Duke Health Technology Solutions (DHTS) relies on collaboration between a vast network of teams. In October, DHTS' Core IT Olympics offered a chance for some of those constant collaborators to put faces with names and get to know each other better outside of the office.
The event was held in Duke Forest and featured team-building games and opportunities to bond in a casual cookout atmosphere.
Darrin Vicsik, an IT project manager at DHTS, was thankful for Volkheimer and Phillips, who did the bulk of the work organizing the event and ensuring everyone was involved in the fun.
"We all work together in pieces, but this was a great, holistic social event," Vicsik said. "Jeff and Don just did a really great job organizing the games, food and event."
Jessie Stellini, Assistant Director for Student Development, Department of Student Affairs
Tom Szigethy, associate dean of students and director of Duke's Student Wellness Center wrote that Jessie Stellini is a pleasure to work with as she helps him with scheduling and planning while also serving as a trusted advisor to students.
"She is always smiling – even on the tough days – and easy to work with," Szigethy wrote.
Amy Ward, Director, Duke University School of Medicine Office of Curricular Affairs
Melissa Graham, program coordinator with the Duke University School of Medicine's Longitudinal Integrated Curriculum, passed along her thanks for Amy Ward, who she said creates an atmosphere of teamwork and pride within the office through mutual respect, encouragement and by providing her staff occasional ice cream breaks.
"The camaraderie of this department is like nothing else I've seen in my many years at Duke," Graham wrote. "Amy is inspirational, enthusiastic, hard-working and an extreme pleasure to work with."
Lori Crooks, Tonja Bland, Scott Campbell, Natalie Pitts, Karen Woodlief, Mitsi Norton of the Duke University School of Medicine's Registrar's Office and Office of Financial Aid
Marcie Ellis, associate registrar for Duke University School of Medicine, values the her co-workers' commitment to supporting each other and meeting the needs of the medical students they serve.
"I learn from all of them," Ellis wrote. "They are dedicated to providing excellent customer service to the students, co-workers, faculty, etc. And they also happen to be awesome people."
Sherry Burton, Program Coordinator, Duke University School of Medicine
Liz Foust, staff specialist for Burton, said she's thankful for the trust Sherry Burton puts in her. Foust is somewhat new to the role and said that Burton is a constant source of encouragement.
"Sherry stands up and proudly promotes the staff, faculty and, most importantly, our students in the School of Medicine," Foust wrote.
Jeannette Vega, Staff Assistant, University Center Activities & Events (UCAE)
Karen Stone, assistant director for Conference & Event Services for UCAE is thankful for Jeannette Vega's selfless nature, ability to address logistical concerns before they happen and willingness to be a sympathetic ear for co-workers.
"Jeannette has one of the biggest hearts and is always willing to help whoever is in need," Stone wrote.
The Staff of the Duke University School of Medicine Office of Financial Aid and the Duke University Bursar's Office
Dawn Schaefer, the veteran education benefits coordinator with the Office of the University Registrar, praised the staff in these offices for their work with students who served in the military.
"They do an amazing job in the help they provide so that I can best serve all of our veteran students and their dependents in using their VA education benefits at Duke," Schaefer wrote.
Have a story idea or news to share? Share it with Working@Duke.