A Change of Approach at the Duke Career Center
Center wants to work with students earlier in their Duke education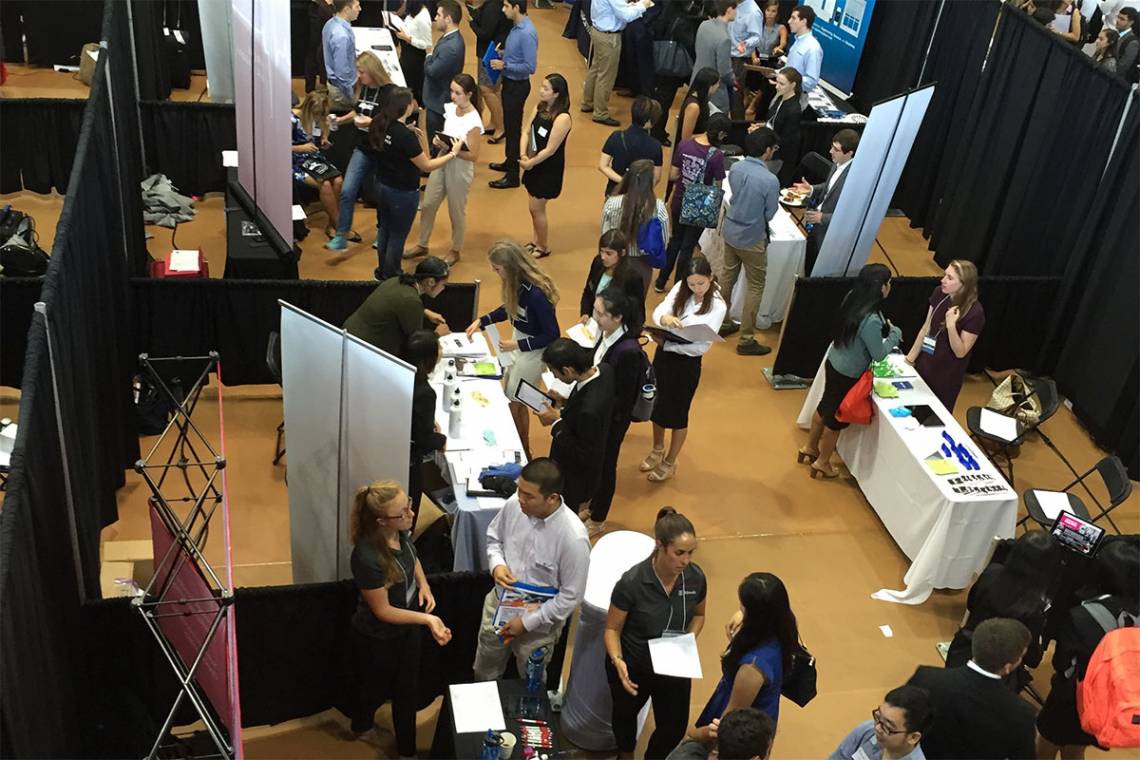 Duke's Career Center is undergoing a significant shift in how it works with students. Gone are the days when a student darkens the office's doors for the first time as a junior. Today, career counselors want the attention of Duke students as soon as they first arrive on campus.
Teri Mills, the career center's associate director, explained why students need to be more attuned to their future plans earlier in their careers. Here are excerpts of her conversation with Duke Today.
Your office is making a fundamental shift to serve students earlier in their college careers. Why?
MILLS: We would like students exposed to how to intentionally manage a lot of things while they're at Duke, which is a simulation for real life. As a result, we've prioritized working with first- and second-year students.
We've hired a new staff member and now have two to create and build first and second-year initiatives. We hired the first two years ago; prior to that, we had no formal concentration on younger students.
One of your big pieces of advice to young students is to develop a 'board of directors.' What's that?
MILLS: It's important for students to make connections early on in college. We want students to successfully connect with professors because they'll need them for recommendations, mentors and resources for information. The career center does call it a 'board of directors.' Academic advising at Duke calls it a network of advisers. We want to be on the same page and have the same goals for students. If they can do it at Duke, they can take the same skill set to their next step after Duke.
In this model, the student chairs the board. The board doesn't have to stay static; it can change. One member can be a parent or a high school counselor. It can change over time. But we're trying to help them see the benefit of a variety of advice and manage those relationships over time.
It's a skill to develop. If a student applies for a Rhodes Scholarship, for example, they need 10 references. That's a lot. So they need those relationships. Teaching them how to do that early on helps them understand the value and the need.
Do students at age 18 or 19 always understand they need career services and advice?
MILLS: Not always. So we ask them: What are you doing today and this year and the next couple of months to set yourself up for success? We talk about managing and making decisions about the courses you're selecting and the student groups you're involved in. You don't want to join 30, you want two, but you should grow in leadership in those. And if you end up not liking one, it's okay.
Students who stick with us for four years enjoy the process more than the senior who walks in at the last minute, and we have to start from scratch.
How have changes in the recruiting done by large companies influenced how you advise students?
MILLS: The finance industry has started reaching out to younger students. For full-time jobs, recruiting in many fields has shifted from spring of senior year to the fall of that same year.
The change has happened with internships as well, where many companies began posting positions in the summer rather than the fall, which moved things up a few months. But then some companies started targeting sophomores, and want those students to commit to summer-after-junior-year internships.
Is this a problem?
MILLS: Yes. That concerns us terribly because students will sign on and later realize they hadn't considered all their options. And then they'll be stuck. The students will feel they missed out on the other opportunities. As sophomores, students may not be ready yet to interview properly or make the right decision. We have a lot of happy people out there in these industries, but some are unhappy as well.