Around the World with Duke Librarians
Duke librarians travel abroad to build the university's collections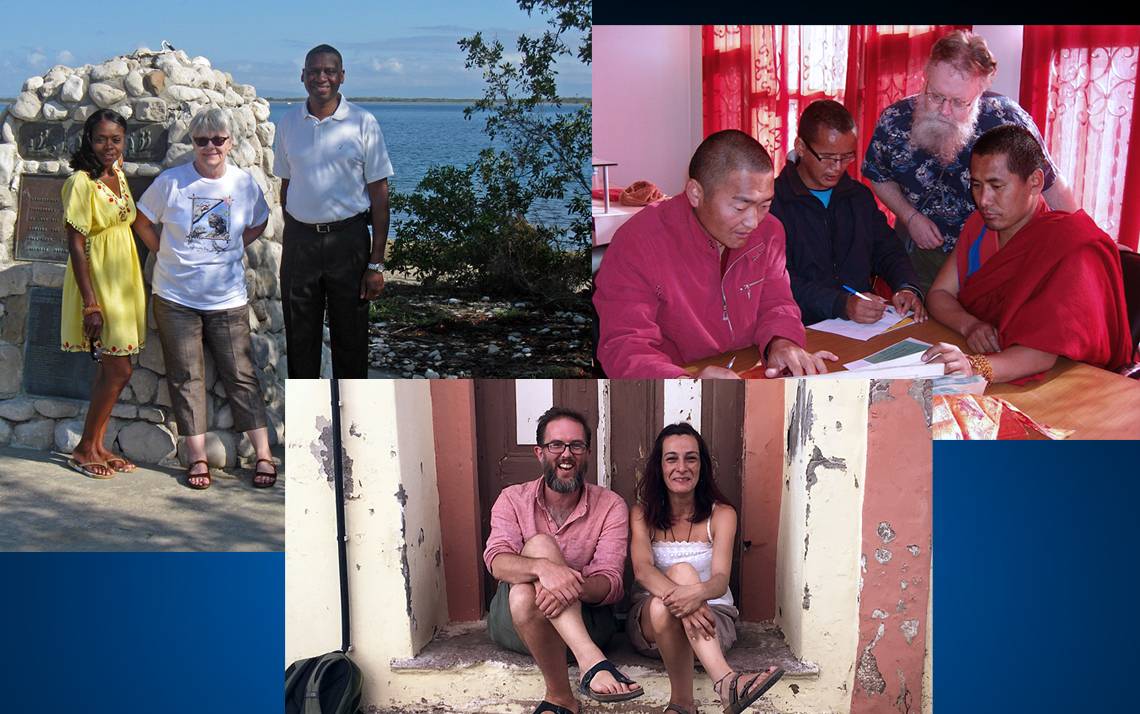 On a quiet Friday afternoon, a lunch of chicken and rice forgotten on his desk, Edward Proctor wrote an email to the librarian for South Asian and Commonwealth Studies at the University of Cambridge in England.
He asked the librarian whether she had copies of the Hindustan Times, an English newspaper published in India. Proctor was helping a Duke faculty member find issues of the newspaper covering Mahatma Gandhi's assassination on Jan. 30, 1948.
As it turned out, neither Cambridge, the University of Oxford or the British Library possessed the issues.
"Normally, I run into frustrations with Indian materials, but I usually find them," Proctor said. "This time, I can't. It's become a mystery."
Searching for print materials is part of Proctor's role as the librarian for South and Southeast Asia. Proctor is one of 10 librarians in Duke Libraries International & Area Studies Department who travels abroad to build the library collection and help community members track down hard-to-find materials.
"Since the 1990s, libraries have been automated in the U.S., so they can send you everything you need," said Holly Ackerman, head of International & Area Studies Department. "In other parts of the world that isn't true. Things aren't electronic. You have to figure out how to go and get them."
From Guantanamo Bay and the busy streets of Cairo to a remote Indian monastery, Duke's International & Area Studies librarians scour the corners of the globe to collect and preserve stories.
Holly Ackermann
Head of International & Area Studies Department and Librarian for Latin American, Iberian and Latino/a Studies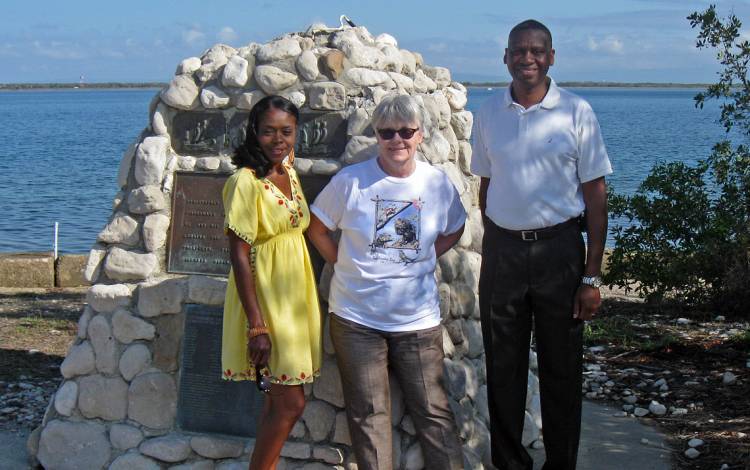 A trip to Cuba in the early 1990s completely changed Holly Ackerman's career trajectory.
While serving as the assistant dean of the Graduate School of Social Work at Boston University, Ackerman visited Cuba to study the country's social welfare network. She fell in love with Cuba and decided to pursue a Ph.D. in international studies from the University of Miami.
"Cuba is such an interesting place," Ackerman said. "I stopped doing social work and just started studying Cuba's economy, politics and history."
Ackerman joined Duke in 2006 as the librarian for Latin American, Iberian & Latino/a Studies. Her travels now take her to South America, the Caribbean, Portugal and Spain, where she discovers new texts to add to the Duke Libraries collection.
Two big work trips include the Guadalajara International Book Fair in Guadalajara, Mexico, and the Liber International Book Fair, in Barcelona. She estimates she buys at least two hundred books at each fair.
One of her highlights came in 2012 when she traveled to U.S. Naval Station Guantanamo Bay in Cuba to research the base newspaper. The newspaper, which began in 1948, was left unorganized in a warehouse. The paper had changed names and frequencies of publishing. Ackerman spent a week organizing the newspapers by date and shipped them to the University of Florida, which partnered with Duke for the project. The papers were scanned and now anyone can access copies online.
"It is important for Duke, as a world-class university, to seek out, preserve and provide open access to materials so history will not be lost," Ackerman said.
Edward Proctor
Librarian for South and Southeast Asia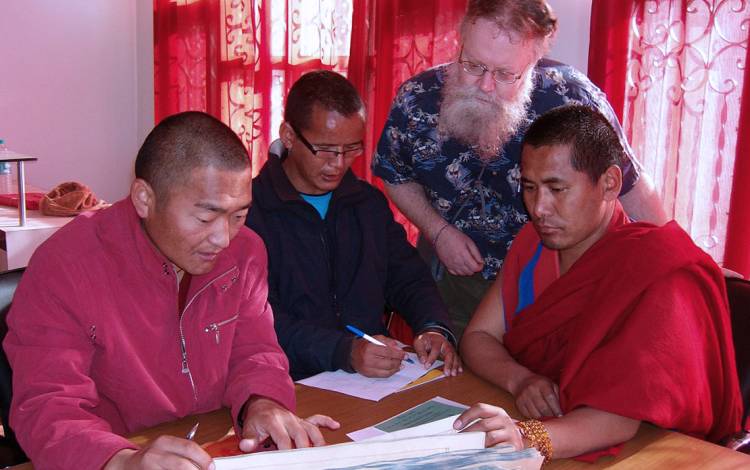 For six months in 2013 Edward Proctor lived like a monk at the Menri Monastery in Northern India.
He ate a simple diet of vegetables and participated in daily rituals. It was all part of his work to digitize 18th and 19th century religious manuscripts on Bön, the pre-Buddhist religion of Tibet.
The collection of Bön manuscripts included about 62,000 pages of text and 479 hand-made cards for various prayers. Supported by a grant from the British Library, Proctor brought a digital camera, tripods, battery-powered lights and a laptop to digitize the documents.
"The collection was housed in a building that didn't have any sort of temperature or humidity control," said Proctor, who joined Duke in 2011. "One single disaster could have destroyed the valuable collection. The digitization was essential to preserve the Bön culture."
Proctor's fascination with South Asia began in Africa where he lived as a child. His father was a political scientist who taught in Uganda, which had about 80,000 residents of Indian descent at the time, and Proctor became fascinated with Indian culture.
Proctor has visited India for book-buying, traveling from bookstore to bookstore to search through collections. He has established relationships with book dealers across the country who alert him of manuscripts that fall within Duke's interests.
"There's no established second-hand book trade in India, so I just walk along the roads and tell booksellers what I'm interested in," said Proctor, who is fluent in Hindi. "It's a lot of communication through word of mouth."
Sean Swanick
Librarian for Middle East and Islamic Studies

It's not uncommon for Sean Swanick to see fisticuffs at the Cairo International Book Fair.
Held in late January every year, it's the largest and oldest book fair in the Arab world. Tents are crammed with 2.5 million librarians, publishers and readers who want old newspapers, comics and books. He visits the fair to hear what publications people in the Arab world are talking about, like the comic book "Qahera," about a hijab-wearing superhero.
"It's tight quarters, so there's a lot of shoving and the occasional punch thrown over one-of-a-kind books," Swanick said. "It's chaotic and crowded, but it's so much fun."
Outside of trips to Cairo, Swanick also visits Istanbul's secondhand book markets, stores and cafes to see what people are reading. He spent last summer on Cunda Island, in the Aegean Sea, studying Ottoman-Turkish, which was the language of the Ottoman Empire.
On recent trips to Turkey, Swanick obtained early Turkish Republican political posters, a number of rare maps of Istanbul and several rare journals about the political, cultural and intellectual environment of the Ottoman Empire.
"Duke has a prolific Turkish collection," Swanick said. "Learning Ottoman helps me find materials that will help students studying the language and professors in their research."
Here's the full list of international and area studies librarians at Duke:
Holly Ackerman, Head of International & Area Studies Department and Librarian for Latin American, Iberian and Latino/a Studies
Rachel Ariel, Librarian for Jewish Studies
Miree Ku, Librarian for Korean Studies
Heidi Madden, Librarian for Western European Medieval Renaissance Studies
Heather Martin, Librarian for African & African American Studies
Edward Proctor, Librarian for South and Southeast Asian Studies
Sean Swanick, Librarian for Middle East and Islamic Studies
Kristina Troost, Librarian for Japanese Studies
Luo Zhou, Librarian for Chinese Studies
Ernest Zitser, Librarian for Slavic, Eurasian and Eastern European Studies
Have a story idea or news to share? Share it with Working@Duke.