Your First Call for IT Help
The University's OIT Service Desk combats tech issues with teamwork and efficiency
When Rodney Cozart, the Office of Information Technology's service desk manager, brings guests to the office space where his team sorts out tech issues for Duke University, they're often surprised by how small it is.
"They'll say 'This is it?'" Cozart said. "Yeah, this is it."
Handling the constant flow of questions and concerns of users of Duke University's most common IT systems is a big job. And with most of the 14 full-time OIT Service Desk staff members operating out of a cluster of around nine desks in the OIT offices at the American Tobacco Campus, the team is a small group of skilled staff members.
For most of campus, if a student, faculty, staff member or university guest encounters issues with Duke's wireless system, email, websites, online collaboration tools or office computers, their calls go here. In 2017, the OIT Service Desk fielded 50,588 phone calls, handled 9,987 chat sessions, facilitated 31,063 self-help sessions and served 11,663 customers at its walk-up service desk at Perkins Library.
"Our mission is to be the first contact," Cozart said. "We don't want the user to say 'I've got this issue, what number do I call?' We can resolve their issue or get the details and send a ticket to the appropriate person who can help."
Meet some of the people who help keep your digital life going.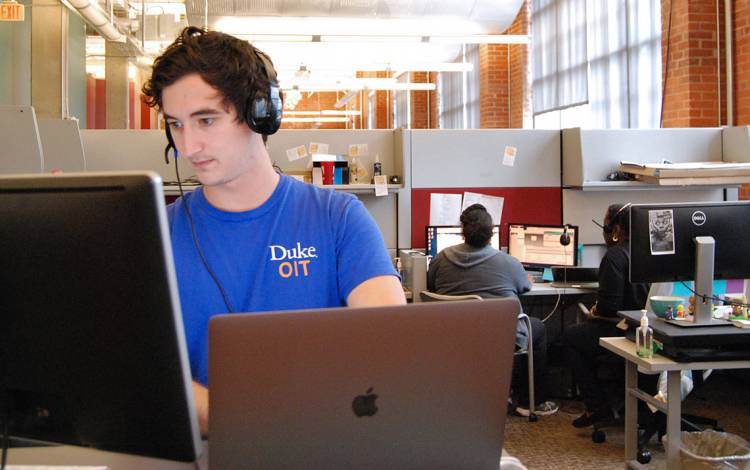 Among the most common customer support calls to the OIT Service Desk are from employees who've forgotten the password to their email or Duke@Work accounts. Other popular topics include questions about how to set up accounts for new employees or affiliates, or what to do about a computer that's quit working.
OIT Service Desk team members are adept at walking users through potential easy fixes, such as restarting a computer or seeing if wires are connected – Cozart said these methods solve around one out of every five problems – before diving into more complex remedies or directing the issue to help in another area.
"We may not fix your problems, we may not come out and touch your problem, but we're the person you call first and go through those troubleshooting steps, so when it goes to that next group, they have all the information," Cozart said. "We're the point person."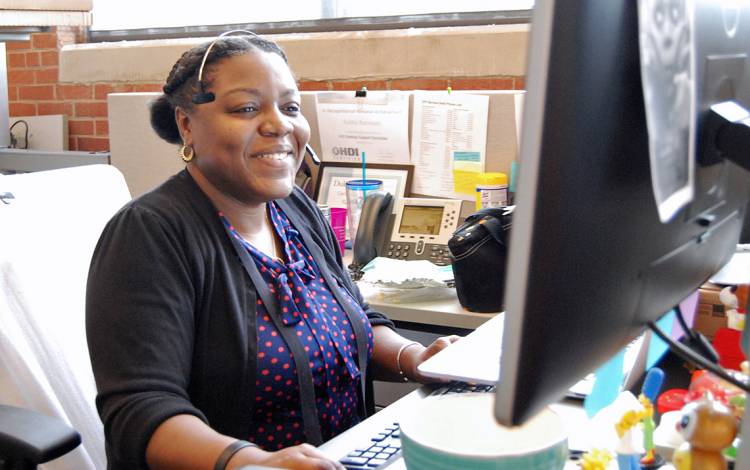 The skills needed to thrive on the OIT Service Desk include a knowledge of technology and an ability to handle multiple tasks at the same time.
But the handiest skill is the ability to work with others.
In her four years as an analyst with the OIT Service Desk, Robby Robinson said teamwork is what allows the group to function. Whether it's taking on extra calls when things get backed up or helping a co-worker with a problem they haven't seen before, the team members have to count on each other.
"When you work at the service desk, you see a little bit of everything," Robinson said. "Sometimes you come across things that you haven't seen often. I might have been here longer and seen this, so we'll reach out to each other and figure out what we know about it."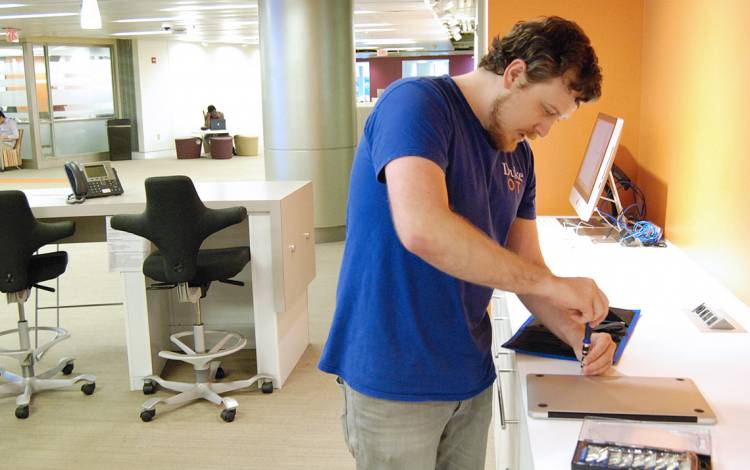 Most of the OIT Service Desk staff works out of the American Tobacco Campus. But Erik Piper, team lead for the Service Desk at The Link, spends most of his time operating the OIT Service Desk's outpost in the lower level of Perkins Library, which is open around the clock during the week, with the help of around 30 student workers.
Here, the clientele is mostly students, though staff and faculty are welcome, and the encounters are face-to-face.
What kind of IT problems get brought to the desk?
"Everything," Piper said. "It's everything from hardware problems and technical issues to any sort of software. We generally don't say no to any questions. We'll research anything to the extent that we can. If it's something we can't do directly here, we'll find who they need to talk to."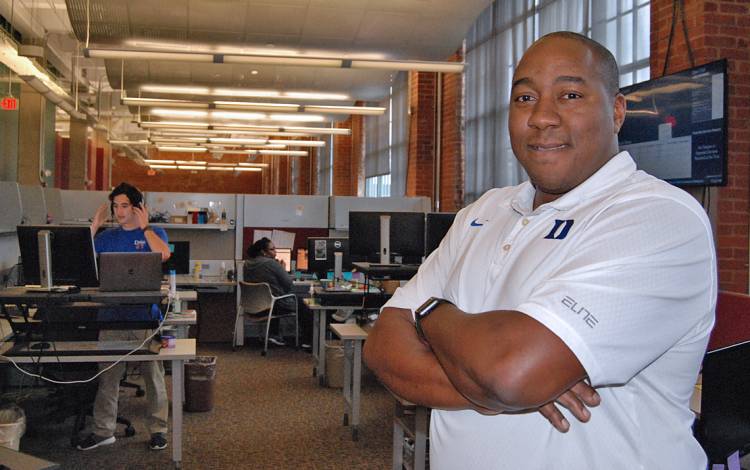 There's a rhythm to life on the OIT Service Desk. The busiest times of the year are the two weeks before, and the three weeks after, students arrive in August.
Mondays and Fridays are usually hectic. Lunchtime is often somewhat slow.
Above the staff workspaces at the American Tobacco Campus, there's a screen hanging from a wall. It shows all of the calls and chats that are in the cue to be dealt with. On busy days, there can be around 50 items on the screen. But every so often, the staff will work the number of incoming issues down to zero.
"It doesn't stay that way for long, but we do have these moments where there's nothing in the cue, the phones aren't ringing and we have the opportunity to focus on one thing," Robinson said. "We try not to say anything when that happens. We might say 'Anyone notice anything?' But that's it."
Have a story idea or news to share? Share your news with Working@Duke.