When You Need It Most
With Open Enrollment for medical benefits from Oct. 22 through Nov. 2, it's time to consider how prepared you will be in a health crisis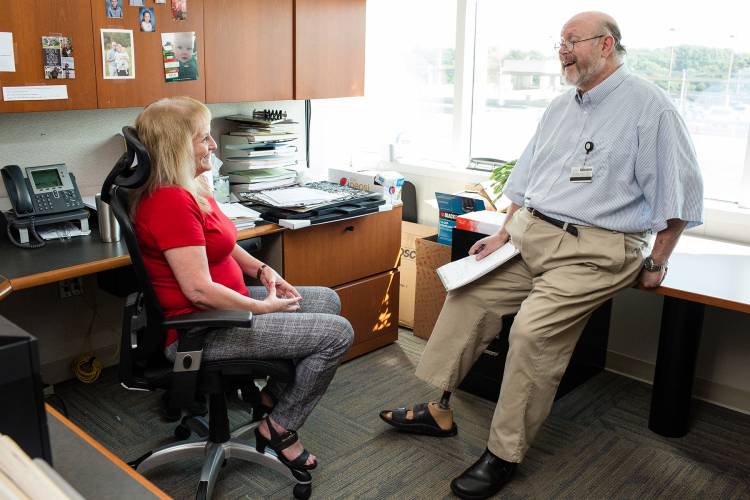 Ken Kuzenski had a feeling things weren't going well in the fight to save his right leg.
He had been in and out of hospitals for more than a year, enduring surgeries aimed at reviving blood flow in a leg strangled by clots. In 2016, the leg was still purple, and hushed hallway huddles now preceded each doctors' visit.
"One morning, my doctor came in, sat by my bedside and took my hands in hers," said Kuzenski, a clinical research specialist at Duke's Adult Bone Marrow Clinic. "She said 'Ken, I'm really sorry, we don't have any options left, we're going to have to amputate.' I nodded somberly and said, 'OK. How long will it take to grow back?'"
Kuzenski's ordeal, which began with stabbing pains in his legs, cost him plenty. His right leg is amputated just below the knee, and his savings were depleted by the year and half he couldn't work.
His sense of humor isn't the only important thing that's
still intact.
Because of Kuzenski's Duke health insurance plan, he avoided financial ruin. His out of pocket medical costs from around a dozen surgeries and roughly five months of hospitalizations totaled a few thousand dollars.
"I got all the care I needed," said Kuzenski, 61. "I never had to worry about how much it cost."
With Open Enrollment for medical, dental and vision coverage from Oct. 22 through Nov. 2, now is the time to think about how prepared you will be in the event of a health crisis.
In 2019, Duke monthly premium increases will remain well below the national average. For Duke Select, the most popular plan among employees, the increase will be $2 per month for individual coverage. In addition, there will be no changes in co-pays or deductibles for Duke's medical, vision or dental plans. Premiums for vision and dental insurance will remain unchanged in 2019.
In the past fiscal year, Duke provided nearly $229 million in total payments for health concerns for roughly 70,000 plan participants, up $24 million from the previous year.
"Most of us focus on things like the monthly premium and co-pay, but if someone either finds themselves or one of their loved ones in a very serious health situation, our benefit plan is one of the most supportive plans out there," said Kyle Cavanaugh, Duke's vice president for Administration.
Looking back, Ken Kuzenski is grateful he didn't face bankruptcy or lose the home he bought with his wife decades ago.
However, he noted his health ordeal left his yard a mess. And with his wife forbidding him to use the trusty push lawnmower, he paid few hundred dollars to refurbish his old riding mower.
"That was one thing Duke insurance didn't pay for,"
Kuzenski said.
Kuzenski is one of many employees who appreciate the value of Duke's medical insurance plans. Here are other employees whose Duke plan was there for them when they needed it most.
Providing Peace of Mind
For Reanna Daye, growing up with sickle cell disease meant the health care system played an outsized role in her childhood.
As a young child, she took a steady stream of pills.
Frequent blood tests left her shaken by the sight of people wearing scrubs.
And hospitalizations were so regular, she knew the co-pay for emergency room visits. In fact, she occasionally hid sickle cell-related pain from her parents to save them the hassle and cost of treatment.
"I didn't want her to worry about it," said Reanna's mother Stacie Daye, a technologist with Duke Radiology. "I'd tell her 'That's not your job. Your job is to tell us when you're hurting. Our job is to take care of you. And we can.'"
Reanna, now 18, has sought care at Duke since she was diagnosed with the genetic disorder as a newborn. Patients with the condition have misshapen blood cells, which hinder the flow of oxygen through their body. Since her mother started working at Duke a decade ago, everything from occasional emergency room trips to bi-monthly counseling sessions have been covered by Duke medical insurance.
"I've gotten hospital bills for $30,000, and all I have to pay
is $400," Stacie said. "Believe me, we appreciate it."
So does Reanna.
Five years ago, Reanna joined the Duke Pediatric Hematology-Oncology unit's "Transitions" program, which teaches young sickle cell patients how to manage the disease.
Program participants receive a binder filled with forms for keeping track of blood test data and information they'll need as they manage their disease into adulthood. One section of the binder is devoted to health insurance, what it does and why it's important.
After spending much of her life leaning on her mother's Duke coverage, Reanna already knew just how valuable it was.
"Health insurance allows you get the help you need," Reanna said. "It's there in case anything happens."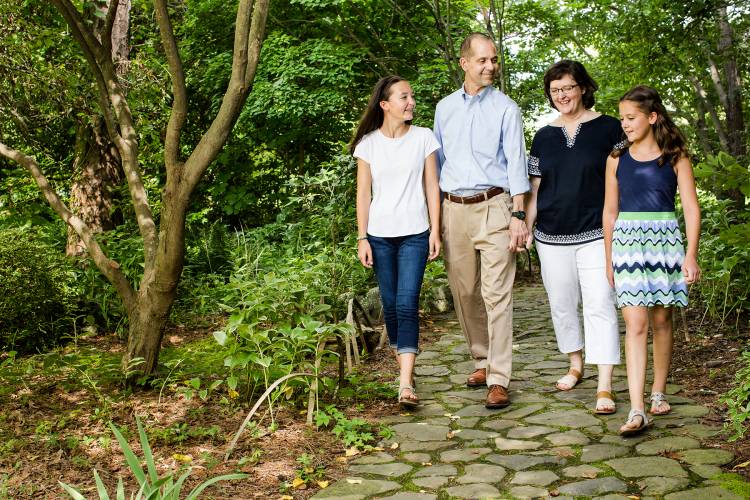 Fueling the Fight
During a family vacation in May, Dean Freck strapped himself into a harness and began swinging around a ropes course in the North Carolina mountains.
Part of a family of outdoor enthusiasts, he'd done the activity before, but not since two bouts of cancer pushed his body to its limits.
"I'm not completely back, but that was a big step," said Freck, director of contracting and sourcing for Duke Procurement & Supply Chain Management who has worked at Duke for 24 years
While recovery hasn't been easy, the fact that Freck, 53, is getting back to his old self doesn't surprise people who know him best.
"One of the words I use often to describe him is 'resilient,'" said Dean's wife, Jill Freck, a physical therapist with Duke Health. "He always takes what comes, processes it and moves forward."
In 2014, after experiencing stubborn abdominal pain, tests revealed that he had lymphoma. Six rounds of chemotherapy later, the disease was gone.
Last year, a neck ache turned out to be a sign of the disease's return. But once again, Freck powered through.
Duke Cancer Center doctors decided to wipe out the disease and prevent its return with a stem cell transplant. The process, which Freck completed in November, involved harvesting healthy stem cells from his bone marrow, virtually erasing his immune system with intense chemotherapy and then allowing reintroduced stem cells to build a new, healthier immune system.
Buoyed by support from family and church, Freck is now cancer-free. He said he's grateful for Duke's health coverage. All told, the treatments for two bouts with cancer over three years resulted in around $12,000 in co-pays, a tiny fraction of the approximately $900,000 in overall costs.
"I don't know how you can get through something like this without the benefits we have here," Freck said.
Freedom to Find a Cure
At first, Amanda Kolman thought she had water in her ear or that the slight pressure and muffled sound in her left ear since 2013 would go away on its own.
But over the next two years, it got worse. Sound from the outside grew distant, while the intense vibration created by her own speech – as well as by breathing, walking and moving her eyes – was inescapable.
In 2015, Kolman, a customer relations manager with Duke University Press, sought help from Duke doctors.
"It was a quality of life thing," said Kolman, 48. "I couldn't see living the next 40 years of my life with this. My world wasn't quiet. I wanted some silence."
Kolman's Duke health insurance plan helped her complete a winding search for a cure. For two years, doctors offered remedies for potential causes. But, the ear trouble continued, and Kolman returned, ready to try the next treatment.
"Often this is a process of elimination," said David Kaylie, a head and neck surgeon with Duke Health who treated Kolman. "Her symptoms overlap with other things, so you have to rule those out."
For each of her four specialist visits, Kolman had a $55 co-pay. She said the desire for a cure far outweighed the cost.
"It became about how much I was willing to stick with it and see it to the end," Kolman said.
Early this year, a CT scan and a specialized test showed that a 3 millimeter circle of bone had worn away on a small canal in Kolman's ear. Called a superior semicircular canal dehiscence, the condition is treatable with an outpatient surgical procedure, which Kaylie performed earlier this fall.
"I want to have a normal life again," Kolman said. "If I didn't have good insurance, I'd have probably given up a long time ago."
---
Learn more about Duke's medical, vision and dental plans and reimbursement accounts at: hr.duke.edu/benefits.