Duke in Pics: Free Family Day at the Nasher
The Nasher Museum of Art opens its doors for free on select Sundays to ignite creativity
Jenn Moerman and her 6-year old daughter Georgia had a busy Sunday planned late last month, but when Jenn realized that the Nasher Museum of Art was holding one of its Free Family Days, she made sure it had a spot on the schedule.
"I said we're going to make time for this," said Jenn, assistant manager for scheduling and operations at the Rubenstein Arts Center.
Nearby, Georgia was hard at work on a self-portrait that featured colorful, patterned backgrounds in the style of artist Amy Sherald, whose work is prominent in the Nasher's current exhibit, "People Get Ready."
"She loves doing this," Jenn said.
A perennially popular outreach event, the Nasher's Free Family Days offer children and others a chance to explore the museum's world-class art collection while also engaging in activities meant to nurture creativity.
"When children come to an art museum, the expectation is often that you can't touch things, you can't experience things in that way," said Ryan Helsel, the Nasher's K-12 and Family Programs Educator. "Family Day allows us to subvert that, and turn the museum experience on its head a little bit. There are so many ways we can explore and respond to the artwork, so we try to do as many fun, hands-on activities as possible and have performances, music, plays and theatre that relate to the work on display."
The next Free Family Day is from noon-4 p.m. on October 28 and three are scheduled so far in 2019: January 27, March 24 and May 19. The October event features performances and hands-on activities with Paperhand Puppet Intervention and opportunities to create art inspired by the Nasher's exhibit "Across County Lines: Contemporary Photography from the Piedmont."
Check out some scenes from a recent Free Family Day.
Imani Nunn, who works at the Nasher's information desk, brought her nephew, Amare Harris, and goddaughter, Chloe Robinson, to the event. She said they didn't get into the front door before they started making art.
They created their own yard signs as part of the "For Freedoms" art project which illustrate what freedoms they are most thankful for.
Robinson enjoyed the freedom to jump and Harris chose the freedom to play basketball.
"They love to create stuff, so they saw this and they fell in love," Nunn said before leading the children inside. "I had to stop them because they wanted to keep drawing."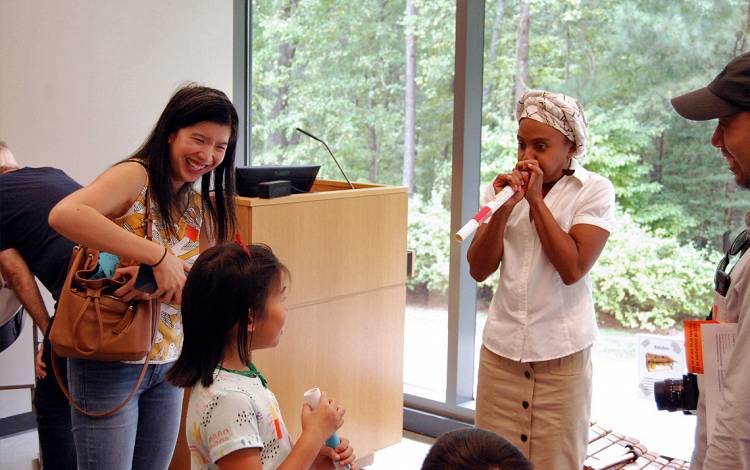 The liveliest room in the Nasher was the classroom where BUMP: The Triangle had set up a series of instruments and craft stations. BUMP, a Durham-based group which showcases the beauty and power of music of the African diaspora, brought an array of percussion instruments, with which little hands could make big noise.
There were also opportunities for kids to make their own trombones with plastic pipe and construction paper and build drums with plastic cups, balloons and yarn.
"This right here is priceless," BUMP Curriculum Coordinator Joy Harrell Goff said amid the din of laughter and music.
Gerald Gunnell was barely noticed as he walked among the artwork and families. But the security ambassador and retired security officer with Duke Police Department noticed plenty around him.
"It's a fun day," Gunnell said. "Families come out, and it's free. They don't always have this opportunity."
Gunnell was one of six security ambassadors on hand to make sure the young visitors safely experienced the artwork. While there are plenty of hands-on activities, enjoying the Nasher's collection is still a hands-off affair.
"We have to make sure it feels open, but still protect the art," said Program Coordinator Kwaku Osei, who manages the security staff. "But seeing kids engage with and create art is pretty exciting."
Britney Davis brought her daughters Izzabella, 9, and Adalia, 7, down from Roxboro to enjoy Free Family Day. A mixed-media artist herself, Davis said her daughters enjoyed the chance to make their own pieces.
Among the activities they enjoyed were taking selfies in front of backdrops inspired by painter Kehinde Wiley, who has pieces in the Nasher's collection.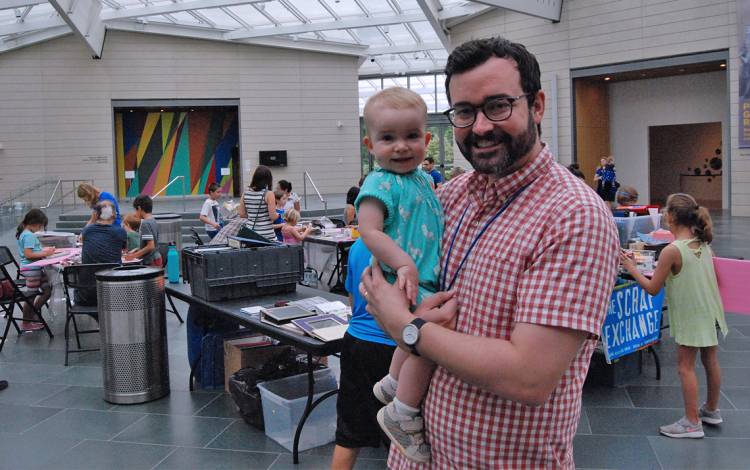 Helsel said that Free Family Day is one of the most important recurring events on the Nasher's calendar. As a chance to introduce young people to both creating art and experiencing it in a museum setting, it has proven both to be both fun and meaningful.
"Building these relationships with museums when kids are young is really important," Helsel said. "I think a lot of people who visit museums or have relationships with museums in some way, that bond with art museums was formed when they were kids."
Have a story idea or news to share? Share your news with Working@Duke.