Blue Devil of the Week: Keeping Tabs on What's Powering Duke
When Wendy Lesesne is not examining how Duke uses resources, she loves being in the sky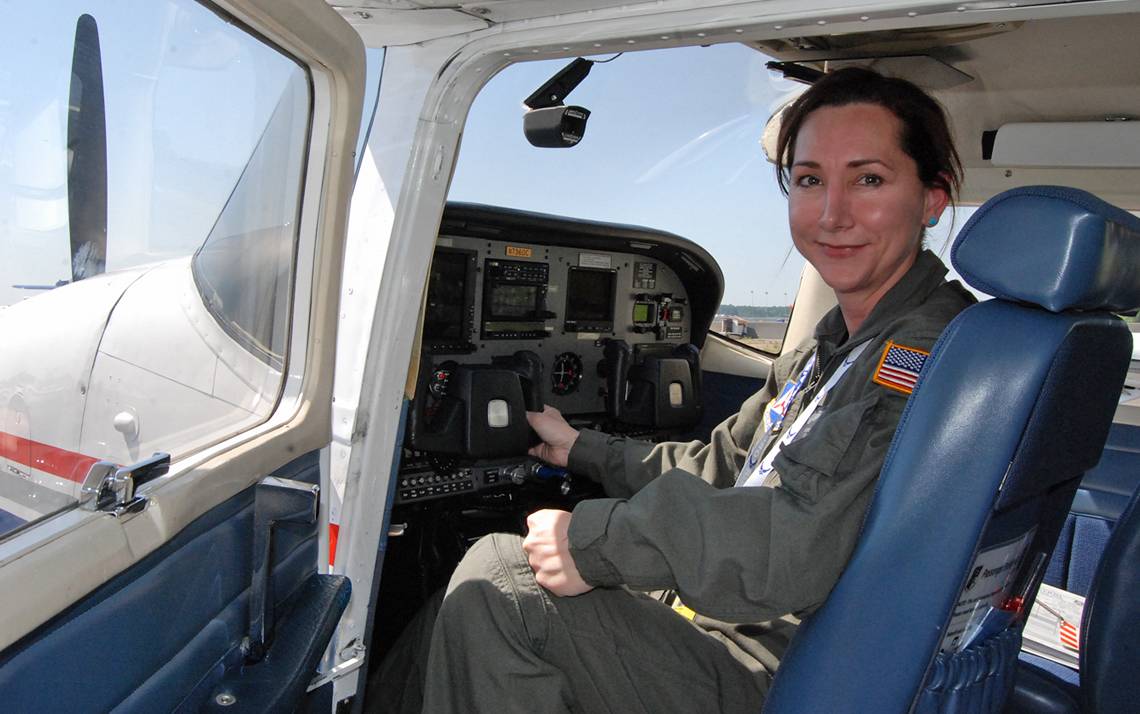 Name: Wendy Lesesne
Title: Database Analyst, Duke Facilities Management
Years at Duke: 15
What she does: Keeping Duke University running requires large amounts of water and energy. Keeping tabs on exactly how much each Duke building uses, is the job of Lesesne.
The data generated through Duke's utility systems makes its way to Lesesne, who pores over the details. In addition to making sure accurate data is passed along to Duke Facilities Management leadership, Lesesne mines the figures looking for trends or abnormalities, and handles the billing for Duke's roughly $100 million yearly utility and energy budget.
The data she provides is crucial to Duke's push toward a more efficient use of resources.
"I love that my job plays a role in climate change mitigation by reducing our carbon footprint," Lesesne said.
She's also currently managing the implementation of a system for gathering and analyzing Duke's water and energy consumption information more efficiently, moving what is several streams of data collection sources into one, unified system.
What she loves about Duke: Lesesne has seen many sides of Duke since she arrived 15 years ago. One of her favorite jobs was working in the Office of the Provost and walking by Duke University Chapel and across the quad every day into the Allen Building.
Four years ago, she made the move to Duke Facilities Management. Through it all, she's drawn inspiration from being surrounded by driven people in a collaborative atmosphere.
"It's a high-energy, intelligent place to work," Lesesne said.
Memorable day at work: Lesesne recalls, during her early days with Duke Facilities Management, walking into the Chiller Plant No. 2 for the first time and being in awe of the massive machinery that cools Duke's buildings.
"I'll never forget walking in and feeling the heartbeat of the campus, gazing at each 3,500-ton chiller and hearing the sounds from the millions of gallons of falling water at the cooling towers," Lesesne said.
Special objects in her workspace: Next to her desk, in a frame, Lesesne has a napkin from the East Room of the White House. It was a souvenir from a July 2015 visit she made for a celebration of the 25th anniversary of the Americans with Disabilities Act which featured remarks from President Barack Obama and Vice President Joe Biden.
"Hearing President Obama speak about legislation close to my heart, that has such a positive impact to millions of Americans, will remain my most cherished memory," Lesesne said.
First ever job: As a teenager, Lesesne worked at McDonald's in her hometown of White Rock, British Columbia, an experience that shaped how she viewed work.
"That's where I learned that work can be fun," Lesesne said. "We'd hang out with our friends at work, cash our paychecks, and then head to the beach together. I loved it."
Something most people don't know about her: Nearly four years ago, Lesesne discovered a passion for flying, earning her private pilot's license after completing her training in just over four months. Soon, she began to make flights in single-engine and multi-engine propeller planes a regular activity with her daughter, Victoria, and friends.
"Victoria is my adventurous mini-me, so she thinks it's normal to walk out on the ramp at any airport and climb into a small plane," Lesesne said of her daughter's reaction to flying.
Around a year ago, Lesesne combined her love of flight with a desire to serve, joining the Raleigh-Wake Composite Squadron of the Civil Air Patrol. Among the activities the group, which is made up of mostly volunteers, does is train in support of search and rescue, disaster relief, air defense, cadet orientation flights and Air Force-assigned missions.
"I'm proud to be an active member in a squadron that does something so incredibly rewarding, while being a positive influence to my daughter," Lesesne said. "I'm thankful that Duke trusts me in my ability to complete my job, and also allows me the opportunity to be ready to help if a disaster were to strike."
Nominate a colleague to be Blue Devil of the Week.