Duke Couple's New Home Photo Earns Duke Time Off Prize
Share your #DukeTimeOff picture by Aug. 10 for a chance at two grand prizes
Duke employees Kelly Lindblom and Alex Sibley had a busy summer getting engaged and moving into their new Durham home together.
Lindblom, clinical trials project leader for the Duke University School of Medicine, and Sibley, bioinformatician for the Duke Cancer Institute, used their time off in July to prepare for and recover from the move.
"It was great to be able to take time off instead of trying to fit everything in over the weekend," Sibley said. "We spent most of our time closing and moving, but also took time to celebrate and get to know our new neighbors."
The couple, who got engaged May 27, will be married in the spring of 2019. Lindblom said they're considering their new backyard as the venue. For sharing their photo, the couple will receive a beach prize with a Duke beach towel, frisbee and water bottle, courtesy of Duke University Stores.
The Duke Time Off photo campaign showcases the many ways University and Health System staff and faculty enjoy time away from work. So far, 464 photos have been shared by Duke employees on big and small summer adventures and enjoying hobbies and passions. You can see many pictures by following Working@Duke on Twitter and Facebook.
You can also share your pictures on Twitter, Facebook or Instagram using the #DukeTimeOff hashtag or by submitting them here.
At the end of the campaign, two grand prizes will be awarded by Working@Duke: Dinner for two at the Washington Duke Inn and an overnight stay at the JB Duke Hotel.
As the campaign nears the Aug. 10 finish line, here are some recent submissions.

Samantha Shaltz, lab research analyst for Duke Molecular Genetics and Microbiology, takes a few days off every year around July 21 to celebrate her birthday by camping at Kerr Lake, on the border of North Carolina and Virginia.
"I love nothing more than to get away from technology and relax on the sandy shores of the lake," Shaltz said. "Though it did rain this weekend, it finally cleared up long enough to get this amazing sunset picture with my kayak set up to launch."

Lynn Perkins, clinical trials operations manager for Duke Clinical Research Institute, snapped a photo of her two daughters, Elizabeth and Katie, at the Eiffel Tower in Paris.
"I thoroughly enjoyed my Duke Time Off in Paris with my husband and girls," Perkins said. "We even went to Disneyland Paris and heard Mickey Mouse speaking French."

Jaqueline Rimmler was taking a walk with her when she caught the orange glow of the sunset illuminating rides at the Carolina Beach Boardwalk Amusement Park.
"The rides were just starting up for the night," said Rimmler, clinical research analyst for the Duke Cancer Institute.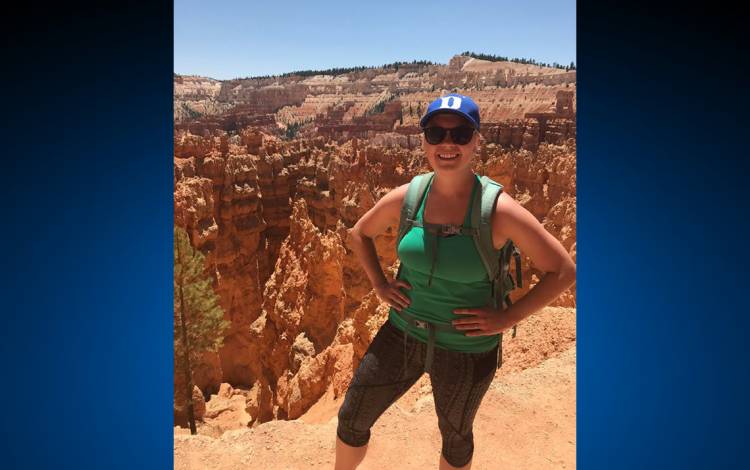 Erica Shirts, program coordinator for the Duke University String School, went hiking with her family at Bryce Canyon National Park in Utah.
How to share your 2018 pictures:
Post the photo and use #DukeTimeOff on Twitter, Instagram or Facebook. Note what you're doing with your time away from work. Remember, please be sure to use #DukeTimeOff so we see your snapshots on social media;
Post a photo and caption on the Working@Duke's Facebook page: facebook.com/workingatduke;
Or, upload your picture here.
During the campaign, the Working@Duke Editorial Team will award Duke-themed beach chairs, towels, water bottles, and Frisbees from Duke University Stores. All submissions will be considered for grand prizes awarded in August.
Grand prizes awarded at the end of the campaign include:
One overnight stay with breakfast for two at the JB Duke Hotel
Dinner for two at the Washington Duke Inn's Fairview Dining Room
To be eligible for prizes, photos must be taken between May 23, 2018 and Aug. 10, 2018, and shared by current University and Health System staff and faculty during the same time period.