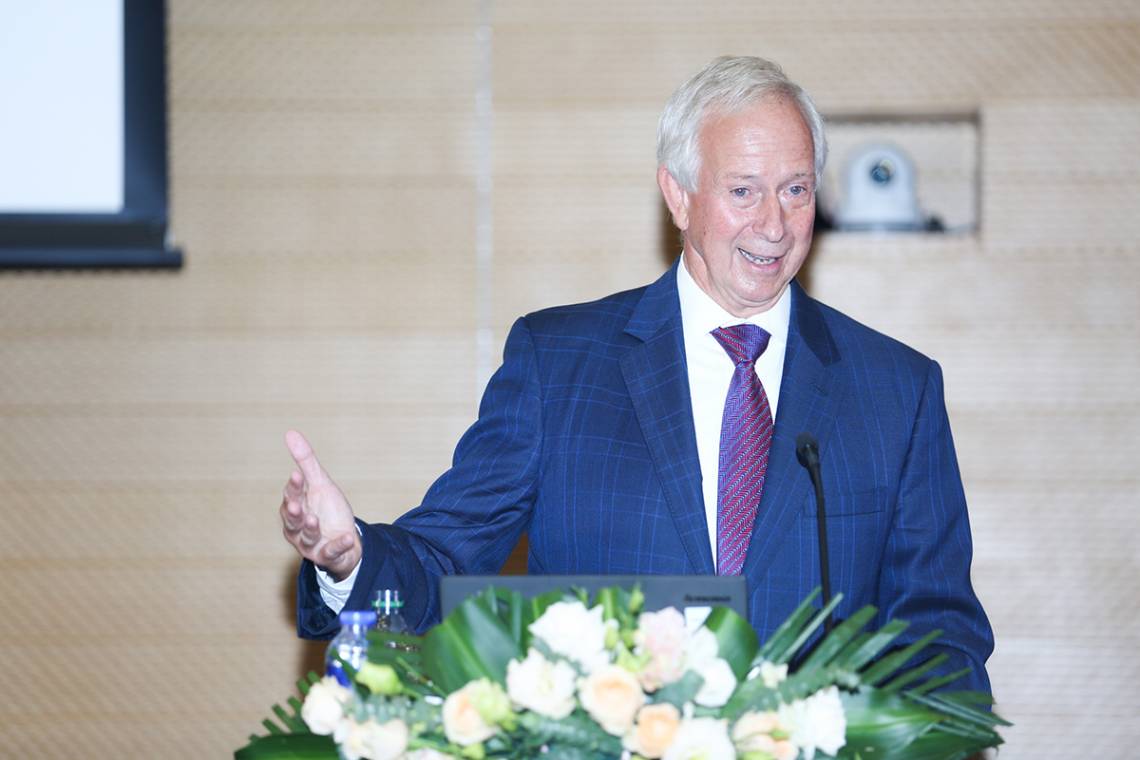 Faculty, parents, students, staff, friends:  I have a lot of experience with this sort of occasion. For 11 years I had the privilege of welcoming new undergraduates while I was dean at Yale. For the next 13 years, while I was president at Duke, I greeted arriving students in the splendor of Duke Chapel. As I calculate, in the past 24 years, I welcomed nearly 35,000 men and women to new lives at major universities. But until this week, I have never met first students, the very first freshman class to enter the school. This made me think that I might speak today about topics rarely mentioned at places that have been around a long time. I want to tell you where Duke Kunshan University came from, what hopes led to its founding, and what its history and hopes require from you as students.
I'll begin by taking a big step back. Higher education is one of the longest-running activities in human history. The oldest universities in Europe -- the University of Bologna, the University of Paris, Oxford, Cambridge -- have been in operation for nearly 1,000 years. A place I once visited in Morocco, the University of Al-Karaouine, has been in business since the year 859, making it nearly 1,160 years older than the college you chose to attend. In China, of course, the Confucius-inspired system of examinations and academies is so ancient as to make these others seem like upstarts. 
In every culture that I'm familiar with, this level of instruction served the double function of preserving a core intellectual heritage and equipping a chosen group for leadership roles. If you were successful in the Chinese examination system, you won a highly honorific career as a public official. Yale was founded in 1701 with the mission to prepare leaders for "church and civil state." 
Universities have long retained their association with intellectual training for high-status careers, but starting in the advanced economies in the later 19thcentury, universities have also taken on newer and much broader functions. With the massive expansion of research activities, universities have become places not just for the transmission but also for the creation of new knowledge, and this has given them a new degree of centrality. Over the past decades, research conducted in universities has led to virtually all of the breakthroughs in science, technology and policy that have improved the quality of human life and lent dynamism to economies around the world. 
Due to this tight link of research innovation to rising living standards, societies wishing the benefits of development have embraced universities as engines of growth and progress. And what is sometimes called the human-capacity-building work of universities has grown in parallel with their research function. As more social sectors require more mental training, higher education has opened its doors far beyond the small populations it was first designed to serve. Meanwhile, training a potential leadership cadre has become a more critical function than ever, but the training required has been radically transformed. It's no longer sufficient for universities to teach relatively fixed bodies of understanding to people who will play relatively unchanging social roles. It is increasingly recognized that top students need to become creative, versatile thinkers, complex problem-solvers with a range of mental resources who can come up with fresh approaches to new challenges long after their formal education is done. 
Preparing such men and women is a mission universities are now called upon to meet.
I sketch this brief history because without some sense of it, it will be impossible to understand how Duke Kunshan came to be created. Duke Kunshan was born as a set of very different parties considered these developments and asked how they could turn them to their advantage. 
"Joint venture universities are anything but novel. But China is the only country that has ever made it a stated national strategy to enhance higher education through a systematic import of academic models at the institutional level."
-- Richard H. Brodhead
Let me take the parties one by one. First, China. The emergence of China is the most significant new fact in contemporary world history. In maintaining historically unprecedented levels of development since 1978, China has paid shrewd attention to the changing function of higher education. Beginning in 1998, China made expanded access to higher education a critical national priority, and what China plans, China does. In 1998, China had 3.4 million students enrolled in higher education institutions. By 2004, the number had risen to 13.3 million. By 2012, it had hit something close to 26 million. 
A decade later, China identified increasing the quality of higher education as a national priority equally critical with increased quantity. This led to the strategic choice to step up investment in top-tier Chinese universities with the aim of making them competitive with the best in the world. More unexpectedly, the new policy also entailed a government commitment to allow the creation of a limited number of what were termed joint venture universities (JVUs). Under this idea, China would acquaint itself with the best global standards of research and pedagogy by inviting certain foreign universities to establish their models of education in new institutions in China. 
Let me pause here to make two comments. First, in the long history of universities, cross-border borrowing has been the norm, not the exception. The ancient universities of England and France were built from Italian models, and they all imported classical learning that had been preserved in the Islamic world. The first universities founded in what is now the United States imported models the colonists knew from England. Tsinghua was born with critical early involvement from Americans. In a sense then, joint venture universities are anything but novel. But China is the only country that has ever made it a stated national strategy to enhance higher education through a systematic import of academic models at the institutional level.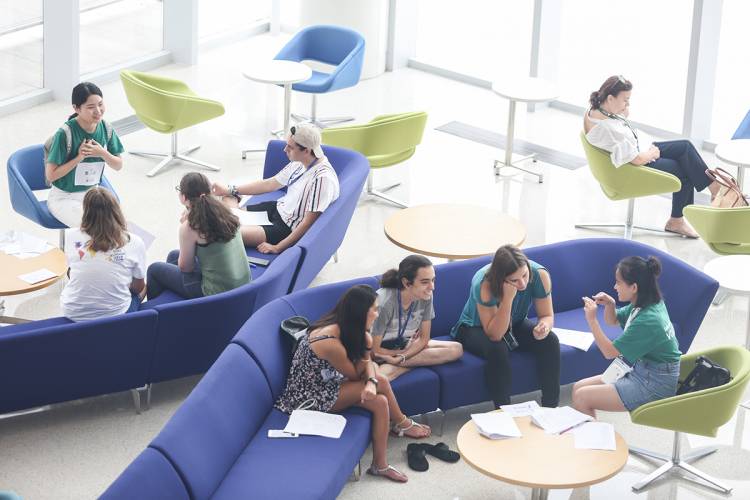 Without a higher education policy geared to rapid national development, there would have been no such thing as the joint venture idea. But more than the policy was needed to bring the idea to reality. This brings us to Partner Number Two, the Municipality of Kunshan. Kunshan, as you know, is by no means one of the largest cities in China. Its official population in 2017 was a mere 1.65 million. But Kunshan has won a reputation out of all proportion to its size because it has had huge aspirations and extraordinary ingenuity and discipline in pursuing its dreams. This city went from a rural backwater to a center for technology and advanced manufacturing -- and from a GDP of US$198 million in 1980 to GDP of US$52 billion in 2017, and from a 1980 per capita income of US$378 to a 2017 per capita income of US$32,000, one of the very highest in China -- in little more than one generation. 
Go downtown and visit the museum of the history of Kunshan. The transformation that is documented there is little short of incredible. Clearly, none of this happened by accident. This transformation was driven by a canny entrepreneurial spirit that spotted the way China and the world were heading and figured how Kunshan could seize an early mover's advantage. Without being officially designated an enterprise zone for international investment, Kunshan went ahead and made itself one. (We have a saying in the U.S. -- do you know it? "It is sometimes better to beg forgiveness than to ask permission.") Aware that one clever idea does not generate permanent success or security, the municipality has kept a sharp eye out to spy further steps it could take to guarantee a prosperous future. 
It was this spirit that brought Kunshan into my story. Far-seeing leaders of this municipality, and here I will mention in particular Mayor and Party Secretary Guan Aiguo, were mindful that elsewhere in the world, universities have had a special role in igniting the sort of innovative, entrepreneurial culture that sustains economic vitality beyond the life of any single bright idea. So what if Kunshan could develop a major university? 
In China, of course, it was preposterous to think that a city of a mere 1.6 million could host a world-famous school. BeiDa, Tsinghua, these are in Beijing! Fudan, Shanghai Jiao Tong, these are in Shanghai! But creative thinking begins where obvious truths leave off, and was it not at least conceivable that the logic could go the other direction -- that a famous university could build the reputation of a municipality? Palo Alto was mostly farms before Stanford was created there. Stanford's intellectual energy helped transform its surroundings into Silicon Valley, the epicenter of the new economy. So it was that Kunshan came to the idea that, as a safeguard for future progress, it should start one of the joint-venture entities the national government was newly ready to approve. But Kunshan was not in the higher education business, so for this to work, it would have to find the right academic partner.
This brings us to Partner Number Three. By early summer of 2007, representatives of Kunshan had opened high-altitude discussions with the then-dean of Duke's Fuqua School of Business, Blair Sheppard. He quickly shared this conversation with Duke Provost Peter Lange and myself. The idea was that Duke and Kunshan could together capture one of the handful of JVU opportunities to be approved by China's Ministry of Education, with Kunshan providing material support like the land and the buildings and Duke supplying the intellectual capital. To guarantee that Duke Kunshan met the standards of a leading global university, Duke would devise the admissions criteria, we would approve the faculty, we would design the curriculum. Is it a deal?
Sitting here today, it may be hard to realize what a massive weight of presumption there was against Duke or any foreign university moving forward with this offer. All self-respecting U.S. universities have loose partnerships in China, some offer executive MBA degrees, a few even have their own conference centers, but the general perception was that it would be just too complicated to set up a whole new university so far from home, let alone to become guarantor of its academic standards. This is why among American universities, only NYU has "gone deep" in China to the extent of partnering in a JVU. Duke's prestige and standing made us a desirable partner, but they also made us cautious. The higher the reputation of a major university, the more jealously it guards access to its most priceless commodity: the degrees that bear its name. We were discussing forming a Chinese university that confers a Duke University degree. So the question becomes, how was it that Duke agreed to be Kunshan's academic partner?
Here you need to know something about the special character of Duke, and since you will one day be Duke University alumni, it's fitting that you should be acquainted with the history. Structurally, universities are quite conservative institutions. Once customs and procedures are established, the strong presumption is that they will continue, so change comes very slowly.  But most unusually, Duke has been willing repeatedly and fundamentally to reinvent itself to reach to a higher level. 
Founded as an elementary school in backwoods North Carolina, the school reinvented itself as a college, Trinity College, in the 1850s. A generation later, persuaded that it would languish in such a remote location, this college picked itself up and moved to a new campus in Durham, North Carolina, a new city sprouting up in the then-new economy of the American South where it found financial backers, including Washington Duke. 
By 1900 Trinity had become one of the best-known liberal arts colleges in the South. But its ambitions were reignited in the 1920s when the industrialist and Durham native James B. Duke offered funds to transform Trinity College into a comprehensive national university if it would change its name to honor his father. Duke, as it was now called, built a splendid gothic-style campus that gave it, overnight, the appearance of a great university. It then went about building academic strength including in professional schools that surrounded the undergraduate college. 
Some of these became major successes almost instantly: Duke Medical School, started from scratch in 1930, was regarded as a leading medical school a mere 10 years later. But though Duke was now considered a major university, its location in a part of the United States that still enforced racial segregation held it back, consigning Duke to the faint praise of a "major regional university." After segregation was abolished in the late 1960s, Duke embarked on new chapters of ambition and transformation that led it to be ranked, by the mid-1980s, among the top 10 universities in the U.S. Since 1990 its progress has only accelerated.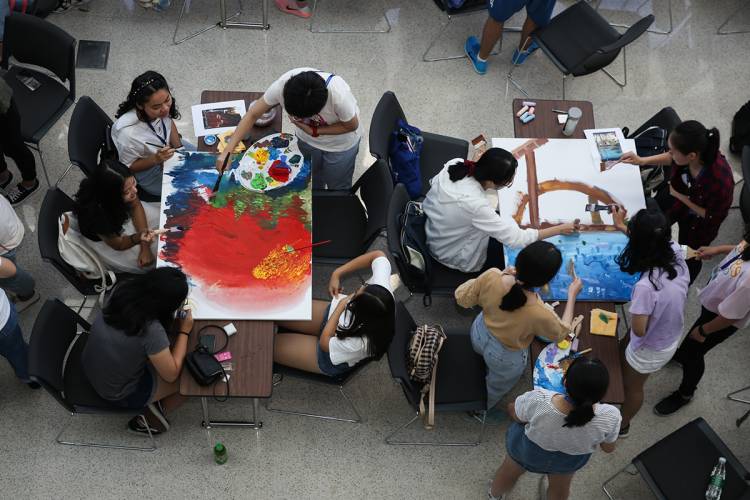 Having had broad experience of other universities before coming to Duke, I can testify to Duke's distinctive attitude toward the new. We have our own traditional academic structures, as any great university must, but Duke has remained notably future-oriented, entrepreneurial, quick to move to seize an emerging opportunity. To cite a prominent case, like all major universities, over the past 20 years Duke has seen a need to build a global horizon for our teaching and research. But thanks to our distinctive culture, Duke has developed its global dimension quite assertively. When Singapore came looking for a major American medical school to partner in the creation of a research-based, graduate level medical research and training center, Duke signed on. Twelve years later, the Duke-NUS Medical School is a major regional player and a total success. Understanding that the global nature of health challenges requires a deeply interdisciplinary approach, Duke launched its Duke Global Health Institute in 2006, joining university strengths in medicine, nursing, engineering, law, business, public policy and environmental studies. In the almost magical way I have grown somewhat used to, within 10 years, the Duke Global Health Institute was a powerful presence on campus and around the world and ranked among the top four such programs by outside reviewers. 
Seeing what the world newly requires of universities and finding a way to deliver that new thing -- that's Duke's institutional specialty. You'll grasp right away how this made Duke receptive to the Kunshan proposal. It took no imagination to envision the possible downsides. But the upsides, we reasoned, could be significant, even historic, and strategic to the last degree. At a time when all higher education needs to prepare students for a world where China will be a factor in every possible issue -- economic, diplomatic, climatological and all the rest -- this was a chance for Duke to become far more deeply knowledgeable about China across the board. Instead of a site for transitory gatherings, a Kunshan campus would give a hub for deep research engagement with China. And, most daunting but most tempting of all, what Kunshan and China were seeking gave Duke a chance not to replicate what we already do at home but actually to reconsider undergraduate education from the ground up, to devise a new educational model that would draw on the best of existing practice yet be free to answer afresh the question, 'What does a student actually need to know in the first half of the 21st century and how can that training best be accomplished?' A university that could seize those opportunities would have done far more than build a China campus. It would have made itself a far greater university, a shining example of what higher education needs to be. And so, with caution, we took the next step.
After preliminary negotiations, Provost Lange and I came to Kunshan for the first time in January 2010. We started with a visit to the Ministry of Education in Beijing, where Hao Ping, then Vice Minister overseeing international initiatives, gave warm encouragement to the idea. We next met the provincial governor and ministers in Nanjing, since Jiangsu Province shares oversight of university matters. At last we came to Kunshan. I remember vividly what it was like to come to this site. It was a vacant, barren field as far as the eye could see. There was literally nothing there -- but then again, in 1924, there had been nothing but forest and a pig farm where Duke University was soon to stand. And as I stood there considering what was and what might be, improbably, the sun came out and blue sky replaced the day's early clouds.
Soon, discussions had advanced to the point where Duke and Kunshan could sign a Cooperative Establishment Agreement setting out the ground rules for our work together.  Then began the arduous process of making the idea turn real. No one can have any idea how much work was required on how many different fronts, by people who already had full-time jobs, laboring at tasks they had never done before. 
By China's regulations, a foreign university forming a joint venture needs a Chinese academic partner. Since Duke is a prestigious school, this had to be a prestigious Chinese university. Since Kunshan is in Jiangsu Province, it furthermore had to be located in Jiangsu Province. We were enormously fortunate that Wuhan University under then-President Li Hongxiao saw the importance of the project for China and enlisted Wuhan as Partner Number Four. Though he had planned to retire, former Wuhan President Liu Jingnan, a distinguished engineer, academician and national leader in Chinese higher education, saw the interest of the Duke Kunshan experiment and agreed to come serve as chancellor. Later, with many others, Wuhan lent us the excellent Feng Youmei, who will become chancellor this fall. 
Then there were the buildings. Like Duke itself, Duke Kunshan was to come to life with an awesomely beautiful campus. But for that to happen, every single structure had to be built from scratch, a massive construction project made harder by the fact that Chinese workers were asked to build a Western design to Western specifications. Meanwhile, as our ever-helpful Executive Vice Provost Jim Roberts observed many times, even a very small bird must have all its parts. So every single business function had to be defined, agreed to by the partners, then staffed and built into a functional team, with the extra challenge of aligning best practices across radically different cultures. 
"By working together through so many massive challenges, the Kunshan, Duke and Wuhan partners began to build the single most critical ingredient needed for success: mutual understanding and growing trust."
Not a single difficulty could be ducked. Yet by working together through so many massive challenges, the Kunshan, Duke and Wuhan partners began to build the single most critical ingredient needed for success: mutual understanding and growing trust.
Then there were all the academic operations to be created out of thin air. China had the expectation that joint ventures would begin with four-year undergraduate degree programs. This was the case in every other JV institution. But Duke insisted that we would not decide about the undergraduate program until we had grown confident that we could actually mount Duke-quality education in Kunshan. Crossing the river by feeling the stones, in the memorable words of Deng Xiaoping, Duke devised four smaller-scale trial programs: master's degree programs in global health, medical physics, and management studies, with a Global Learning Semester that undergraduates could come to from other universities. 
With campus construction nearing completion and these programs at last approved by the Ministry of Education, we launched Duke Kunshan University in August 2014. On-campus housing was not quite ready and for a short while faculty and students lived in the Swiss Hotel downtown. But from the first, the venture was met with high enthusiasm. Students made the best of the inevitable challenges of an institution where everything was brand new (I trust that you will too), and they were excited to encounter Duke Kunshan instruction and to live and work in the company of global peers. Students from Chinese universities were delighted with the close personal attention they received from faculty here. Students from the United States, Russia, India and Africa were thrilled to meet their comparably gifted Chinese contemporaries. Duke faculty, who had to completely redesign their teaching plans for this new audience, loved the experience, with several reporting that the term at Duke Kunshan had been among the best in their entire career. Two years later, a fourth master's program was added in another area of Duke strength of obvious importance to China: environmental policy.
Meanwhile, research centers established at Duke Kunshan began to draw interest and support from the larger world. The research center in global health was recognized by the World Health Organization as its Health Policy and Systems Research Hub in the Asia Pacific Region. Research on environmental topics won competitive financial support from Jiangsu Province and the national research council.  As had been hoped, it was not long before the campus became a magnet drawing talent from China and around the world. Global leaders in business and law converged on Kunshan for a conference on cross-border mergers and acquisition.  Partly though the influence of Executive Vice Chancellor Denis Simon, a leading student of innovation in modern China, the Chinese Academy of Sciences and Technology chose Kunshan as the site for a conference on emerging patterns of innovation. Conferences on topics from green finance to science fiction quickly followed. The bright hopes for what a university could bring to this region had begun to come true.
To our further good fortune, Professor Haiyan Gao, a distinguished scientist and chair of the Duke Department of Physics who had spent her childhood in Kunshan, agreed to become Vice Chancellor for Academic Affairs. Meanwhile, 8,000 miles away, a group of Duke faculty led by Professor Noah Pickus began planning the distinctive curriculum that would embody our best ideas about twenty-first century education. Colleagues at leading Chinese universities generously agreed to review the plan and make suggestions. Many more Duke colleagues were engaged in hiring faculty for Duke Kunshan University. This was a wonderful experience, not just because of the exceptional talent that proved eager to join the Duke Kunshan project, but because, most unusually, the faculty was hired with the needs of the whole, integrated curriculum in mind. In U.S. practice and I'm sure in China too, university faculty are generally hired for their narrow specialties with little regard to how they might contribute to the larger whole.
Meanwhile back in China, important negotiations continued about long-term finances and a building plan for Duke Kunshan Phase Two. 
Then came the moment of truth: the day when Duke would need to decide whether we would fully commit by putting our name on the Duke Kunshan University undergraduate degree. This could not be done by simple agreement of Duke leaders. Duke faculty from every school would have to approve the degree through their representatives in the academic senate. Duke's university trustees have fiduciary responsibility for all consequential university decisions, so they too would have to formally approve. On our campus, the matter could not have been taken more seriously. Everyone understood that this was a once-a-century decision, a venture with grave risks but the potential for extremely high rewards. Informed by a year of intense discussion during which many Duke people came to see Duke Kunshan first-hand, the strategy of proceeding gradually in order to learn from experience paid off. Having asked every question they could think of, the Duke faculty and trustees gave their warm endorsement to the Duke Kunshan program in late autumn of 2016.
So we were done then, right? Not exactly. Only when we had final Duke approval could we make final application for Chinese Ministry approval of the proposed programs and degrees. And only with the ministry's approval were we able to begin recruiting students. This winter, at long last, we set out in search of applicants, and then came the ultimate suspense. Then and only then would we learn the answer to the existential question: Now that we had built it, would anyone come? Would outstanding students actually apply here from the whole wide world?
As you know, we were thrilled with the admissions result. As I said yesterday, our students have all the qualifications for admission to a world-class university plus a further one highly relevant to Duke Kunshan. You have the spirit of a pioneer. Like Kunshan, like Duke, you were attracted to the project of building some great new thing in the history of higher education, and you were not afraid to venture into the unknown. 
You may not be aware of it, but you, our students, are Partner Number Five. You didn't just choose to attend Duke Kunshan University. You came to help create this place, to make it live up to its highest potential. But accomplishing this will require thought and effort on your part. You have to take active advantage of all of the distinctive opportunities for this place to educate you as it might.
Let me be explicit about what Duke Kunshan requires from you for the experiment to work. Duke Kunshan is a residential liberal arts college set in a research university setting. The great luxury of this is that while you have access to the intellectual resources of a larger institution, most of your classes will be small, intimate communities. This is for two reasons. First, in a school like this, small class size allows you to be personally known and to receive individual attention from your teachers, a feature not common at all great universities. Second, at a school like this, students do not come to just to learn what the teachers teach. Faculty and students come together to grapple with open questions in an unscripted group exploration that pushes the bounds beyond what anyone, teacher or student, knew when the class began. 
If you have never experienced this, I'm glad you came here. Dynamic, communal inquiry in a seminar setting is one of the most electrifying activities in the entire world. But though we put these things on offer, you alone can make them happen. If you are too timid to seek out conversation with your instructors, you will miss the rich relationships your classes could bring. If you don't enter into class dialogue and dare to share your hunches even if you are not certain they are correct, you will be a mere spectator, not an active player. So even if these customs seem strange to you and even intimidating, as I expect they will, you need to summon your courage. Your active participation is required for education to happen here. 
The same goes for residential life. There are many universities where students come to campus, take their classes, and then go home. We insist that you live together on campus so that you can spend each day, all day, learning from one another. Scholars have established that where smart people from diverse backgrounds are gathered in dense concentrations, they energize each other and make each other smarter. This is why the record of your official coursework will not begin to capture what you have learned here. 
"With students from China, the U.S., and around the world, Duke Kunshan will be global from Day One. Stick together in national groups and you will miss what your classmates could teach you. Open a conversation with someone in your hall or while you eat or exercise and you can learn how people actually think in other places."
But again, it takes you to make this happen. With students from China, the U.S., and around the world, Duke Kunshan will be global from Day One. Stick together in national groups and you will miss what your classmates could teach you. Open a conversation with someone in your hall or while you eat or exercise and you can learn how people actually think in other places. When I visited the first Duke Kunshan classes in fall 2014, students told me that by living so closely together, Chinese and American students learned how one another's languages are actually spoken in daily life, which can be quite different from the way they are taught in school. The Ebola outbreak was a frightening event that year, and I remember Chinese and American students arguing over the rights or wrongs of medical quarantine -- and thus beginning to understand how a single reality can hold very different meanings if you come from a culture that puts highest priority on the individual rights or on the well-being of the larger community. We do not expect you to cease to believe what you came here believing. But if you leave here with some fluency in the ways different cultures compose their ideas of value and some facility in working with others across of cultural boundaries, you will be a well-prepared global citizen. Make it happen. Don't miss the chance.
Last let me say a word about liberal arts education. I have found this a subject of great interest in China, but the concept is not native here, and once when I gave a lecture on it at Tsinghua, my talk was interrupted while audience members argued over the correct translation. Most obviously, a liberal arts model is based on the idea that breadth of exposure is better preparation for later life than a premature specialization in a single subject. But the value of this education does not arise from checking boxes to prove that you took the prescribed mix of courses. It only works to the extent that studying different subjects helps you learn a variety of ways of thinking about problems -- and it has its ultimate payoff when you become able to integrate, to deploy an idea that arose in one domain to help with an issue that arises in another. 
A difference of Duke Kunshan's offerings from what is found at even the best liberal arts colleges is that they typically construct a curriculum out of separate departmental offerings and hope students will make the links. Here, the interconnection of knowledge has been baked into the program of study from the beginning, with provision also made for you to encounter problems not just in academic exercises but in their real-world forms. As we have asked people around the world what they really want in college graduates, the answer has been remarkably consistent. What the world deeply wants are people with active minds, people who are always asking questions, always learning; people who have followed their curiosity in enough directions that they can bring disparate bodies of knowledge together in new ways to solve new problems; people who can communicate confidently and clearly and who can work effectively with others, including those from different origins, to come up with a better answer than anyone could arrive at on his own; people who delight to use their minds for personal growth and for the common good. Whatever your special interests or gifts, Duke Kunshan exists to help make you that super-capable version of who you are. That's the promise that drew you here -- so do not fail to do your part. 
I will conclude with a thought that is at once totally obvious and actually quite stupefying. You are the inaugural undergraduate class of Duke Kunshan University. After you, there will never be another first class. The way people begin a project always has outsized impact on how the work continues.  Starting today, you will help set this school's character and habits. Make it a place of open, spirited engagement with people and ideas and you will be creating a new thing in higher education; do your homework and keep to yourself and Duke Kunshan will be fine, but not all it could have been. 
Your partners have spent years getting things ready. It's your turn now, Partner Number Five. Come make Duke Kunshan University the inspiring thing you envisioned when you chose to come. 
Photos courtesy of Duke Kunshan University.
More Stories