Kornbluth Reappointed to Second Five-Year Term as Provost
Reappointment was recommended by committee of faculty, administrators and trustees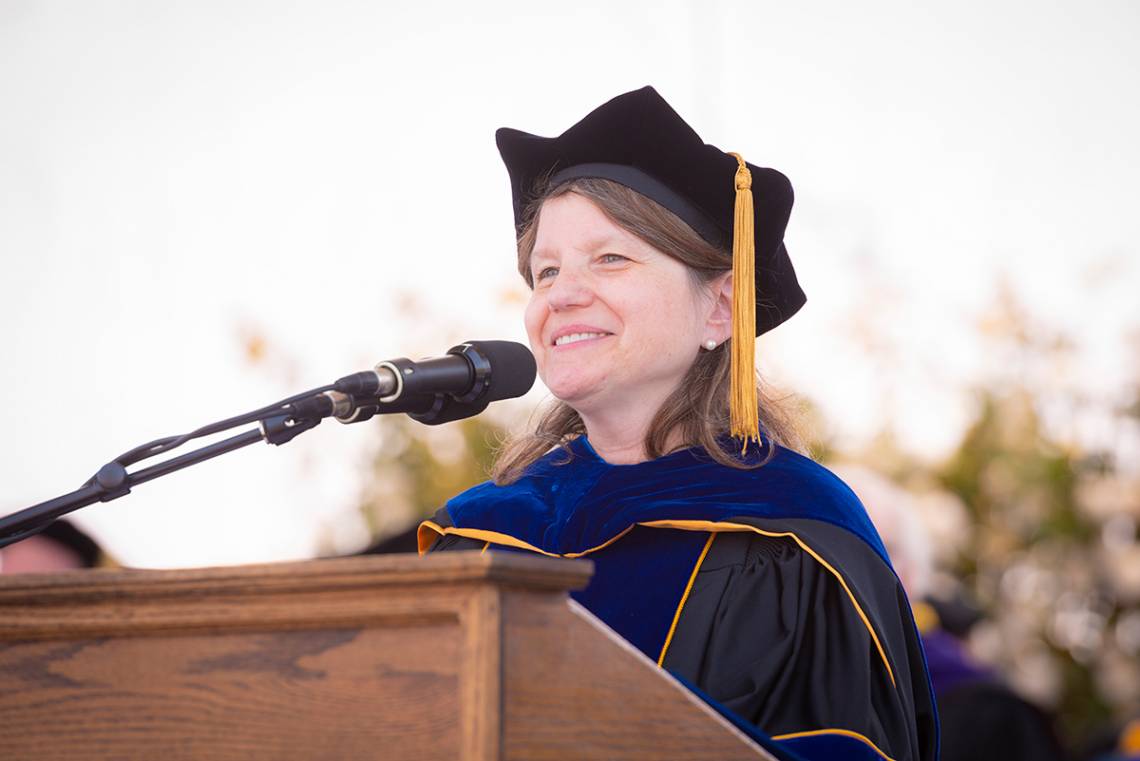 Sally Kornbluth will serve a second five-year term as university provost after the Duke Board of Trustees approved her reappointment, President Vincent Price announced today.
Kornbluth's reappointment was recommended by Price following a regular review chaired by Law Professor Guy-Uriel Charles. Her new term begins July 1, 2019.
"Sally has proven to be a transformative leader as Duke's chief academic officer over the past four years," Price said in announcing the reappointment. "She guided the development of a new academic strategic plan, 'Together Duke,' that engaged faculty from across the university and is already demonstrating important outcomes in our educational and research endeavors.
"She led many of our schools, centers and institutes through important leadership transitions. She has been a tireless advocate for faculty excellence, advancement and diversity. She has overseen the launch of an exciting new undergraduate program at Duke Kunshan University. And she has elevated our commitment to the student experience, both in the classroom and beyond."
Price said the review committee, which included faculty, administrators and trustees, found that Kornbluth had the strong support of the faculty and was working to "build on the university's strengths."
During her first term, Kornbluth set a priority of investing in faculty excellence and strengthening Duke's leadership in interdisciplinary scholarship and education, such as the new Quantitative Initiative, as well as innovations in undergraduate education such as Spring Breakthrough.
She also has sought to develop opportunities that that made Duke more accessible and affordable, including the Rubenstein Scholars for first-generation university students increasing need-based financial aid. Kornbluth is also working with Graduate School leaders to adapt some of the lessons from those initiatives to graduate and professional education.
In addition to her work with Duke Kunshan University, she has sought to extend Duke international outreach and has encouraged development of new partnerships with a focus on large social, economic and environmental issues that are common to societies around the world. Duke's student body now includes scholars from more than 100 countries.
In addition, Kornbluth has overseen a number of significant faculty hires, including the appointment of new deans for Trinity College of Arts & Sciences, Pratt School of Engineering, Divinity School, Sanford School of Public Policy, Nicholas School of the Environment and the Law School. Eight of the 10 university deans are now women who are internationally known leaders in their fields.
Kornbluth became provost in July 2014. As the university's chief academic officer, she has broad responsibility for leading Duke's schools and institutes, as well as admissions, financial aid, libraries, information technology and all other facets of the university's academic life.
Joining the Duke faculty in the Department of Pharmacology and Cancer Biology in 1994, Kornbluth is now the Jo Rae Wright University Professor of Biology. Prior to her appointment as provost, she served as served as vice dean for basic science at the School of Medicine from 2006-2014. Her research focused on cell proliferation and programmed cell death, areas of central importance for understanding both carcinogenesis and degenerative disorders.